Ste. Anne's Hospital property officially transferred to SADB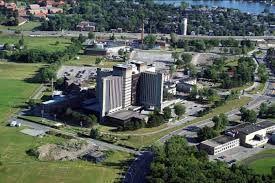 "Today's official transfer of the Ste. Anne's Hospital lands concludes this file and shows that, with good will and leadership, anything is possible," said Paola Hawa.
The mayor of Sainte Anne-de-Bellevue was referring to last week's announcement that officially transferred the extra property on the hospital ground for the city to develop as a way of offsetting the annual tax transfers. The original deal was proposed to the city by the Montréal West Island Integrated University Health and Social Services Centre (CUISSS), in the summer of 2016.
"I'm proud of the work that has gone into successfully completing this file and of the tenacity we demonstrated despite some obstacles," Hawa said. "It's time now to look to the future and to develop this area efficiently for the benefit of Sainte-Anne-de-Bellevue's citizens."
The city's next step will be to create a SPP (Special Planning Program) in order to develop the land properly and to make it whatever project chosen to be integrative to the city's architectural design.
"We are sensitive to the concerns of veterans and civilian residents of Ste. Anne's Hospital, and I am determined to make every effort to have the future housing project fit in harmoniously with the hospital's specific vocation," noted Hawa.
"The presence of Ste. Anne's Hospital in our municipality remains a major asset for our economic vitality, and we wish to extend our special relationship with its beneficiaries and staff," said the mayor."
The city's plan is to create housing needs that cater to senior citizens, retired or almost retired, who still want to live in the West Island and the dfqvelopmwent will take place on the northern sector of the hospital.
Our vision is to provide future residents with a peaceful neighbourhood that's a good place to live," said Hawa.