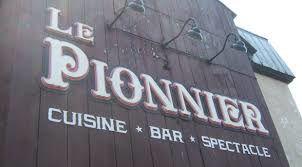 "Glory Days, yeah they'll pass you by Glory Days, in the wink of a young girl's eyes, Glory Days…" — Bruce Springsteen
The late 70s and 80s were the West Island's "Glory Days" in terms of night life and party fun.
The Maples in Pointe Claire was a rocking bar and on Thursdays in the 80s, pre cell phone snacks social media, all partiers knew that Thursday nights were spent at The Edgewater and Marina in Pointe Claire. A dollar a beer or a drink would practically bring out every teenager and young adult who knew to just show up for the party.
In Sainte Anne-de-Bellevue, there were three main bars that, in the height of Sainte Anne's being a party town, used to have pitcher wars and ten cent wing nights.
Another stalwart was The Pioneer where local, and even internationally known musicians, would play live music in a venue that had an incredible sound system. Over the years, got to play there a few times with various bands and always had a great time playing and then partying.
But demographics and societal changes over the years have neutered the party scene and as the kind of rocker who never gave up, I just now stand in the back, things change and evolve.
Over the last few months, with the news that the Pioneer was looking for a new owner and closing down, there was a lot of reaction from West Island residents decrying its loss.
When the news broke, there were many reports from people on the street were strongly disagreed with the closing. Our reporter Chloe Ranaldi took it upon herself to be the first journalist in town to actually speak to the owner of the Pioneer, Diane Marois.
Marois noted that while it had been a pleasant experience, times had changed, the edifice needed way too much expensive TLC and that she had had enough and wanted to retire.
The city of Pointe Claire held a marathon seven hour meeting of the demolition committee on the future of the site as well as rejecting a potential buyer's four storey condo project.
The city has yet to approve a new project but a decision is expected by this spring.
And while there are people who want to maintain the building as part of living history, or to return to some heralded Glory Days, Marois has another opinion, releasing a statement via social media this week.
"If you don't value local business who you actually have the chance; you have no right to complain when it's lost," Marois wrote.
"From the day word leaked out that there was a potential sale, business did not increase by even one percent.
"You had the opportunity even then to maybe help sway the decision by actually walking in and ordering a drink or a meal or even supporting a local band but no one did," wrote Marois. "Instead it was protest and petitions and social media posts. I am sorry but none of these things will pay the rent for any of your local merchants."
So, in her view, people decried the loss of the Pioneer online but never actually went into the place to support it. My friend Peter has a term for that: slacktivism. "I signed a petition online, I've done my part right! Time for some Candy Crush!"
Times and tastes change for sure and you cannot stop the sands of time. But Marois' message is that talk (or being a keyboard warrior) without follow up action is useless.
Thanks to the Pioneer for helping create some Glory Days in the day.