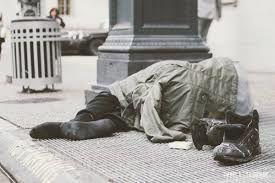 "She's just like you and me but she's homeless, she's homeless
as she stands there singing for money…" — Crystal Waters
Over the Christmas holidays, got to do the dinner thing with some of my siblings. And because our jobs are a big part of our lives, talk for a bit turned to my sister Sheila's role of helping the city's less fortunate.
My sister is the Executive Director for Anne's House and Nazareth House that provides a residence for men and women with mental health issue or problems with former addition and homelessness.
Her agency works with other shelters and halfway houses throughout the city and with the deep freeze of winter upon us, thoughts can turn to helping the homeless. And while intentions can be amazing, without the right knowledge some efforts can be in vain.
For example, recently some kind souls ventured into the city to help feed some of the area's homeless and their pets. Dog food was given out in properly sealed plastic bags to many homeless and their animals. And for all of the effort of creating the bags and distributing was for nought as, according to my sister and her team, those who receive said gifts will not use them.
Even with good intentions of giving, those who live on the street are not simply going to accept a random offer from someone they do not know or trust. Those who distribute knapsacks filled with goods will usually find the bags thrown away with many one item chosen.
"The best way to help is to donate to an organization that specializes in helping the homeless," Sheila said. "It is best to let the professionals handle the items and distributing as they have built up a relationship with those living on the street."
So, if helping the homeless and their pets is top of the list for this year, contact Dans La Rue as they can advise the kind of dog food needed and know how to get it to the right people who will in turn use the products given to them.
My sister cited the Angels of Hudson as a great local organization that have been donating to Anne's House and Nazareth House for years. Volunteers fill out a wish list given by the staff who know what the immediate needs are.
With the cold winter here, long johns, warm gloves, socks, boots and coats are welcome as well as tents and sleeping bags "because many of the city's homeless sleep outside every night, no matter the weather," Sheila said.
An irksome habit that occurs with some donators giving away canned food that has expired, or is the cast offs from the back of the pantry or the dented cans, or offering used clothing that is dirty and unkempt.
"What kind of message are we sending to someone if we offer them a dirty coat?" She said.
Sure fire items that agencies could use at all times of the year include "chocolate, coffee, bus tickets, movie passes or even gift certificates from the dollar store. Our clients are always thankful for any kind of gifts they receive because for too many, it is sometimes the first gift anyone has ever given them in their adult life."