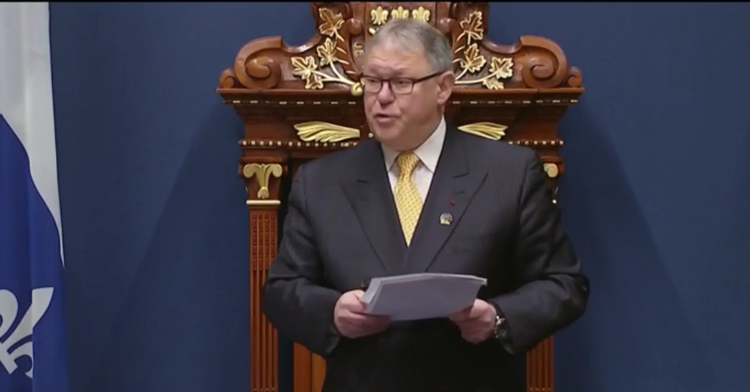 Guy Ouellette called it 'perfect'.
The Chomedey MNA told The Suburban last week that National Assembly Speaker Jacques Chagnon's speech on parliamentary privilege was a wake-up call for all Quebecers.
"It was just a reminder for people about the importance of privilege," said the four-term MNA, "and he reminded the police of what they can and cannot do. It was his place to do it," he said while attending a Laval student talent show, refusing to comment specifically on his case which dramatically unfolded last month.
The former Liberal was detained October 25, but not charged by Quebec's permanent anti-corruption squad (UPAC). Investigators later said Ouellete was merely detained to secure evidence and prevent interference in an ongoing investigation, that reportedly dealt with leaks to the media and Liberal Party fundraising activities.
"I won't comment at all because I won't give him one word or any space," Ouellette said, referring to UPAC Commissioner Robert Lafrenière.
Ouellette presided over the Committee on Institutions (until his arrest), considering legislation to increase UPAC's independence as a distinct police force, something Ouellette, a former Sûreté du Québec investigator specializing in criminal biker gangs, had cautioned against.
In an address delivered in the Assembly, Chagnon publicly lambasted UPAC for not alerting his office of its intention to arrest a legislator, and warned that material found in Ouellette's cell phone and computer may be subject to parliamentary privilege and out of bounds of their investigations.
Chagnon said UPAC's methods reflected "a flagrant lack of consideration for the Assembly and its members… Arresting a committee chairman that interrupts important parliamentary business, particularly one dealing with UPAC itself, as a benign matter raises doubts in people's minds."
The scheme to draw Ouellette using someone's cell phone to text a meeting request outside Assembly grounds "was quite disturbing," said Chagnon. "If the matter was so urgent then why not arrest him at the National Assembly? Is it to avoid the "heavier" procedure of obtaining permission from the President? To avoid submitting a search warrant?"
In a statement, Lafrenière's office says the urgency to act can certainly influence certain decisions in investigation strategy "but this urgency could never justify action that would contravene the rule of law." UPAC also pledged respect for Parliament's authority: "A legal dialogue has been established with the National Assembly on the analysis of the seized electronic devices, which will allow the process to proceed with respect for parliamentary privilege and the sound administration of justice."
Ouellette wasn't surprised by the reaction of Quebecers and colleagues of all stripes to his arrest. "Not at all," he said, acknowledging that at first public cynicism may have had people rolling their eyes at the incident, "but very quickly people understood what was going on. I spoke about it in my statement in the Assembly. I had to make it clear. People had to know."
What's next? Deciding on whether to return to the Liberal caucus, and as for the commission he presided over, "I will be replaced but its work is finished," adding that "Bill 107 (the law to increase UPAC's independence) won't pass now." But he added, as far as Lafrenière is concerned: "He got what he wanted. I'm off."