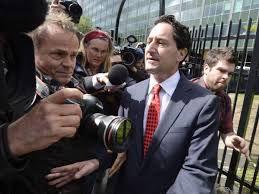 "The crown's case demonstrated credible evidence of conspiracy, fraud, abuse of confidence and several counts of municipal corruption," wrote Québec Criminal Court Judge Louise Provost as she read out her verdict against former Montreal Mayor Michael Applebaum.
Although Applebaum continued to plead that he was innocent of all charges, he did not offer any testimony in his own defense while the crow prosecutor – Mtre. Nathalie Kléber – had built her case based on the testimony of four witnesses. All the witnesses had been granted immunity and three of whom testified that they had never talked to Applebaum, been solicited by Applebaum or paid any money to Applebaum. They all testified that their contact was always with the fourth witness, Applebaum's former assistant Hugo Tremblay.
During last November's trial, Mtre. Pierre Teasdale –Applebaum's attorney — did everything he could to demolish the crown's case that- he argued — was based upon little more than circumstantial evidence that included the testimony of the four witnesses "…who were doing what they could to save their own skins with immunity arrangements."
As Applebaum stood to hear the judge's verdict, read out over two hours, he turned pale after having stood for 90 minutes and began to waiver and almost fainted before lawyers rushed to his aid. He was given water, a court recess was taken and the reading of the judgment resumed after 20 minutes. The Judge stated that Tremblay was a credible and dependable witness even though she admitted that the three others were implicated in the criminal allegations.
As Tremblay was Applebaum's executive assistant, he was also the crown's main witness who testified that he was acting under the mayor's instructions when he helped negotiate and organize pick-up and deliveries of assorted sums in return for the mayor's "political help" to push various real-estate projects through city's bureaucracy.
Judge Provost declared Applebaum guilty of eight of the 14 charges that were brought against him. Many seasoned lawyers and court observers were surprised that Judge Provost found this kind of evidence sufficient to meet the standard of "beyond a reasonable doubt."
Applebaum's sentencing hearing is set for Feb.15th.
See editorial page A10.