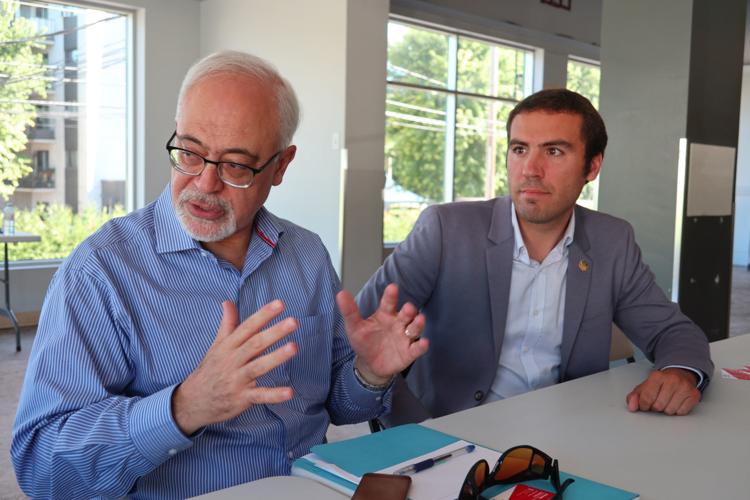 During a media briefing in Laval, Aug 10, Finance Minister Carlos Leitão tackled several issues that Quebec will face in coming years. In Part I of that conversation, he favours fairer ways to integrate immigrants as a means to help stave off the province's impending labour shortage.
What do you think about the refugee issue? Does it impose a burden on Quebec?
We think that the federal government should play a major role in addressing this issue. They are doing that now. Perhaps earlier it was a little… [Pause] Anyways, they are doing that now.
Is Quebec being adequately compensated?
It's an ongoing process. We have received some amounts but—since this process hasn't stopped—the funding has to continue from the federal government.
We also want a more balanced distribution [of refugees] within Canada. A lot of people cross the border here in Quebec at the Roxham Road crossing, but often those folks ultimately want to go to Toronto. The federal government and [Quebec] should find ways to better distribute the flow of asylum seekers.
That's one issue. But more generally, it's important to maintain an open immigration policy. It's important from a purely economic perspective. We are basically at full employment or very close to it. We have significant labour shortages and immigration is one tool to address those labour shortages.
It's not just an economic policy issue. It's also a human policy issue. Despite all the problems that we have, we are an affluent society in Canada, in Quebec. We are the product of different cultures that entered this province over the centuries. That only makes us stronger and richer.
There are a lot of numbers floating around about immigration. [Suggestions that] we shouldn't increase immigration, because [immigrants are] all unemployed. Well, that's not true. In fact, [while] the rate of unemployment for immigrants who arrived over the last five years or so is a little higher than for native-born Quebecers, it's still very close.
In health care, nursing is one example. Even—and especially—orderlies. There are just not enough people working in hospitals or CHSLD. That's not a question of big diplomas or professional certification. It's just manpower. It's just muscle. You need people to do the menial jobs that are essential.
There are a lot of [foreign] nurses that would like to come here but the nurses' professional association makes language testing very hard, plus we're going to be losing Saudi medical residents very soon.
Two hundred and fifty, yes.
The rules are clear. But those rules are, in large part, dictated by the professional associations: Doctors, engineers, architects and nurses. We continue to work with the professional associations to try to push them to have a more enlightened approach.
In the case of engineers, [it] is now a lot faster and easier to recognize foreign credentials. Clearly, we still have a long way to go. One way is more bilateral agreements [with other governments]. We will do more of that.
In the specific case of the nurses, one thing that really bothers me a lot—and I've made it very clear that it's not acceptable—is that those French exams are incomprehensible! A native French-speaker will fail that exam, because it makes no sense. So, when you get to that level, then there is something wrong somewhere. The nurses' association has said, "Oh yes, we realize, we'll streamline those exams." I'm still waiting to see that.
The corollary of what you said is that if everyone who entered a profession in Quebec had to write those tests and not just newcomers…
In some cases, they would fail as well…
…there might be a rethinking of the examination process.
…and the nursing exams are the best example of that. It's a protectionist mechanism. One of the ways to address those protectionist tendencies is to have bilateral deals. Government to government.