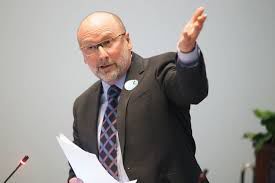 Michel Trottier says the current Laval administration is too partisan in its appointments.
The Fabreville city councillor and Parti Laval leader condemned the appointment of Mouvement Lavallois councillors Nicolas Borne and Sandra Desmeules as directors of Laval's municipal housing Office (OMHL) earlier this month.
Six of the committee's eight members are city appointments, Trottier said, and a majority of those are ML elected representatives or party supporters or donors, he added, referring to party vice-president Lyne Sylvain who recently launched a losing bid for a nomination to represent the party in November.
"Concentration of elected officials and supporters of one party within a governing council weakens the objective decision-making and political control instance that should be completely independent," says Trottier, adding that the appointments to 95 percent of committee posts with majority councillors is contrary to recommendations by the Institute of governance in public and parapublic organizations (IGOPP).
Those 2014 recommendations noted that "independent directors" (i.e. who are not elected representatives or officials, or suppliers in possible conflict of interest) should make up the majority of the members of a board.
"A good board of directors consists of people with complementary profiles with diverse experience in management, finance or in a relevant discipline. Independent directors are usually more comfortable to question management and analyze proposals with a critical point of view" reads a party statement.
"Councillors are elected to represent the population and to ensure the good government of city affairs. If their presence is considered useful, it should be limited in number and scope, insofar as it is not desirable that they also occupy command positions (e.g. president, vice-president, secretary, etc.)."
Deputy mayor and founder of Mouvement lavallois équipe Marc Demers David De Cotis directs critics to IGOPP's conclusion reiterating that the OMHL is governed by the Société d'habitation du Québec and reads "Should the city of Laval initiate a change in the structure or culture of governance, it should persuade the Quebec government and the SHQ of the soundness of its views." In other words, appointments can be made if they pass muster with the SHQ and Quebec City.
The report also points out that the regulations are 15 years old. "Knowledge and practices in governance and accountability have evolved," it states. "Would it not be time to review these regulations to validate their relevance and timeliness?"
As for non-partisan appointments, De Cotis counters that (Mayor Marc) Demers declared in December 2013 that no such appointments would be considered "before a common ground of trust and mutual respect were established. Three years later, that common ground of trust and mutual respect unfortunately has not been fostered," he says, despite Demers having "tried in vain on numerous occasions to extend an olive branch."