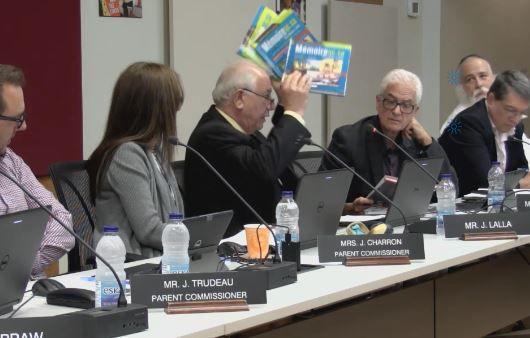 "I hope the visual helps make the point," says Joseph Lalla waving handfuls of books in the air.
Speaking to the English Montreal School Board council of commissioners last week, the independent commissioner for Ward 2 decried the poor status of translation and resources for the new secondary 3 and secondary 4 History of Quebec and Canada program for anglophone students.
For years parents have complained, to no avail, that the school board has not supplied students with the proper resources, with successive administrations pointing to a sluggish education ministry response.
"For our students to be successful, students and teachers of the EMSB must have all the same resources as the French boards," he said, demanding that workbooks accompanying the French version of new history textbooks be translated and made available to all sec 3 and 4 students and teachers. What's more says Lalla, "all French internet sites dealing with the new program should immediately be translated as well."
Lalla introduced a resolution – his third — regarding the new program, which has the first June Uniform (Provincial) Examination in June 2018.
Unanimously passed, the motion notes that the Ministry-imposed examinations are based solely on the official textbooks, "the 'bibles' that must be followed."
Lalla also demanded that the Education Ministry establish a linguistic committee charged with the specific purpose to linguistically review the two secondary 3 and 4 history student textbooks to vet the quality of English used, and establish a list of improvements/changes for the reprinting.
"English-speaking secondary history teachers should be appointed to the committees which develop the June Uniform Examination and that these English educators have the authority to reject any question that is linguistically improper or confusing." Although the committee already has English teachers, they are not permitted to alter wording provided by the translators says Lalla. "The exams often exhibit poor English and this disadvantages our students. The English questions must be written in a clear and unimpeachable manner."