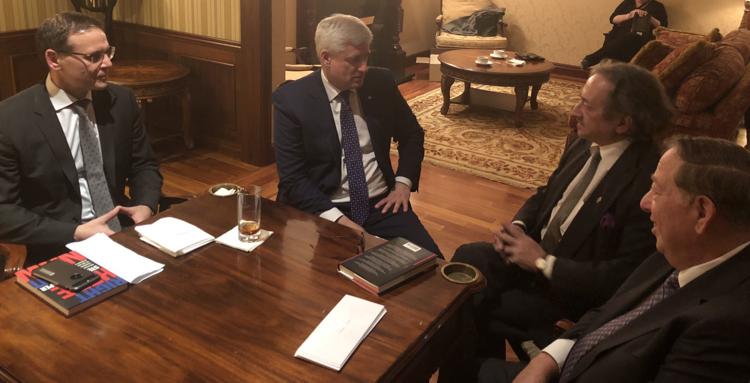 Last week The Suburban hosted the Montreal launch of former Prime Minister Stephen Harper's new book "Right Here, Right Now: Politics and Leadership in the Age of Disruption." Prior to the event attended by nearly 350 people we had a chance to talk with Mr. Harper in what was the first interview he has accorded a newspaper since he left office. You can read more of what he had to say in his question and answer session at the launch with Sen. Leo Housakos in the accompanying story by Joel Goldenberg on page 3.
Beryl Wajsman: Prime Minister, President Kennedy once said that whether he were to serve one term or two he would be at that "awkward age" where he would be too young to write his memoirs. You are yourself a young man and would that be the reason that instead of writing a look back at your years in office you have written a book on today's politics inherent in the title, "Right Here, Right Now?"
Stephen Harper: Well, I still feel that I have much left to do. There are chapters to write. In many ways I haven't enjoyed myself more at any other period of my life. I am extremely satisfied with my work in the private sector through my firm Harper & Associates and very gratified by my position as Chair of the International Democratic Union. So, I am staying quite involved.
BW: What do you mean by your subtitle "Politics in the age of disruption?" What is particularly more disruptive in today's era?
SH: My focus is the disruption of public discourse because of social media. All leaders, and those aspiring to leadership, must pay attention to populist sentiments — popular frustrations that are at times expressed in extreme ways — that are magnified because of their use of social media. Elected officials have to pay more attention to to those frustrations and less to the views of what I call the elites.
BW: I and others have written that whether one agrees or not with all your political views, you introduced a new civility into public discourse. Is the lack of civility in so much social media the kind of "disruption" that now concerns you?
SH: I am concerned that public office holders understand that there can be disagreements without painting opponents as enemies. I am concerned that political leaders should deal more in substance and fact and not just polemics and conjecture. And that public debate should not be used for popular incitement. So yes, in the areas where social media is used in negative ways I am concerned. It is a serious threat to the health of any democracy.
BW: How should leaders respond?
SH: By listening to legitimate public concerns on matters of financial security, health, jobs, education, but not to cater to extreme expressions of frustration — expressed in some very disturbing ways — merely for political advantage. And certainly never to validate those views that by their nature seek to merely incite and divide. That is the challenge of politics in the here and now.
BW: What are you most proud of in your legacy as Prime Minister?
SH: I think we'll leave it to the historians to determine that and frankly I think it is too soon to comment. But I can say that I left Canada's economy and Canadians personal security in better shape than I found it. I am quite pleased with how we steered Canada through the world financial crisis of 2008-2009. I believe it is fair to say that Canada came out of that period better than any other major industrialized nation, and I take great satisfaction in that. I am also proud of the record number of free trade agreements we signed during my time as Prime Minister. When I entered office I believe there were five and at the end of our last mandate we approached some twenty-five. This will be a lasting benefit to Canada's growth in jobs and the economy and something that Canadians will continue to benefit from for many years.
BW: How has your family acclimatized to private life?
SH: Well, in the life of any public person, the family goes through a lot. So, in many ways my family is quite pleased. They have more of my time. Laureen is doing some work on the house. And we'll soon be empty-nesters as the kids go away to school.
BW: Thank you for your time Prime Minister.
SH: My pleasure.