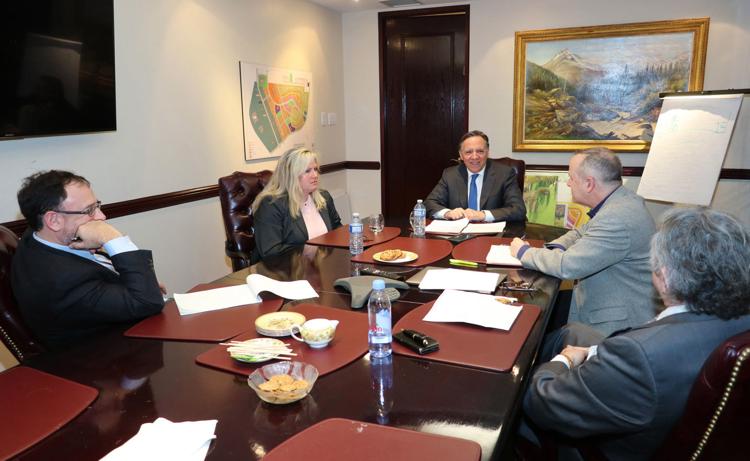 With public opinion polls putting Coalition pour l'avenir du Québec in prospect of a parliamentary majority, leader François Legault visited The Suburban, April 9. His manner was confident, polished and ready to govern. He was accompanied by businesswoman and community activist Karen Cliffe, whom he disavowed several days later as the CAQ candidate in Nelligan riding in this year's provincial election.
This week, we feature Part I of that interview.
Will you say you will never separate Quebec from Canada?
I want to tell you today and I want to be very clear: Never will a CAQ government hold a sovereignty referendum. It can't be clearer than that. If you expect me to reopen Bill 101 or whatever, no. I want to focus on the economy, education and health care. That's it. That's all.
How will you deal with a Quebec electoral map that concentrates more constituents in urban ridings than in rural ridings?
I want the average number of electors in each riding be the same. That's democracy. Quote me. Plus or minus 10 percent. If that's not the case, then it's not fair. I'm open to have equity, and equity in democracy means [that] I want us to have ridings that have approximately the same average.
Are you proposing the status quo on language?
I will not give you any less nor any more than the Liberal party. The priority is not language. That's why I have no intention of changing the current situation. I want us to focus on the economy, education and health care. It's good for Anglophones. It's good for francophones. It's good for everybody.
Will the CAQ address the gross under-representation of anglophones in Quebec's civil service?
It's a real problem. I admit it. We have to look at how do we solve the problem. The anglophone community must be represented with the same percentage that reflects the total population, in the civil service.
What will a CAQ government do?
I founded the CAQ to bring everyone together to work on the economy. That includes working on education. We need to increase graduation rates. To have kindergarten for all children from four years old and all high schools to devote five hours a week to sports, arts and help for homework. Health care is our third priority. Lakeshore hospital was at 174 percent capacity this morning. It's terrible. One of the worst hospitals in Quebec.
What do you plan to do about it?
First is to change the deal with general practitioners. Instead of paying them by volume, we want to pay them by patient, after assessing the independence of those patients.
That gives them incentive to delegate more work to nurses, to pharmacists and also to do more over the phone. Right now, they are not paid for it. That's why they don't do so.
At the Lakeshore [General Hospital], 40 percent of the people in the emergency room are [low] priority. They go to emergency because clinics are not open at night. They are not open during the weekend. We want family doctors to take charge of their patients seven-days-a-week, including Saturdays and Sundays.
Previous governments tried to put more money into emergency rooms. The solution is not in the ER. The key is to convince family doctors. We're the province with the most general practitioners in all of Canada, but they won't take on patients.
The new Mayor of Montreal just took more money through the Agglo out of demerged municipalities. Because she can. Quebec law allows her to do it. What is your view of that?
The Quebec government must be a referee. There must be someone who in a reasonable fashion examines those figures. Someone must look at the figures, conduct an analysis and see whether it's reasonable or not. Right now, the Liberal government doesn't have the courage to do so. I will look at the figures.
Do you see the opportunity to employ English mother-tongue teachers to teach English in French schools?
It's important to be bilingual. The best way to do so is to have full immersion. Right now, we have that in about 20 percent of schools. It would be an opportunity to use Anglophone teachers in French schools or even, in some cases, to use English schools. It would be on an optional basis, offered to the kids for a full year. It's not through one or two hours a week that you learn a new language. We have enough examples that [have] worked to offer full year, either in 5th or 6th grade, throughout Quebec. We [already] do so in many places in the Eastern Townships, but we need to offer that everywhere. Read The Suburban next week for Part II.