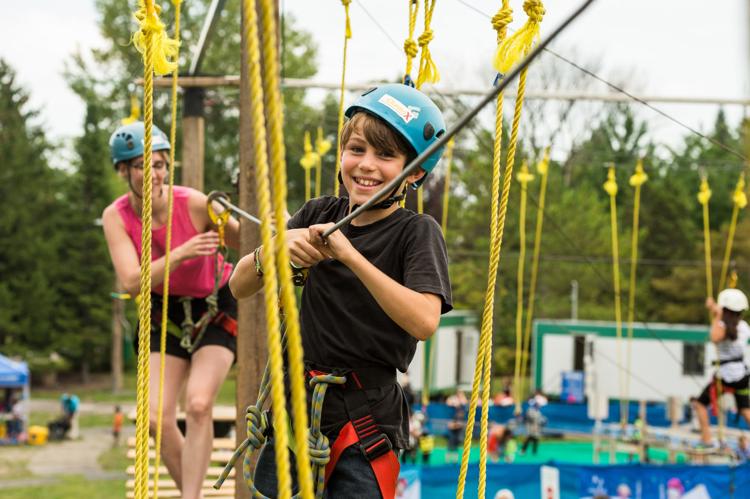 Laval's storied Fête de la famille at the Centre de la nature September 1, the 20th edition offering families a host of free activities including shows, inflatable games, zipline, circus workshops, face-painting, traveling characters and more.
At 10:30 a.m. on the main stage, Ari Cui Cui accompanied by his faithful friend Boulanger Joyeux will entertain friends with the rhythmic tunes of his new songs, as well as his classics. In the afternoon, Les Parfaits Inconnus will present their circus show to the crowd. At 12 p.m. Théo and Frédo will present their Yoopacadabra magic show at the Village des arts. A creative fight between comic artists Alex A. and Félix LaFlamme as well as a powerful performance by Kattam and his Tam-Tams will surely be a crowd favourite, while the marquee stage will host an urban dance workshop led by none other than Team White, the big winners of Season 1 of the popular TV competition Révolution.
The site will be divided into four large areas, each filled with activities for the family.
• Turbulence Zone: the ideal place for thrill-seekers. In addition to an obstacle course, there will be an aerial route, a zipline, a surf simulator and a dry slope for initiation to snowboarding. A skatefest will also be organized with introductory skateboarding sessions, pro demonstrations and a tricks contest.
• Pirates' Lake Zone: Pirates invade the great lake of the Centre de la nature for both land and water activities. A pirates race will test the skills of kids to discover who has the makings of a buccaneer!
• Zone Les petits genies: Children will go from discovery to discovery with science workshops led by the Cosmodôme, Armand-Frappier Museum, Parc Rivière-des-Mille-Îles and the Water Interpretation Center. The Bibliomobile will also be on hand to offer a well-deserved break.
• Playground zone: the zone will overflow with inflatable games, be animated by traveling characters, a clown fanfare and make-up factory. A photo booth will allow those who want to immortalize their visit and circus workshops will be offered. To cool off, simply spot the giant igloos.
Note that from 9 a.m. to 7 p.m., avenue du Parc will be completely closed to vehicular traffic between Concorde and François-Foucault. A free STL shuttle service will follow a route allowing visitors to go directly to the Center de la nature, and families who prefer public transportation to get to the site without any hassle will benefit from the family rate offered by the STL on weekends: each fare-paying adult can be accompanied at no cost by up to five children aged 11 and under. During the day, it is recommended to regularly check the event page on Facebook to be on the lookout for news and especially any possible changes to the program in case of rain.
For the full program visit event: www.fetedelafamille.laval.ca