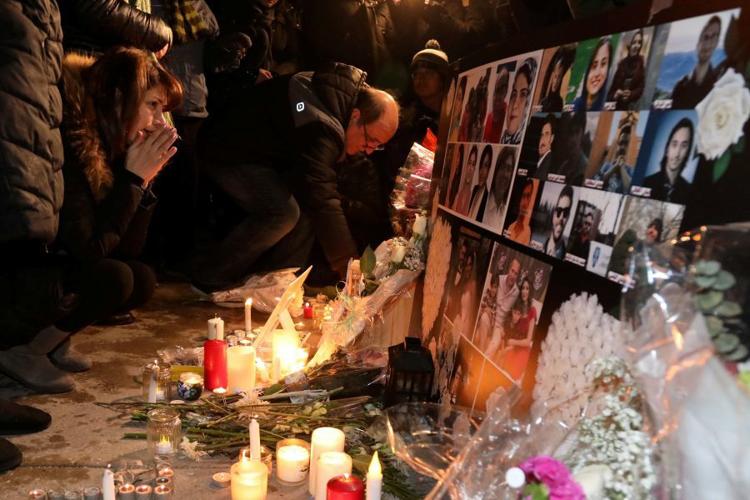 During last Thursday's evening vigil, hundreds of people gathered in front of Concordia's GM building to honour the memory of their friends and colleagues who were killed when Iran's Revolutionary Guards fired the missile that destroyed Ukrainian Airlines flight PS752 that was supposed to take them home. As 63 of the 176 victims happened to be Canadian, eight of the dead were also members of Quebec's thriving Persian community who came to live and study in Montreal. As both Siavash and Sara Azar recently earned their graduate degrees out of Concordia University's Engineering faculty, several mourners told The Suburban that their loss was "personal" because they were all immigrants, and as many of them knew the Azar couple when they were students at the university, they all had as much in common with the dead newlyweds as they did with each other.
"There are a lot of students here who identify with what happened to Siavash and Sara," said Saman Abolfathi – the Concordia student who organized the evening's vigil. "Several people here knew them, and we all shared their experience as students at the university."
According to Abolfathi, Siavash and Sara Azar recently earned their Master's degrees in Engineering at Concordia before going back to Iran to get married. Others, including Aida Farzaneh and Arvin Morattab, were recent graduates with a PhD out of Montreal's ETS (École de Technologie Supérieure) who wanted to do some travelling in Iran before returning to work in Montreal. Like many recently arrived immigrants who discover Quebec's generous professional training programs, Shahab Raana and his friend Saham Hatefi Mostaghim were both putting in the hours to become accredited welders when they decided to go back to see the friends and family in Iran during the Christmas break. Others, including gallery manager Niloufar Sadr were on the plane as was Mohammad Moeini, a draftsman who worked at the Bombardier Recreational Products plant in Valcourt, Québec.
As the wind blew through the busy intersection that faces the Norman Bethune Square, there were a lot of quiet tears as candles were lit in front of victim's pictures. At around 6 p.m., everybody shared a quiet moment before various speakers began to denounce what happened to Ukrainian Airlines Flight PS752 shortly after it left Teheran's airport. Although there were lots of questions — and more than a few accusations — about how and why a plane full of Canadians was shot down, many, including Abolfathi, said that the evening's vigil was meant to provide time to think of the victims and their families who would have to deal with their loss.
"We're here to show our love and support to those who lost their lives," said Abolfathi. "Our thoughts and prayers go out to these victims, their loved ones and their families."