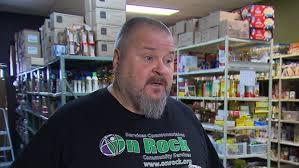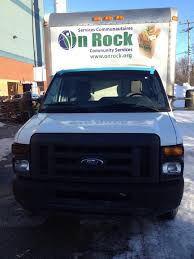 So far, 2018 has not been an easy start for the non-profit agency On Rock Community Services. Due to the overwhelming need from recent asylum seekers leaving the United States, the food bank has had to place those needing help on a waiting list, a flood caused the agency's roof to flood and the delivery van has broken and will need to be replaced.
For most NGOs, this could be a serious setback but Executive Director Kim Reid and his staff and volunteers are undeterred. "We have always done really well with what we have and we never focus too much on problems but rather the solutions," Reid told The Suburban.
"Our attitude is to not fold but to say 'let's get on with this'," said Reid.
Reid said that the "van bid us adieu when one of our volunteers started it and one of my colleague's inside heard the really loud start," said Reid. Turned out, the van had suffered a broken rod and when a mechanic inspected it, "he told us we have to scrap it."
But with anywhere between 260 and 300 food baskets that are given out weekly, not having a delivery van has made things difficult. Currently, volunteers are using their own vehicles to make the delivery runs as well as a volunteer, who owns a courier company, stepped up.
"This was the same company, QA Courier, that helped with 60 turkeys in our Christmas drive and has now added two of our routes to a driver's list. He is also trying to help us find a new, replacement van," Reid said.
The roof flooded due to a problem from the upstairs neighbour. "We usually get some water infiltration every year but this time, we came in to find about 14 ceiling tiles had turned to mush which made a huge mess in our diner," Reid said.
Perhaps the biggest challenge the non-profit agency is experiencing is the increased number of requests for food baskets. Reid estimates there is a two to three month waiting list, roughly 70 families on hold right on.
On Rock has seen a sharp increase in need that started last summer when asylum seekers were leaving the United States in fear of being deported.
"Many crossed over the border last summer as they were worried about President Trump's immigration policies," said Reid. "Some of them have children who have never seen their country of origin while others have had to leave their children in the US so right now, they are living in limbo.
"It is heartbreaking to say to that we cannot help them because right now, we need more space for storage," said Reid who last week, met a gentleman originally from Haiti who had been in the United States for the last 10 years. He had a job and a home but felt he 'had to get the hell out of Dodge'," said Reid.
"It pulls on your heartstrings and we hope that we can tweak some ideas to help them out," Reid said.
The Suburban reached out to Pierrefonds-Dollard MP Frank Bayliss's office to see if there was any federal help for On Rock considering the influx of asylum seekers.
Phil Ricard, director of Bayliss' riding office, told The Suburban that right now, "there is no active infrastructure program like we had last year where we were able to invest in the Ice Bizard arena and a soccer field in DDO."
Ricard did note that the riding office has a "constituency youth council and we will be going to On Rock to offer some volunteer help."
To learn more about On Rock, or to help with a financial donation or to volunteer, contact them online via www.onrock.org or by calling 514.696.1905.