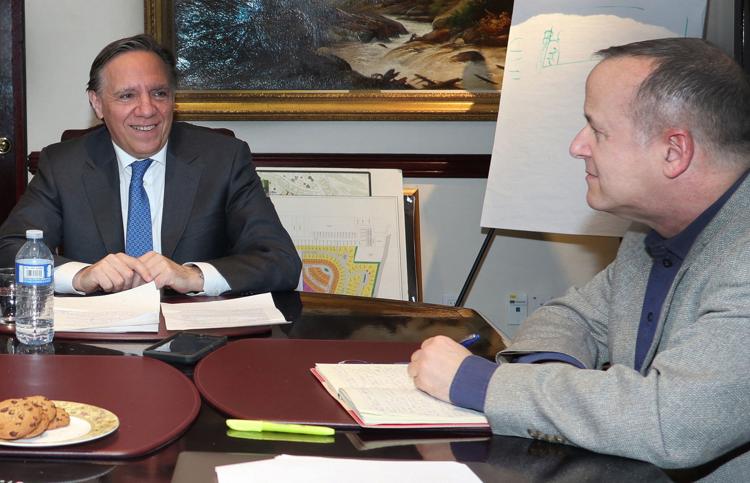 With public opinion polls putting Coalition pour l'avenir du Québec in prospect of a parliamentary majority, leader François Legault visited The Suburban, April 9, to discuss the priorities and his agenda in the election. This is part two of the interview. In the first part published last week Legault vowed that "there would never be a sovereignty referendum under a CAQ government" and that he supported equal population voting strengths through all ridings with a limited 10% differential.
How will you deal with agricultural and environmental watchdogs that have straitjacketed municipal development?
We need to double private investment. Right now, we have $30 billion a year of private investment. If we want to [keep up with] the rest of North America, we would need $60 billion. That will be my obsession. I want to be an economy premier. It will take many years to get to the target but we need to double private investment. Which means that you need place for infrastructure, place for industrial development and right now very often you either have the environment or the Commission de protection du territoire agricole du Québec (CPTAQ) [working] against it.
It's not just an issue of taxes. It's also about language.
What about unions? I have no intention of changing the law. But the law has to be respected. If it's on a temporary basis that they come here, they don't need to go to French schools. The principle is to apply the law. I will apply the law.
What will you do to get government out of the way and let private industry work?
I met a few weeks ago with mining industry representatives. [Elsewhere] in the world, the average time to get a certificate of authorization is six months. In Quebec, it's between two and five years. The bureaucracy is terrible. We need to do something. Not merely to talk about it.
I would like to have a kind of passport where they have one document a year to complete, perhaps with many annexes, and Investment Quebec must be the only place that requires some information. They will have the responsibility to give that to all the ministries, all the organizations that are asking for all kinds of data from companies.
We have to reduce bureaucracy. We have to reduce the delay for CPTAQ or the environment. It's unacceptable that it takes so much time. I will not be a doctor premier. I will be an economy premier. I will tell [all] my ministers not to block private investment for no good reason.
Quebec is the only province that isn't transparent with what happens with money for minority communities that it receives from the federal government…
They have to be transparent and we never know if all the money was used for the right purpose.
So you're ready to…
…open the books. Make sure that it goes to the right places. What's important is to be transparent. To see that all that money from Ottawa is going to the right places.
Would CAQ allow English schools to supplement school curriculum to let their students to take pride in their own minority community?
Be careful with that. Because there are many questions. You have to have a common curriculum. But after, you can add some study of religion or whatever. But you have to have a common curriculum for all Quebecers.
Won't your policy to abolish school boards open Quebec up to a constitutional challenge?
If you give those powers to each school, to each [English] school, that's better. You can say that you have as many school boards as the number of English schools we have in Quebec. If you say that you have 100 English school boards, one for each school, you answer the challenge.
How can we fix Quebec's deteriorating roads?
We have to stop taking the lowest bid. We have to put some weight on quality, not only on price. Secondly, there's a lack of investment in our roads. The Liberal government right now wants to put all the money only in public transit. People [still want] to travel with their cars and we cannot accept the type of roads that we have right now.
How about immigration?
Right now, we receive more than 50,000 immigrants a year. After five years, 26 percent have left Quebec for another province. Among those remaining, the unemployment rate is 15 percent.
The first criterion must be qualifications. We have to increase the number of immigrants who choose to stay and work in Quebec. If we succeed with 40,000, at the end of the day, we will be better off. Then, we'll increase to fifty, sixty, seventy thousand. But right now, it's not good for them. It's not good for our economy to have so many leaving our province and to have so many unemployed.
You would not make French the number one criterion?
No. It will be qualification. They will have three years to successfully complete a French test before getting a selection certificate. Better to choose a German engineer who can learn French in three years.
What about the person who three years later doesn't know French?
They won't have a selection certificate, so they are not citizens [and] will have to leave. And they can retake the test in the fourth year.