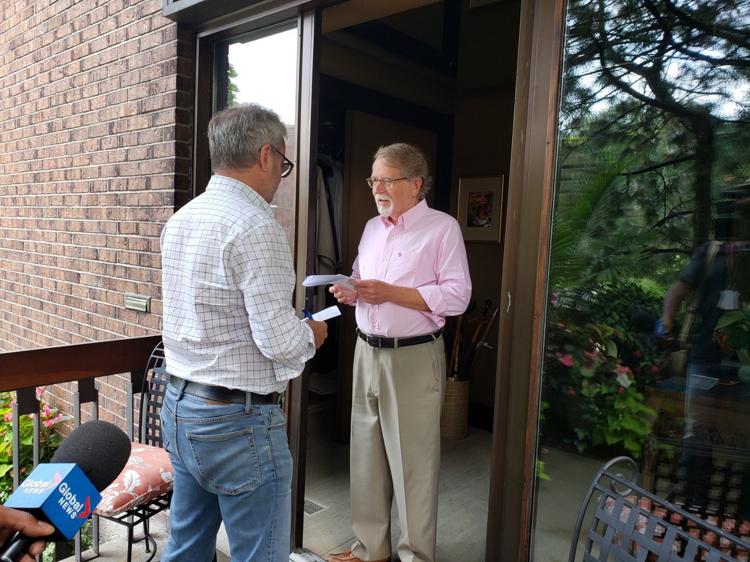 Hampstead Mayor William Steinberg was served at his Albion Road home 11 a.m. Thursday (Aug. 8) by bailiff Wilfrid Meyer, in relation to his July veto of council's 3-2 vote against changing zoning for a project to demolish two CSL Road apartment buildings and replace them with a 10-storey luxury apartment building.
The Suburban and other media were present when Steinberg was served.
"What is this?" Steinberg asked the bailiff.
Asked by media for comment at that moment, the Mayor shut his door.
At the August council meeting, council that time voted 3-3 on the project — Councillor Cheryl Weigensberg switched from no to yes, and Councillor Warren Budning switched from yes to no — and Steinberg broke the tie to approve the project. A tie is equal to a rejection. Councillors Harvey Shaffer and Leon Elfassy also voted in favour, and Michael Goldwax and Jack Edery also voted against.
Many vulnerable people live at 5781 and 5783 CSL Road, and they have been protesting the project, as have homeowners living behind the proposed building on Queen Mary Road. A public consultation will be held at the Adessky Community Centre 8 p.m. Monday Aug. 19.
Lawyer Maryse Lapointe's letter to Steinberg points out that he exercised his veto power in July against council's 3-2 rejection of the project. The letter says the Cities and Towns Act allows a Mayor to veto something council approves.
"However, the Mayor of Hampstead does not have the lawful authority to veto a failed resolution and to schedule such a new vote," Lapointe wrote. "Therefore, the Mayor's attempt to veto the council's decision to reject resolution PP-2019-01 was ultra vires, and without legal effect. Similarly, any new vote held on that resolution is illegal and without effect. Thereupon, the new vote held on Aug. 5, 2019 was illegally taken."
Lapointe adds that, in light of this, "the present letter constitutes formal notice to Hampstead's city council, to confirm in writing, before Monday, Aug. 12, 2019, that the result of the vote held on Aug. 5 on resolution PP-2019-01 is not valid and will not be implemented.
"Should the council fail to comply with the present demand, we have the mandate to institute all necessary legal proceedings to assure our clients' rights as citizens of Hampstead. Do govern yourselves accordingly."
The letter was copied to all town council members.
Steinberg later told the media he is asking a lawyer to have a look at the letter, and also pointed out that he has exercised his veto power several other times since he became Mayor.
A few of the building's residents were present on Albion Road when the bailiff served the letter. But Marie Pontini, who uses a wheelchair and has expended a great deal of energy protesting the project, was not especially optimistic about the final legal outcome.
"The vote was illegal, as was one by the town's demolition committee as they had to suspend it since the project was not approved," she said. "Eventually, it will pass. We'll do what we have to do. There will be a consultation, petition, register and referendum, but... even if we got 10,000 signatures, I'm pretty sure they will find a way to" ave the project come to fruition.
Resident Andrew Martin said he was not impressed with Weigensberg's vote change.
"It was in very poor taste when she had supported us during the vote," he said. "I wrote to ask her to maintain her position, and for her to change her vote in front of all of us is a huge slap in the face."
Weigensberg told The Suburban that she switched her vote to approval after receiving more information, "and realizing that the [proposed] building is beautiful. We're really trying to do what we think is best for the whole town."
Resident Sharon Hyman also spoke out.
" [Steinberg] will say he believes this project will be good for Hampstead residents," she said, "to which I would counter he means 'affluent residents,' because it sure isn't good for the residents of more modest means who are losing their homes of several decades.
"He will also say Hampstead wants to attract young families. Well, we have three families currently living in our buildings, with eight children between them. The children are all friends and play in our backyard and we adults all keep an eye out for them, as their parents are the hardest working people you could ever meet and often at one of their multiple jobs. They are modest income newer Canadians. I guess these aren't the families that the Mayor wants to attract since he will be ripping them from their community if this project goes through."