Citizens coalition sends demand to all party leaders to commit to riding equity and equality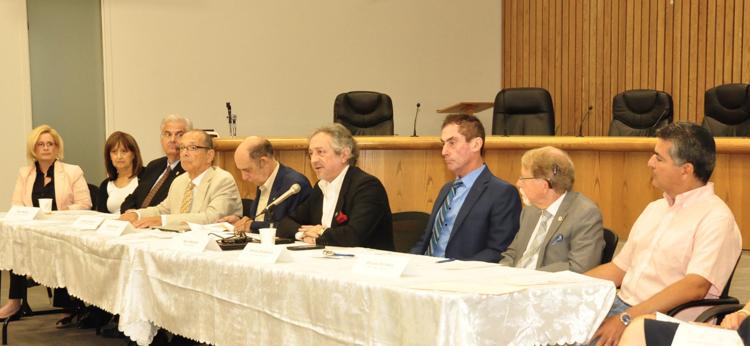 A coalition of private citizens and politicians called on Quebec's party leaders Tuesday to commit during the current campaign to "reforming Quebec's electoral law so that the huge disparity in the number of voters per riding is redressed."
The group sought a court ruling to prevent the Oct. 1 provincial election from going ahead with an electoral map changed last year by the Director-General of Elections, but the court declined to make the case a priority and the case will be heard next year. Thus, this year's election will go ahead with, amongst others, a merged Mont Royal-Outremont, an enlarged D'Arcy McGee riding and Mont-Royal eliminated. The coalition is calling for changes that would take effect in the election after this one.
A press conference was held Tuesday on this issue at at a packed Côte St. Luc City Hall council chamber with most major media and dozens of community activists present. It was led by Montreal City Council Dean Marvin Rotrand, citizens coalition co-chair Suburban editor-in-chief Beryl Wajsman, Mayors Mitchell Brownstein (CSL), William Steinberg (Hampstead) and Beny Masella (Montreal West), former MNA Lawrence Bergman and many other elected officials from the island of Montreal.
Wajsman underlined the urgency of restoring "the importance of a voice for non-francophone communities and vulnerable populations. "What is the point of Quebec giving more money and power to the City of Montreal, and spending money on cultural communities, when the 50.3 percent on the island of Montreal who are non-francophones, have had their voice diminished by four ridings lost?" he added. "It's time we equalized the ridings in Montreal.... We want a commitment to a new electoral map [throughout the province] where the differences in population shall not be more than 10 percent one way or the other, not the current 25 percent."
He stressed that, "Urban voters need equality and equity of votes as demanded by Section 10 of the Quebec Charter, or we cannot call ourselves a proper democracy and make fun of the Americans on voter suppression. We institutionally and legally suppress the votes of minorities."
Wajsman also cited a 2017 ruling by the Nova Scotia Court of Appeal which overturned a "new electoral distribution that cut the representation of Acadians in three ridings, saying that it violated the Charter rights of representation and respect for natural communities."
Rotrand said, "as far as we're concerned, a commitment by the party leaders [to reform Quebec's electoral law] can resolve the situation, should the parties — especially the main ones — commit to something most Quebecers would see as fairer, more democratic and respecting the rights of everyone, regardless of where they live."
It was also revealed Tuesday that the court case to reverse the riding changes, being handled by constitutional rights lawyer Julius Grey, will be heard next year. The coalition vowed to continue until a final judgment is rendered.
Rotrand further said that several other jurisdictions whose electoral maps were changed reverted to their original maps, in Nova Scotia, Pennsylvania and North Carolina.
The councillor also expanded on the argument involving what current electoral law allows, pointing out ridings can have populations 25 percent more or less than the 48,952 average, "a maximum of 60,414 or a minimum of 36,290 voters.
"This legal disparity of up to 24,124 voters or up to a 72 percent legal difference of voters per riding gives some voters in Quebec far more power than others," he added.
There are also six ridings — Abitibi-Est, Abitibi Ouest, Bonaventure, Gaspe, Rene Levesque and Ungava —with even smaller populations that have been granted exceptions. The plaintiffs are arguing that such disparities should only be allowed in "the rarest cases." The plaintiffs also argue that the practices of jurisdictions like Manitoba and New Brunswick should be emulated.
"Manitoba does not allow any electoral district to be more or less than 10 percent of the norm while New Brunswick, while striving for parity, uses a variation that assures electoral districts are no more than 15 percent above or below the average," says a statement by the plaintiffs. Quebec allows a variation of up to 25 percent."
Coalition members are hoping to meet with the major party leaders in the days to come "and win their assurance that Quebec will ultimately have a fairer electoral map based on fairer criteria."