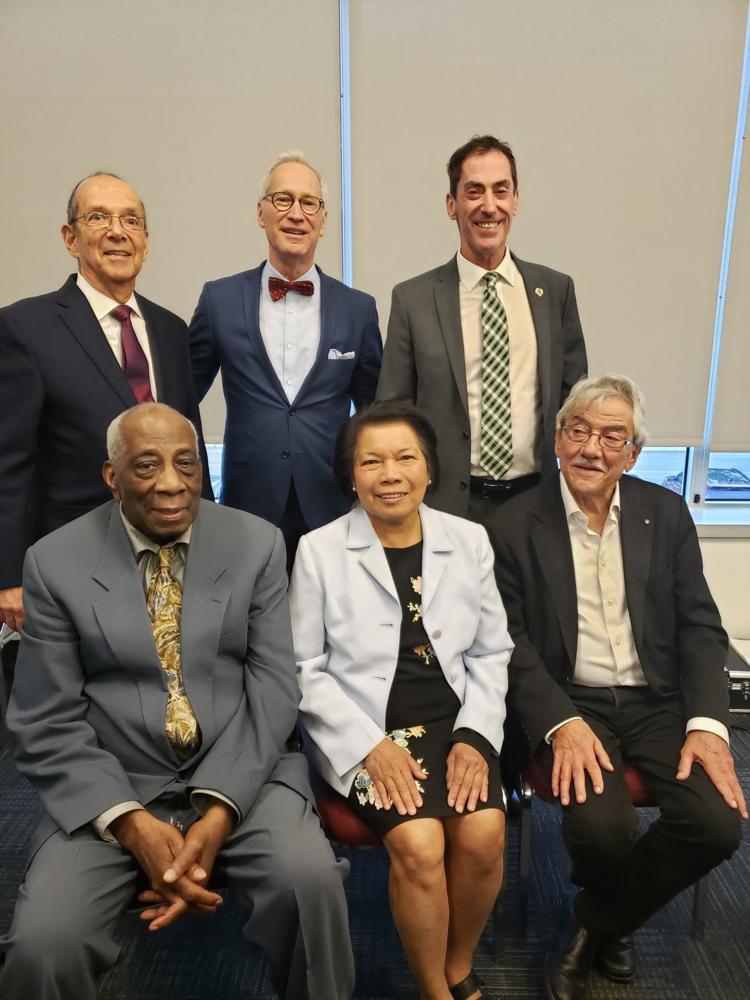 The fifth annual D'Arcy McGee National Assembly Citizenship Medals were awarded recently by MNA David Birnbaum during a ceremony at Côte St. Luc's Aquatic and Community Centre.
On hand were Birnbaum, Côte St. Luc Mayor Mitchell Brownstein and members of Côte St. Luc council, Meena Khan on behalf of Mount Royal MP Anthony Housefather and former D'Arcy McGee MNA Lawrence Bergman, the latter one of three judges along with fellow former MNAs Robert Libman and Herbert Marx.
The winners were:
• Lilia Esguerra, a member of the Montreal Filipino community and one of the first Filipino teachers in the Quebec public school system, who was honoured as a "leading community educator," and for helping to create the Ahmon Institute in partnership with the EMSB.
"Her institute has attracted and trained hundreds of Adult Education students, particularly in the fields of business and professional sales," a medal ceremony statement says. "The majority of the students have been new Canadians, and the Institute has been a vital stepping stone for them on their path towards citizenship and success."
Esguerra is also president of the Filipino Golden Agers Association.
• Dan Philip, president and founder of the Black Coalition of Quebec, for his "lifetime involvement in activism and social justice causes [reaching back] to the early 1970s.
"Over the past five decades and more, Dan has distinguished himself as a defender of society's most vulnerable, raising his voice in instances of police abuse and against all instances of the violation of rights of all Quebecers," the statement adds. "He was a leading political force in the anti-apartheid movement in the city and in the early 1980s, he joined with other social justice advocates in helping Haitian [taxi] drivers in their fight against discrimination and racism in the taxi industry."
• Maximilien Polak, a longtime CSL resident, lawyer, judge of the Court of Quebec's criminal and penal division, a two-term MNA for Sainte-Anne and a Commissioner for the former Protestant School Board of Greater Montreal.
"Maximilien Polak has built his impressive reputation for elected, professional and community knowledge on his wisdom, pragmatism, humanity and warmth," the ceremony statement says.
Also in the audience were members of Polak's family, including Michael Polak, Honourary Consul of the Netherlands. Maximilien Polak's speech was largely a fond tribute to his late wife Celine Spier, who, among many other achievements, played an invaluable role in helping her husband get elected.
Philip also paid tribute to Polak, pointing out that they protested together for the release of then-imprisoned anti-apartheid activist and future South African president Nelson Mandela.