As we move to our new normal, one of the ways of monitoring the situation and screening will be to take your temperature. Here's what you need to know: While not everyone who is infected with the virus that causes the COVID-19 illness will have a fever, it's a reasonable and easy symptom to look for, so it will be part of any return to work protocol.
What's normal?
That actually varies person to person and by time of day. The US Centers for Disease Control and Prevention still view a temperature of 38C or 100.4F as being a fever, but I know that there are people out there whose regular temperature is 36 or 36.5, so any elevation of a half degree or more would be a fever for that person. We also know that your temperature will vary with the time of day, lowest in the very early morning hours and peaking in the late afternoon by as much as half a degree C, so that wouldn't be a fever unless it it's 38C or more.
How should you check it?
The most accurate is a rectal temperature. That would most closely represent the temperature in the core of your body, which is what we're really interested in, but that's impractical — especially as a screening tool.
Oral is next best but you have to be careful not to have eaten or drunk anything that could raise or lower the temperature in your mouth for at least 15 minutes before taking the test, and you need to keep your mouth tightly closed around the thermometer. If your nose is blocked or you're short of breath that won't be possible so an oral temperature taken under those circumstances would not be accurate. Your normal oral temperature is typically 0.5C lower than a rectal or tympanic (ear) temperature.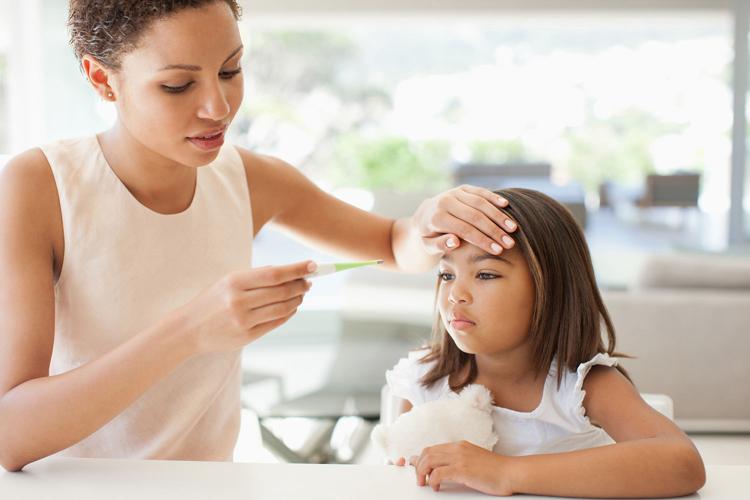 A tympanic membrane thermometer uses infrared light to read your temperature by bouncing its signal off your ear drum. It works well and is a close approximation to the core temperature, but the ear has to be clear of wax and you have to get fairly close to do it, increasing exposure risk for the person doing the test. It can only be used accurately in a child older than six months. Also, if you've just been outside, either in a very cold or hot environment, it takes about 10 minutes indoors before you can get an accurate reading.
It is possible to take a temperature using the armpit. A so-called axillary temperature is easy to do and is approximately a half degree lower than an oral temperature. Good for a child but not a practical way to screen.
Lastly, there is the scan of the forehead. Using an infrared scanner it reads your temperature without having to touch you or get too close. Obvious advantages for a screening tool but unfortunately the most expensive of all. It will give you a reading that is approximately 0.5C lower than an oral temperature. It can't be used accurately in a child less than three months old.
So why do a temperature at all? A very reasonable question. If you could trust people to monitor their own temperature properly at home and report it, then doing this wouldn't be necessary. Taking someone's temperature certainly isn't enough to adequately screen the population but as part of a screening process it helps. By the way, a thermometer is one of the things that you should have in your home medical kit anyway.
Dr. Mitch Shulman is an Associate Professor in the Department of Emergency Medicine at McGill Medical School as well as an Attending Physician in the Emergency Department of the McGill University Health Centre. He's also the CJAD AM 800 Medical Consultant.