I have seen many people question whether or not Le Village du Père Noël is worth the while and let me assure you that it is absolutely worth it and guaranteed to be a fun filled day full of fun, excitement and so much more. Located in Val-David, just a short drive from the Montreal area, the village is a perfect destination for your next family fun day.
We recently visited the village with several children ranging in age from 1 years old to 7 years old, and it is true what they say, there really was something for everyone.  From visiting and feeding the animals, to Santa and Mrs. Claus, friendly elves roaming around, to bouncy castles, slides, and climbing structures, there was not a minute that went by that kids were not laughing, running around and having a blast. Let's not forget the water attractions. We visited the village on a beautiful sunny day, but a very hot day and the water slides and games was exactly what we needed to cool down. Plus, the village really did think of everything, the pool is very shallow and great for little swimmers, the sprinkler area was perfect for the youngest ones and the slides were loved by everyone, including the adults. Despite everything else there was to do, this was definitely the main attraction for our children.
One of my favorite things about the village is that although it is a large space, the layout is extremely family and stroller friendly, not to mention that they have the friendliest staff imaginable. Typically, my children don't like people in costumes, but the elves were so kind, approachable and addressed the kids by name that my children instantly fell in love with them and were actually trying to find them throughout the park whenever they could.
 Another highlight from our day at Le Village du Père Noël was the magic show. I have to say, Jeremy James the magician was not only fun and interactive with the kids, but really put on a fantastic show that had all the kids mesmerized, even the adults could not help but be enthralled by the show. My son was completely blown away and has not stopped talking about and questioning all the tricks and illusions that he saw.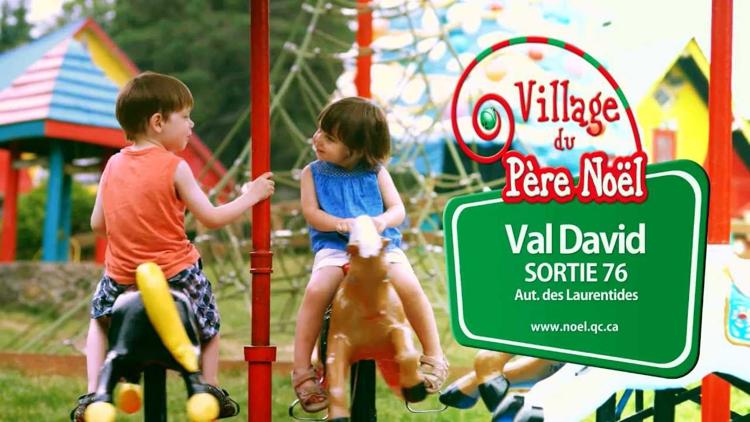 Le Village du Père Noël really is a magical place that is sure to have you leaving with fabulous memories that will last a lifetime. I know when we left, the kids were already asking us when we would be going back. The summer months are so short, be sure to visit the village and enjoy all in has to offer for you won't regret it!