As a kid growing up, Labour Day meant a few things to me. There was the end of summer and back to school, a moment I despised, I am after all a huge fan of summer, always have been, the Jerry Lewis Labour Day Telethon, which ran for decades, and of course tracking hurricanes. It seems the Labour Day long weekend and hurricanes go hand in hand. I have been tracking the storms since 1979, and rarely a year goes by without a named storm to end the summer. We are in the peak of Atlantic hurricane season, so it is no surprise that we are dealing with two storms as we end August.
Hurricane Dorian, the more dangerous of the two systems, is located just west of Saint Thomas in the US Virgin Islands as of 3pm Wednesday. The storm is moving northwest at 20km/h, heading towards Puerto Rico. Winds are gusting to 75mph (120km/h), with some strengthening forecast today. Dorian is expected to remain a hurricane as the system moves near Puerto Rico. By late this weekend, the storm will be approaching the northwest Bahamas and the central Florida coast, likely as a major hurricane. All interests form the Carolinas into Florida and the Gulf of Mexico should continue to monitor the progress of this storm.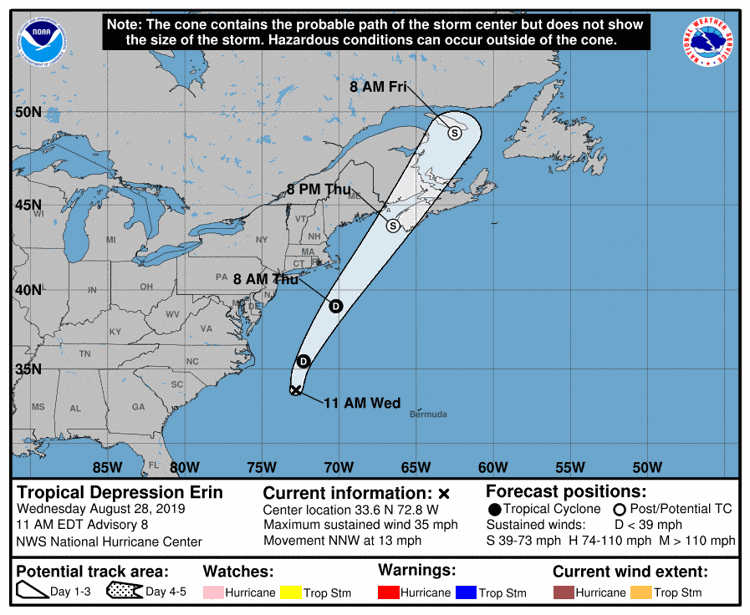 Meanwhile further north, Tropical depression Erin has developed about 430 km east of Cape Hatteras, North Carolina. Erin is a weak system located within a more harsh environment. Erin has 55km/h winds and is forecast to race off to the northeast today. The storm will approach the Nova Scotia coast by Thursday as a post-tropical system, with gusty winds and heavy rain. Weather warnings will likely be required for a portion of Atlantic Canada by later today.