Summer officially arrived at 11:54 on Friday morning, and along with it came the best weather of the year in Montreal. The weekend has been nearly perfect with partly sunny skies, low humidity and very pleasant temperatures. The only bug in the forecast was a smokey high level haze from the western Canadian wildfires. The strong northwest flow aloft is carrying the smoke into eastern Canada at the highest levels in the atmosphere. The smoke will likely be around Sunday and Monday as well. Most will not even notice. Temperatures will warm to the upper 20's both days, with overnight lows in the middle teens.
A change in the weather arrives late Monday and Tuesday, with the arrival of a frontal system from the Midwest. Clouds will be on the increase, along with showers and perhaps an isolated thunderstorm. The thunderstorms have been few and far between this year, a strong indication of just how cool it has been in Montreal. To date, I have recorded only one at my home here on Ile Perrot. That may change later this week as the first warm and humid air mass of the season arrives by Wednesday. Daytime highs will be around 27C (81F) each day with muggy overnight lows in the upper teens. There will be a risk of afternoon convective showers and thunderstorms each day into next weekend.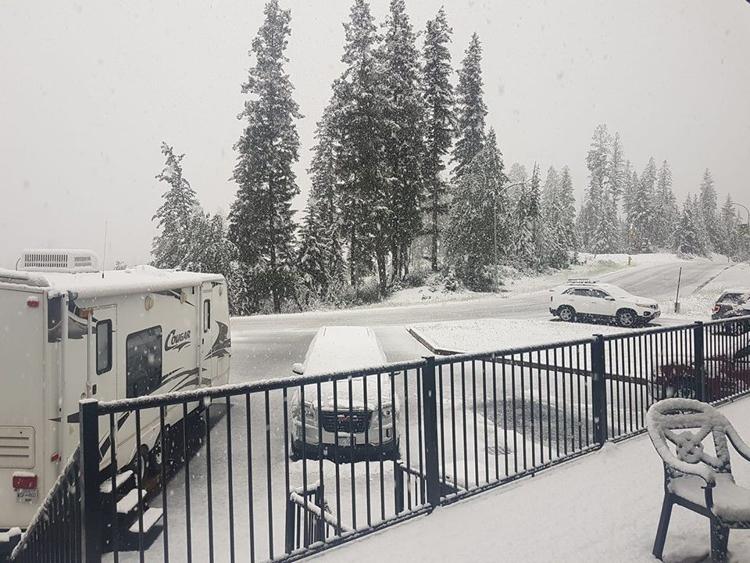 Summer Snow
Just a side note on the bizarre weather that has occurred across Canada this spring. Flooding, tornadoes, ice storms and now a snowstorm on the first day of summer. Parts of the Rockies in Alberta and B.C. had as much as 25cm of heavy wet snow on Friday. A childhood friend of mine from B.C. posted this photo on Facebook, taken in Elkford, B.C.