A line of strong to severe thunderstorms swept across the island of Montreal late Thursday afternoon, cutting power to over 105,000 Quebec homes. The bulk of the outages were across the West Island, Île Perrot and the Montérégie. The storms moved across the region just in time for the evening commute, making a mess for anyone heading south and west. Both Highway 20 and 40 had major accidents during the later afternoon, just prior to the storms arrival. It took well over an hour for anyone heading to Vaudreuil or the South Shore.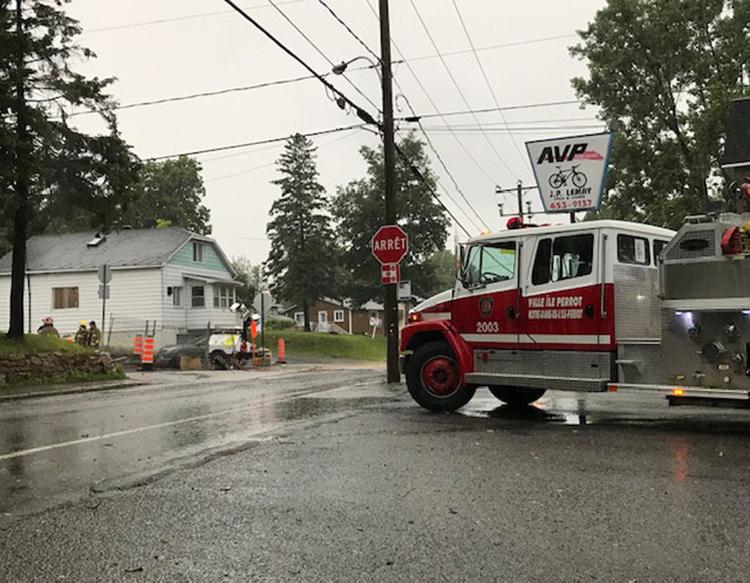 Strong winds, small hail and torrential rain accompanied the storms. On Île Perrot, over 25mm of rain fell between 5:30 and 6:30 pm, bringing the 24 hour total to 50mm. Flash flooding occurred along Boulevard Perrot near 23rd Avenue. The fire department was called out to assist a motorist whose vehicle had become stuck in mud and flowing water near a construction zone on 23rd Avenue.
EF-1 Tornado in Lanaudiere
The severe storms also spawned a tornado in Saint-Roch-de-l'Achigan, 50km northeast of Montreal. Environment Canada has confirmed the tornado touched down around 6:30pm, and was rated as an EF-1, with winds of up to 175km/h. No injuries occurred, but damage was reported to several trailers at a campground.
Hydro Quebec will be working throughout the night to restore power. As of 9:30pm, the number in the dark was down to 87,000. Many of the outages are small in nature, affecting a few homes and will take time to restore. Along with the rain and wind came cooler temperatures. The high on Thursday was 29C (85F), reached just prior to the arrival of the storms. Montreal is currently 20C (68F). All weather warnings have expired for Montreal, and only a few isolated cells remain across southwestern Quebec. Most of the activity has now moved into New England.