Rainfall Warning posted for metro Montreal
High Wind Warning in effect for the St. Lawrence Valley
Thursday, October 31st UPDATE: Strong low pressure will move across Ontario and Quebec over the next 24 hours. The storm will be accompanied by very strong winds and heavy rainfall. Winds will increase as the day moves along with 50km/h speeds by sunset. Overnight and Friday will be the period of strongest winds, approaching 100km/h (60mph) locally. The potential exists for tree damage and power outages.
As far as rainfall is concerned, the ground is saturated in southern Quebec. The rain that does fall will likely create some isolated flooding. Expect 50mm to as much as 80mm over southern Quebec.
Numerous municipalities in southern Quebec, including the City of Montreal, have postponed Halloween activities to Friday evening, while others are going ahead. The decision whether to go or not ultimately rests with the parents. On Ile Perrot, we will be ready tonight for the ghosts and goblins, rain or otherwise.
Previous Post: A strong low pressure system is forecast to develop over the Ohio Valley on Thursday and deepen rapidly as it  lifts northward across the Great Lakes and into central Ontario. The storm is expected to produce a wide variety of stormy weather from heavy snow north and west of the track, to severe thunderstorms and powerful winds south and east of the low.
Showers are expected to develop in Montreal on Thursday afternoon, becoming a steady rain by the evening hours. Heavy rain is forecast overnight into Friday morning, with as much as 50mm (2 inches) expected in Montreal. October has been very wet for the city, with close to 200mm (8 inches) of rain to date. The average rainfall for Montreal is closer to 90mm. The heavy rain will produce rapid rises on rivers and streams in the region. Some minor flooding is possible. As well, tons of leaves will hit the ground, clogging sewers. In addition to the heavy rain, a swath of wet snow is forecast across central Ontario into central Quebec, with as much as 15cm possible in places like Val d'or .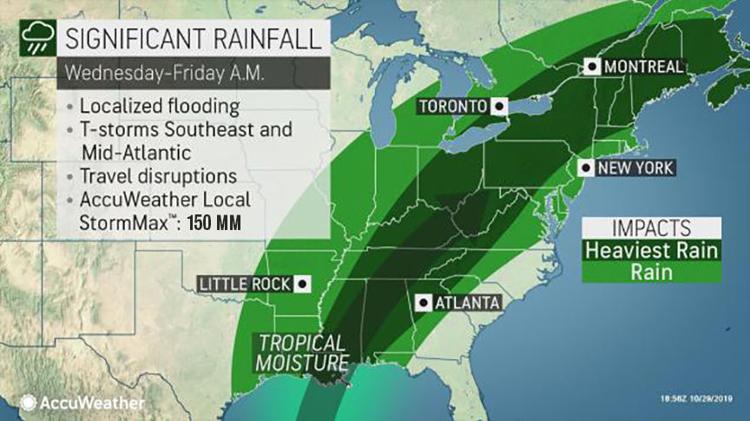 The system will be a very deep fall storm, with strong winds anticipated on Friday. As the storm lifts into central Quebec, southwest winds will approach 100km/h (60 mph) in the St. Lawrence Valley including metro Montreal. Winds this strong are capable of tree damage and power outages. Wind gusts may approach hurricane strength of 120km/h (75mph) across portions of the eastern Great Lakes and northern New York. Numerous watches and advisories have already been issued, and I expect weather warnings will be needed for Montreal and southern Quebec later today as the storm develops.
Temperatures will be very mild on the east side of the low pressure area, reaching into the middle teens in Montreal Wednesday and on Halloween. As the storm moves off to our north temperatures will drop rapidly on Friday, down to 5C (41F). A few flurries are even possible on Friday and Saturday across southern Quebec and eastern Ontario.