Hurricane Dorian now a major category 3 storm.
Hurricane Dorian is forecast to become a powerful category 4 storm over the Labour Day weekend while crossing the northwest Bahamas on the way to south Florida. Dorian was located 1000 km east of West Palm Beach, Florida at 2pm Friday, with 185km/h (115 mph) winds. The hurricane was moving northwest at 17km/h. Dorian will be in an ideal environment for strengthening over the next 48 hours, with forecasters expecting a major hurricane at landfall. Water temperatures are very warm in this part of the Atlantic Ocean and wind shear aloft, which can tear apart storms, is expected to diminish.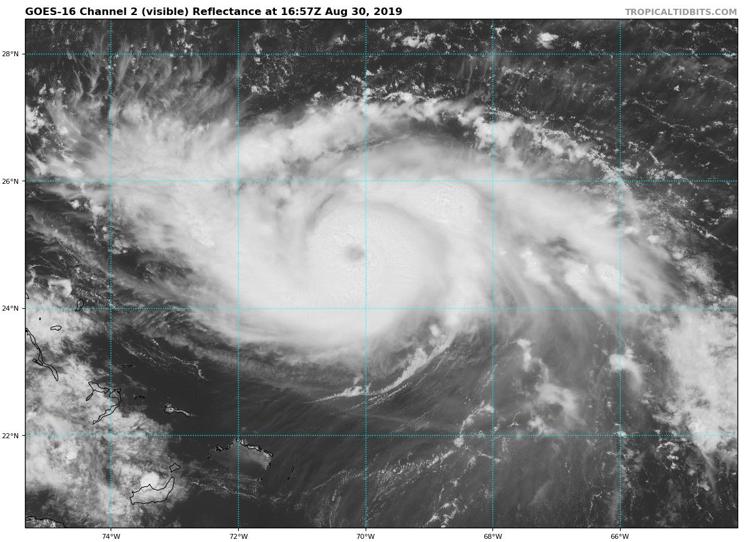 The big question is where is Dorian going? The forecast has become more complicated over the past 12 hours, with models expecting the storm to slow to a crawl as it approaches the Florida coast. A slow storm at landfall is bad news. This will prolong the heavy rain, strong winds and pounding surf. A long duration onshore flow will lead to significant coastal flooding. Dorian is expected to slowly move into Florida by Labour Day, before turning northward and moving into Georgia and the Carolinas. Dorian will impact the southeast US from late this weekend well into next week. A state of emergency has been declared in Florida and Georgia, with preparations well underway.
I will continue to monitor the progress of Dorian, providing updates via my Valley Weather Blog as well as at The Suburban Weather Page.  For the most complete and accurate tracking information, you can visit the National Hurricane Center website.
On a personal note, September 2019 marks 40 consecutive years that I have been tracking Atlantic Hurricanes, starting with Hurricane David in 1979.