Friday, October 18, 6AM: The rain has finally stopped after a two day record total of 68mm at Trudeau Airport and 83.4mm here on Ile Perrot. Thanks to the hard work of Hydro Quebec deploying over 600 employees to help restore power, the outages have dropped from a high of nearly 140,000 customers Thursday afternoon to just over 5000 Friday morning. The weather will improve today, with breezy, cool weather forecast into the weekend.
**Update 12:25 PM: A record 70.8mm of rain has now fallen at my weather station on Île Perrot since 6pm Wednesday. The previous record for this date at Trudeau Airport was 24.1mm set in 1977. Winds were out of the northeast gusting to 70km/h. Power outages now total more than 138,000 across Quebec, with over 45,000 of those in metro Montreal.
Previous Posts: Since 6am over 25mm (1 inch) of rain has fallen on metro Montreal, with a storm total of 58mm and counting. As expected winds have increased across the region, gusting up to 75km/h at Trudeau Airport. Power outages are mounting across the province, with Hydro Quebec reporting 50,000 in the dark. In metro Montreal over 29,000 are without power. Roads are slick and travel is very slow, making for a long commute into the city from the suburbs.
Strong low pressure over New Hampshire this morning will move into Maine today. The storm has dropped the central pressure 40mb in the last day, making it meteorologically speaking, a weather bomb (a pressure drop of more than 24mb in 24 hours).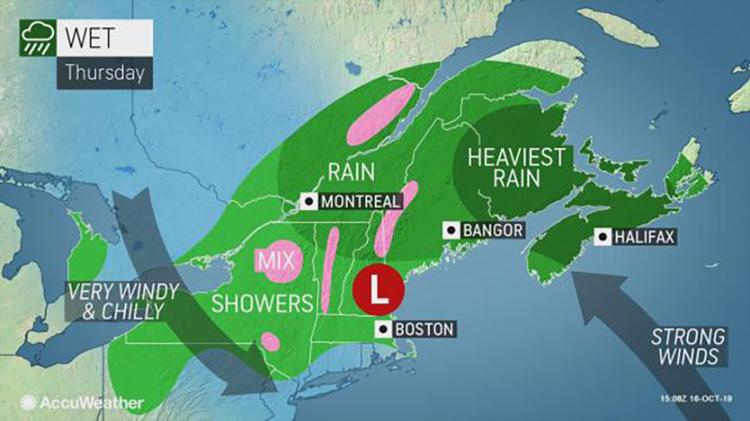 UPDATE: Thursday, October 17, 6 AM:
Rainfall Warning in effect for metro Montreal, southern Quebec and eastern Ontario. Wind warning for Quebec City.
Flood watch and wind advisory for northern Vermont and New York
Deep low pressure over southern Vermont will lift into Maine over the next 12 hours. The storm has been responsible for heavy rain overnight in Montreal, with 30mm falling here on Ile Perrot. Another 20 to 30mm is likely today before precipitation tapers off late in the day. Northeast winds are increasing as well Thursday morning, in excess of 50km/h currently in Montreal, expected to reach as high as 70km/h in the region, with 90km/h gusts in Quebec City.
As of 6 am, over 500,000 residents are without power across New England, with 8000 here in Quebec. As winds increase today in Quebec, we may see that number rise. The gusty winds have dropped tons of leaves across the city, so travel carefully on slick roads. The rain is expected to change to wet snow across the higher elevations of the Adirondack Mountains, with up to 10cm possible.
Previous Post: Low pressure is forecast to develop off the Delaware coast late Wednesday and rapidly intensify while moving northeast towards Long Island, New York. The strong fall storm will then move across eastern New England and into the Maritimes by Friday. Montreal will be on the western edge of the storm, with heavy rain and very strong winds forecast along the St. Lawrence Valley.
The rain will begin late Wednesday afternoon and become heavy by Thursday morning in southern Quebec. Current estimates are for 40 to 50mm (1 to 2 inches) of rain in Montreal, with up to 75mm (3 inches) in some locations south of the city and into New York and Vermont.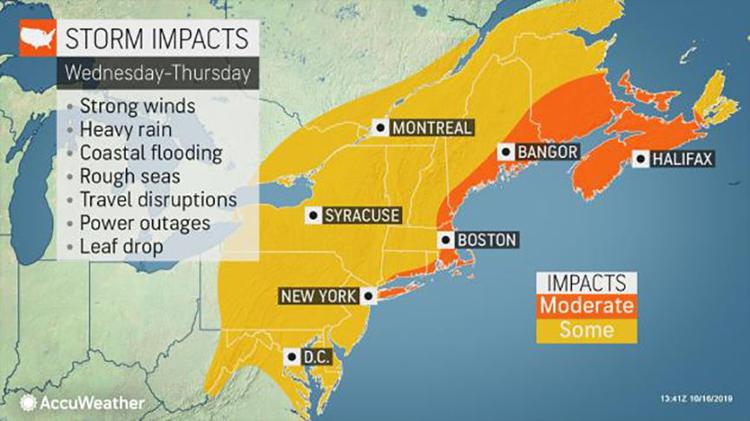 Winds are already increasing late Wednesday afternoon in Montreal, gusting out of the southeast up to 50km/h (31 mph). They will veer to the northeast on Thursday and increase to 50 to 70km/h (43 mph) in Montreal. Winds are forecast as high as 90km/h (55 mph) in the Quebec City region as well as parts of Atlantic Canada. The combination of strong winds, falling leaves and heavy rain will result in localized flooding.
South of Montreal heavy rain is forecast across New England, with even some wet snow possible at the highest elevations of the Adirondacks and Green Mountains. Coastal flooding is also likely from the middle Atlantic states into Nova Scotia.
Temperatures will be rather mild Wednesday, 15C (59F) in Montreal, but drop quickly in the wind and rain Thursday, only reaching 9C (49F). Skies should begin clearing behind the storm on Friday, with a pleasant, seasonable weekend expected for Montreal, expect highs near 12C (54F) and lows of 2C (36F).