UPDATE 1:45PM Monday, April 8: Precipitation has changed over to rain from Montreal towards the south and west of the city. However freezing rain and snow continued to fall northeast of Montreal and in the Ottawa Valley. While road surfaces are in decent shape in Montreal, ice has accumulated on sidewalks, parking lots and trees and power lines. The ice should melt this afternoon as the temperatures crawls up to 2C. It is a very different story from Lavaltrie northeast towards Quebec City where snow is falling and roads are very slippery along with reduced visibility in blowing snow. The winds will remain gusty this afternoon, from 40 to 60km/h.
UPDATE 8:45AM Monday, April 8: Light freezing rain continues to fall from Ottawa across the lower Laurentians and into the St. Lawrence Valley of southern Quebec. The current temperature in Montreal is -1C (30F), with freezing rain. Weather warnings remain in effect for the entire region. Freezing rain has made travel very icy, especially north of Montreal. There have been several school closings and bus cancelations north and west of the city as a result of the frozen precipitation. Gusty winds up to 60km/h are making for a miserable day.
In the city, parking lots, sidewalks and stairs are slippery, while most roads are simply wet. Expect 5 to 15mm of ice accretion in the region before precipitation changes to rain around noon. The high today should be 2C (36F).
If you have travel plans today, the only safe direction is south, all other areas have some form of snow or freezing rain falling. Along Highway 401, freezing rain is falling as far southwest as Cornwall. Northeast of Montreal, precipitation turns to snow along Highway 20 near Trois-Rivières.
Freezing Rain Warning in effect for metro Montreal.
Snowfall Warning posted for Quebec City.
Previous Post: It has been extremely difficult for any prolonged warm weather to become established across eastern Canada this spring. Each time it appears we may be in for a period of above normal temperatures, old man winter returns. The winter that started in late October, does not want to relinquish its hold on Montreal. Unfortunately this week looks no different, as our warm, spring-like Sunday will be replaced by another late season winter storm.
Strengthening low pressure will move along a frontal boundary just to the south of Montreal overnight into Monday. North and east of the front, cold northeast winds will prevail, along with wintry precipitation. Rain should start in Montreal late this evening and change to freezing rain overnight. The city will remain on the thin dividing line between rain and freezing rain. A freezing rain warning has been issued for the metro region, but I think most of the icing issues should be north of Montreal. That being said, we may have a few slick spots for the morning commute, especially in Laval, the Laurentians, and Ottawa Valley.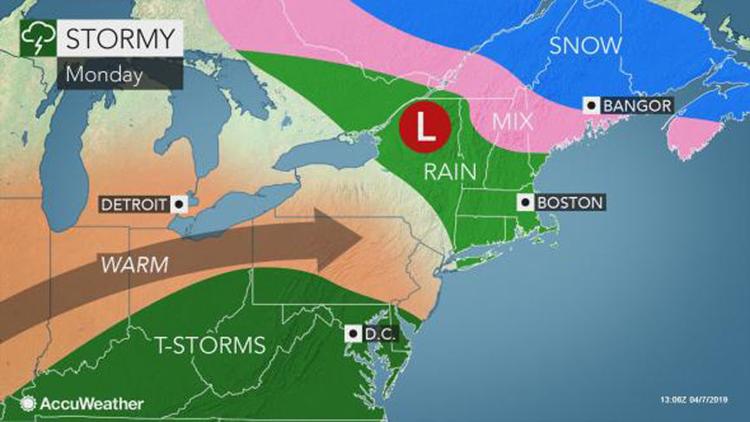 As you move northeast along the St. Lawrence River, the precipitation will change to snow, and become heavy at times. Quebec City along with regions of eastern Quebec, northern Maine and western New Brunswick, can expect 15-25cm of wet snow. Accompanying the precipitation across Quebec, will be gusty winds of 50 to 70km/h. Any travel plans north and east of Montreal on Monday, should be reconsidered.
South of Montreal and across most of southern Ontario, the precipitation should remain in the form of rain. After a warm high of 11C (52F) in Montreal Sunday, temperatures will fall quickly down to the freezing point tonight, and only rise to 2C (35F) Monday.