Today marks the 50th anniversary of the beginning of The Woodstock Music and Art Fair in upstate New York.
Starting Friday, August 15, 1969, the residents of the small Catskill village of Bethel in Sullivan County, New York had no idea what hit them. A storm of some 400,000 young adults descended on the village, White Lake and Max Yasgur's dairy farm for what would be, arguably, the largest concert in history.
The Woodstock Music Festival, held August 15 to 18, 1969, was a gathering of a generation focused on peace, love, music and united in their disapproval of government and the Vietnam War. Performers included Jefferson Airplane, Joan Baez, Santana, The Who, Crosby Stills and Nash, Jimi Hendrix and Janis Joplin to name just a few. Some of the performances remain legendary. I can't get White Rabbit out of my head after seeing footage recently. But it was the huge crowds, traffic jams and the weather that dominated the weekend headlines. Expecting around 100,000 to attend, organizers were plagued with problems from the start, including a late venue change, a shortage of food and major sanitation issues. Roads to the site were congested beyond words, with most attending forced to walk to White Lake. Yasgar's farm was just too large to enforce ticket sales, so the venue became wide open to anyone who wished to attend. And attend they did.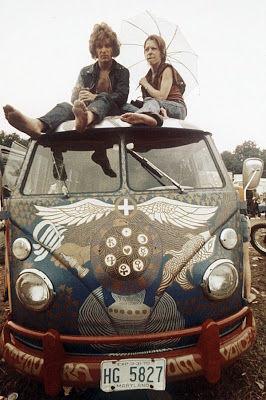 The Weather
The weather started off perfect, sunny and warm on August 15, but rain quickly became a major issue. We have all seen the famous pictures of attendees frolicking in deep mud. The concert was only scheduled to run Friday through Sunday, but carried over into Monday due to lengthy delays caused by thunderstorms.
The weather in the region is very similar to that of southern Quebec. Bethel is located about 540 kilometres south of Montreal. August is typically a warm and humid month, with frequent showers and thunderstorms. August 1969 was no exception. The weekend was relatively mild with daytime highs near Yasgur's farm ranging from 26C to 28C (79F to 83F). Overnight lows started quite cool, 12C (54F) on August 15th, but warmed to 18C (64F) by Monday morning. The temperatures were not the story. Day 1 was dry, but low clouds, drizzle and showers were reported on Saturday. In between the showers were peaks of sunshine, along with very warm and muggy conditions.
For comparison, Montreal's high temperatures that weekend were 31C, 32C, 28C and 25C respectively from August 15 to 18. We also had a major thunderstorm on August 18, that dumped 46.7mm of rain on the city.
Rain equals mud
On Sunday, just shortly after Joe Cocker finished his performance, a large thunderstorm swept across White Lake and Bethel, dumping over 25mm (1 inch) of rain near the venue. There was wild lightning and strong winds. Organizers were forced to cover precious electronic equipment and move people off the stage and the huge metal lighting towers that surrounded it. Yasgur's fields were transformed into a sea of mud and subsequently destroyed by the huge crowds. As with the precipitation on Saturday, the storms delayed the performances until at least 6:30pm. The damp, muddy conditions thinned the crowds a touch, as the music continued throughout the night. Monday dawned partly cloudy, as Jimi Hendrix belted out the Star-Spangled Banner before Woodstock drew to a close.
It would have been a miracle for the entire weekend to be rain-free. It is very rare here in southern Quebec and across the border in upstate New York to have consecutive dry days in August.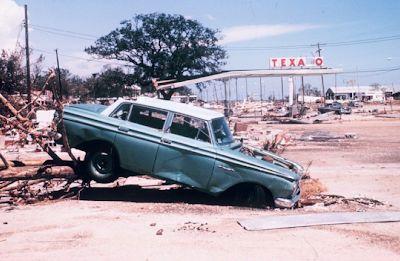 Hurricane Camille
Another historic event quickly drew attention away from Woodstock late in the weekend. Hurricane Camille plowed into the Mississippi Gulf Coast in the early morning hours of August 18. The compact but powerful category 5 hurricane moved inland near Waveland, Mississippi with 175mph winds and a storm surge of 24 feet. Camille was the benchmark storm that all others were compared to in the Atlantic basin until Katrina in 2005. Camille remains the second-strongest storm on record to impact the United States, and was responsible for 259 deaths and $1.43 billion in damages. Large portions of the Mississippi coast were destroyed beyond recognition. The storm then swept north into Virginia, generating catastrophic flash flooding and claiming more lives.