10:30 PM Update: The temperature in now down to 0C (32F) in Montreal, with light freezing rain falling. The good news is that 37mm of rain has already fallen, so the amount of freezing rain should be less. Warm air held on a little longer than expected. However we are still looking at 15 to 20mm of freezing rain overnight across southern Quebec. Exercise extreme caution if venturing out tonight.
7:30PM Winter Storm Update:
All weather warnings remain in effect for Ontario and southern Quebec. The rain has been steady all day in Montreal, with warm temperatures of 7C (45F) at Trudeau Airport, and 9C (49F) here on Ile Perrot reached at noon. Since then, temperatures have been dropping steadily, but not as fast as I expected. We are currently at 2C (36F). So far 30mm of rain has fallen here at my home on Ile Perrot. 
Expect rain to change to freezing rain by 9pm or so in Montreal and continue overnight. The slight delay in the arrival of colder air may lower the freezing rain quantities a touch, but still looking at a good 20mm for Montreal. Winds are increasing out of the northeast gusting to 45km/h, expected to increase to as high as 70km/h overnight and Sunday. 
Freezing Rain Warning in effect for southern Quebec and eastern Ontario.
Ice Storm Warning for the St. Lawrence Valley, northern New York and Vermont.
Previous Post: Rain is expected to change to freezing rain across the island of Montreal around 6pm Saturday evening. Travel is not recommended tonight in southern Quebec and Ontario. Plan for power outages.
A frontal boundary lies just north of Montreal early Saturday morning, the dividing line between very warm air to our south and arctic air to the north. Strong low pressure will ride along the front over the next 12 to 24 hours, spreading heavy rain and eventually freezing rain across the region.
Radar early Saturday morning is showing heavier rainfall moving into southwestern Quebec. Rainfall will continue all day, with as much as 25mm in Montreal. The rain will lead to isolated flooding and ponding of water on roadways. Temperatures today will be very mild, reaching up to 10C (50F).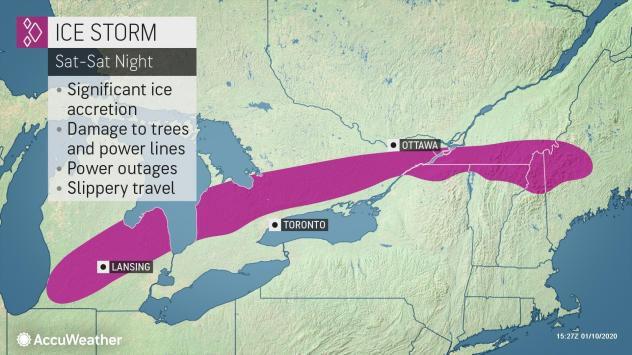 The frontal boundary will begin to shift south early this evening across southern Quebec, ushering in much colder air at the surface, while the warm air remains aloft. This will set the stage for several hours of heavy freezing rain. Exactly where the boundary sets up, will establish who receives the most ice accretion. At this time is appears the heaviest frozen precipitation will occur across the southern portions of metro Montreal south to the US border, and along the St. Lawrence Valley towards Brockville and Kingston. Some locations within this band will receive up to 30mm of freezing rain. This is more than enough to take down tree branches and power lines.
Regions further north of this zone, including Laval, will cool off very quickly and switch over to ice pellets (sleet) or snow. The temperature will fall quickly down to -7C (19F) overnight in Montreal, and remain fairly steady Sunday. Winds will pick up as well overnight and Sunday, gusting as high as 70km/h in southern Quebec. The wind could take down ice covered branches and power lines on Sunday.
The weather will improve late Sunday and Monday, with just a few flurries forecast along with seasonable highs of -6C. Much colder air arrives late next week, remaining for the balance of January.