Early Saturday morning, hurricane Dorian was located 660km southwest of Halifax, racing towards the northeast at 41km/h. Dorian has still maintained category 1 status, with winds gusting to 140km/h. Hurricane warnings are in effect for Nova Scotia and P.E.I., with tropical storm warnings posted for portions of New Brunswick, Newfoundland and eastern Quebec. Montreal and southern Quebec will have no weather impacts from Dorian.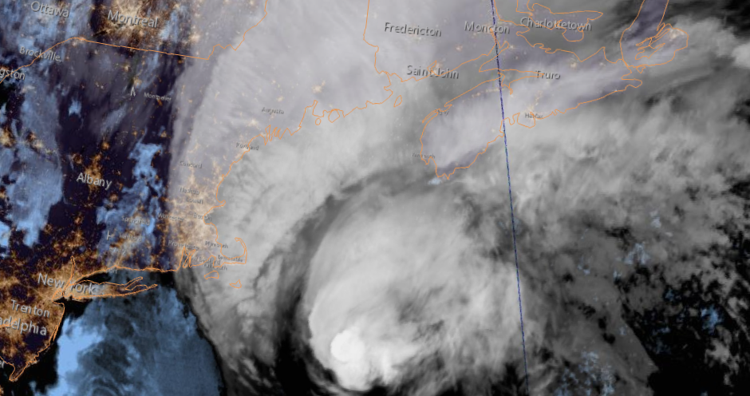 Waves and winds are increasing along the south coast of Nova Scotia Saturday morning, with hurricane conditions expected in Halifax by late this afternoon or this evening. At this time, most locations in the warning area should see winds of  90 to 120km/h, but gusts up to 150km/h are possible along the coast. Heavy rain will fall along and west of the track, with up to 150mm possible. Flooding will be a major concern in western Nova Scotia and southern New Brunswick. A storm surge of  several metres is expected, especially along the south coast of Nova Scotia and in the Gulf of St. Lawrence. Waves of 5 to 10 metres are also likely in the warning area. Flooding, tree damage and power outages as well as some structural damage are major concerns today across the Maritimes. Dorian will move into Prince Edward Island tonight and across the Gulf of St. Lawrence on Sunday morning.
Dorian will  then begin to transition into a powerful post-tropical storm Sunday as the system moves rapidly across Newfoundland and into the North Atlantic.