6AM Update, September 5: Powerful category 3 hurricane Dorian continues to slowly move along the Carolina coast Thursday morning, with landfall likely across the Outer Banks later tonight. Dorian was 320km south, southwest of Wilmington, North Carolina, with 185km/h winds. Very dangerous conditions will prevail today through the middle Atlantic and Carolinas, with heavy rain, strong winds, storm surge flooding and isolated tornadoes possible. By Friday, tropical storm force winds will be likely along the coast of Massachusetts including Cape Cod and the islands.
On Saturday, Hurricane Dorian will be impacting Nova Scotia, P.E.I. portions of extreme eastern Quebec and eventually Newfoundland, with significant rainfall and winds in excess of 120km/h. Weather warnings will be needed for those areas.
Previous Post: Complete, unprecedented damage is what is left behind on Great Abaco and Grand Bahama Islands after 48 hours of fierce winds and pounding seas from hurricane Dorian. The once category 5 hurricane battered the northwest Bahamas with a 20 foot storm surge and 185 mph winds through the weekend and into Monday. The damage is just incredible, with most structures simply gone. Cars and boats are submerged, power lines and trees ripped form the ground. The death toll stands at 20, but is likely to climb as rescue workers arrive in the hardest hit areas.
The US Coast Guard has conducted numerous rescues, in some cases pulling people from rooftops after several days. Both islands were completed inundated with the storm surge. Relief is pouring in from several countries including Canada, which has pledged $500,000, with additional aid to follow.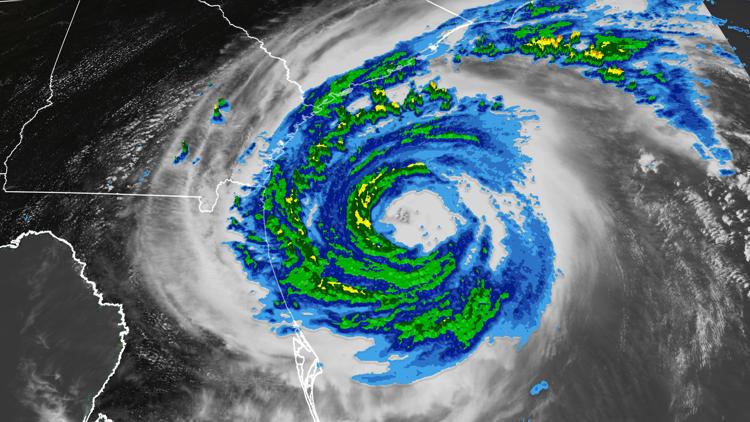 Dorian skirted the Florida coast on Wednesday, bringing storm surge flooding and heavy rain, but damage was minor. Hurricane Dorian at 8pm Wednesday evening was located 410km south southwest of Wilmington, North Carolina, with 175km/h winds. Dorian is moving northwest at 15km/h, with a gradual turn towards the northeast forecast on Thursday. The hurricane is expected to remain just offshore of the southeast US coast, perhaps making landfall along the Outer Banks of North Carolina. A hurricane warning extends northward to the Virginia border. Heavy rain in excess of 200mm is forecast along the track of the storm. Storm surge flooding is also expected along coastal areas.
Dorian to hit Atlantic Canada
By Saturday, hurricane Dorian is expected to sweep into the Maritimes with significant impacts. The Canadian Hurricane Centre is predicting winds of up to 140km/h as well as heavy rain, in excess of 50mm for portions of Nova Scotia and Newfoundland. Storm surge flooding is also expected in coastal communities. Far eastern Quebec will also receive rain and gusty winds from Dorian. Montreal will be too far west for any weather from the storm, with the exception of perhaps a gusty northeast wind filtering down the St. Lawrence Valley. The current forecast calls for Dorian to move across central Nova Scotia by late Saturday afternoon, approaching Newfoundland by early Sunday.
If you would like to donate to the Canadian Red Cross Hurricane Dorian Appeal to help The Bahamas, you can do so at this link. CLICK HERE.