Freezing Rain Warning: Montreal and southern Quebec
Ice Storm Warning: St. Lawrence Valley
4:10PM Update: Weather warnings have now been issued for metro Montreal for heavy rain Saturday changing to freezing rain Saturday night. For late Saturday, we remain on track for a rather impressive weather event. I'm still seeing heavy rain through 6pm or so Saturday, followed by a steady decline in temperatures through midnight, with a transition to freezing rain. Right now we are looking for at least 25mm of freezing rain in metro Montreal. Prepare today and early Saturday for this storm, stay tuned and be safe.
Previous Post: A period of heavy freezing rain is forecast for the St. Lawrence Valley including Montreal from late Saturday into Sunday. Pay close attention to the latest forecasts and adjust your travel plans if possible.
A very dangerous weather situation is setting up for the upcoming weekend across a portion of Ontario and southern Quebec. A warm front is lifting north of Montreal Friday morning, with temperatures expected to rise rapidly today up to 5C (41F). A few flurries or spotty showers are expected today. Heavy rain changing to freezing rain is likely Saturday, along with rapidly dropping temperatures.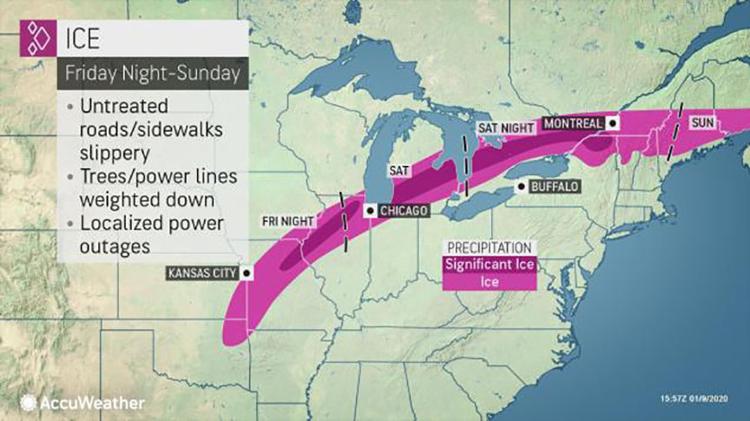 Ice Storm
On Saturday the aforementioned front will begin to settle south once again, with arctic air located just to the north and a surge of record breaking tropical air to the south or Montreal. Along the front, low pressure will lift north, accompanied by abundant moisture. Heavy rain will develop across the region, with as much as 25mm (1 inch) expected. Saturday evening, cold air is expected to bleed back into the St. Lawrence and Ottawa Valley as well as extreme northern Vermont and New York, with rain changing to freezing rain. Ice accumulations may be significant, with more than 25mm possible by Sunday morning. This amount of ice accretion will result in tree and power line damage. Expect power outages. Strong winds are also expected on Sunday, up to 70km/h in Montreal, which will only add to the damage potential. The precipitation will taper off Sunday afternoon.
The temperatures will be wild this weekend, possibly reaching a record high 10C (50F) in Montreal on Saturday. The previous record was 9.4C (49F) set in 1975. However the mercury will fall just a quickly Saturday night once the cold front slips south of Montreal, down to -7C (19F). The temperature range will be very dramatic across a very small region Saturday evening. Travel will become extremely difficult
Now is the time to plan for power outages. Charge your devices, prepare your home and make sure you have a full tank of gas. There is still some uncertainty in the path of the storm and where the freezing rain will set up. Hopefully Montreal ends up with more liquid precipitation or sleet, but at the moment, it is looking like freezing rain.
I will update the forecast and any warnings throughout the event.