Weather warnings will likely be needed for a portion of our region Monday and Tuesday as the first snowstorm of the season targets southern Quebec.
Update - Sunday, November 10, 2019: An arctic boundary will be slipping across the St. Lawrence Valley late this afternoon, ushering in the coldest air of the season so far. The front will stall south of Montreal, across central New England, and become the focus for moderate to heavy snowfall late Monday into Tuesday as low pressure develops. Confidence is growing that Montreal and southern Quebec will receive the first major snowfall of the season. The snow will begin late Monday afternoon, dropping 10 to 15cm on the city, with more to the south and east across the Townships, upstate New York and northern Vermont.
The snow will be accompanied by gusty northeast wind, creating blowing snow and reducing visibility. Travel will become difficult later Monday and especially for the Tuesday morning commute. This is not the way to ease into winter, with most not ready yet for winter driving. If possible, postpone your plans Tuesday. I will post another update early Monday morning.
Previous Post: Our first taste of winter weather this season is upon us across southern Quebec, as a strong cold front produced 2 to 10cm of wet snow on Thursday. Most of the snow melted on contact acorss the Island of Montreal, but many off-island suburbs, including Ile Perrot, measured a coating to 2cm of slushy wet snow.
Early Friday morning, a few snow showers moved across Ile Perrot and the Vaudreuil/Dorion region, putting down a quick centimetre of snow. The sudden snow made for a very icy commute, at least until reaching the West Island, where no snow had fallen. Consider this the appetizer to a more potent storm early next week.
First snowstorm of the season?
Friday will be breezy and very cold for early November, with the temperature reaching only -1C (30F), the normal high should be 8C (48F). There is a chance for a few flurries today, as well as gusty northwest winds up to 40km/h, making it feel even colder. On Saturday, high pressure will move in giving Montreal a decent, milder day, with a high near 2C (36F). Sunday will be warmer as a frontal boundary approaches form the west. Expect a few showers around as daytime highs reach 6C (43F). The warmth will be short-lived.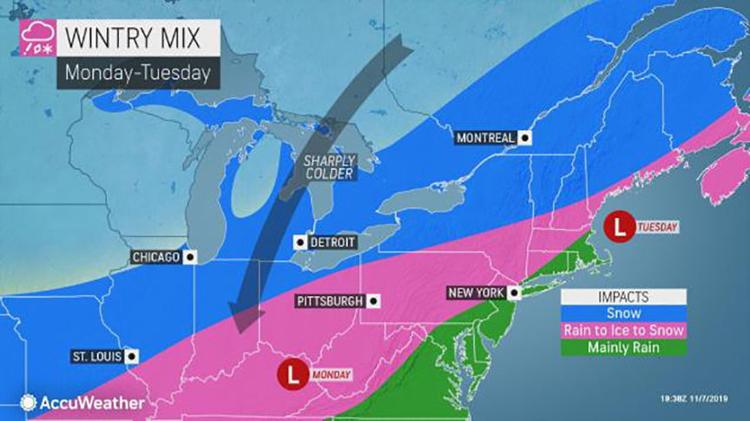 A strong polar front crossing the region late Sunday, will usher in the coldest airmass of the season so far, with temperatures dropping to -10C (14F) by Monday morning. That front will stall across southern New England, setting the stage for Tuesday's potential snowstorm. Low pressure will develop over the Ohio Valley, and move along the front towards southern New England. The storm is forecast to deepen rapidly. Snow will spread into eastern Ontario and southern Quebec late Monday night and persist through Tuesday. Depending on the exact track of the storm and how far south the front settles, we may be looking at a significant snowfall in Montreal. It remains too early for specific amounts, but it should be enough to plow. My current thinking is 10 to 15cm, but this is subject to change.
I will post further updates over the upcoming weekend.