On Wednesday I attended the media call for the world premiere of Jesse Stong's Winter's Daughter at the cozy Studio of the Segal Centre. I was intrigued enough by the story line and the presence of one of my favorite local stage actresses Michele Di Cesare to come back on Thursday evening to see the 80-minute production myself. It is an excellent piece of work.
If more of the regular subscribers of the Segal Centre get wind of this show, it is likely ticket sales will move nicely. But this is presented by Tableau D'Hôte Theatre, by no means a newcomer on the block but not an outfit with the built in West End audience the Segal Centre has developed. I am hoping for their sake that the story and the venue will translate into good things.
Directed by Emma Tibaldo, it continues until December 8 at the Segal Centre. It is based on the secret family history of local celebrity barber Gino Chiarella, taking the audience to Southern Italy in 1921, in the aftermath of World War I where a couple (Di Cesare as Maria and Ryan Bommarito as Giuseppe) copes with tremendous trauma and loss while wrestling with how to care for a Jewish child (Seven year old Bancroft Elementary school student Alice Denton) suddenly abandoned in their care.
The play is inspired by Westmounter K. David Brody's short story The Peddlers' Daughter. It tells the story of Gino Chiorella's mother, a first-generation Canadian from St-Leonard. When  Gino went on his honeymoon to his mother's hometow in the 1960s to visit his grandparents. Upon arriving, his grandfather revealed a long-held family secret, gifting him his mother's Star of David necklace, and sharing a story of the death and rebirth of their family.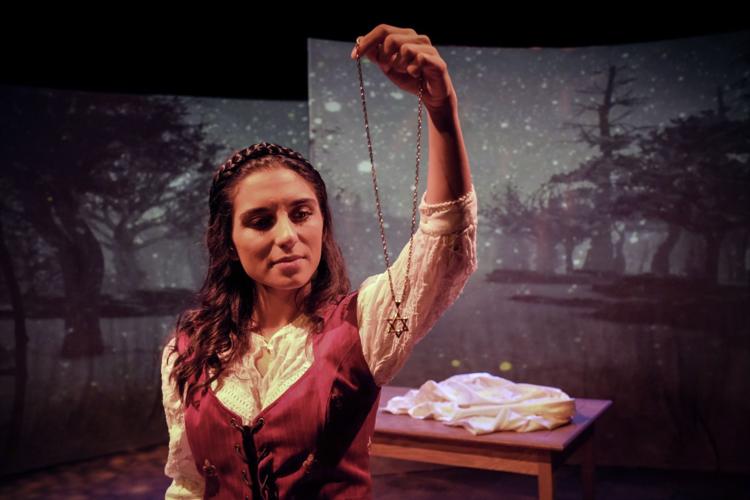 That necklace is front and center at the beginning of the production as Maria, unaware of what it actually is, looks for a place to hang it in her home as an ornament. One of the things I liked most about the set was the fabulous projection on two screens of winter scenery and snow.
"The deeply personal story that Gino invited Jesse to write about his family secrets will undoubtedly spark important conversations and build bridges between Jewish and Italian communities," explains Mathieu Murphy-Perron, Artistic and Executive Director of Tableau D'Hôte Theatre. "As Tableau D'Hôte continues along the path of staging tales from history small and large, we must challenge notions that the only history worth presenting are those that captured public attention. We must labour to remember to also pay tribute to the stories like those of this Italian family that secretly took in an orphaned Jewish girl nearly one hundred years ago."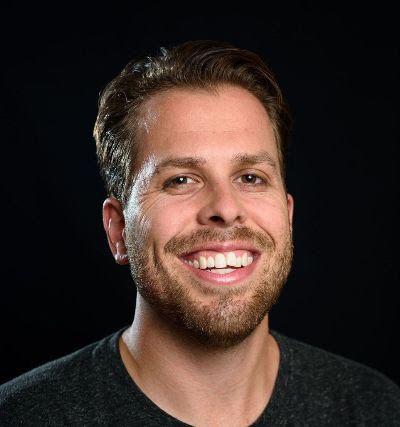 Amir Sám Nakhjavani plays the dual roles of the Peddler and Giacomo. The design team includes Zoe Roux (Set and Lighting), Rob Denton (Sound and Composition), Lara Kaluza (Costumes), and Jaclyn Turner (Projections).
Tableau D'Hôte Theatre (TDHT) was founded in 2005 by Murphy-Perron and Mike Payette with the mandate of producing Montréal premieres of English Canadian productions. Since, TDHT has grown into a critically and peer acclaimed independent company often regarded for its ability to explore alternate forms of storytelling, its design aesthetic and for promoting work by both emerging and established Canadian playwrights.
Tableau D'Hôte has a crowdfunding campaign to support the staging of Winter's Daughter. Find out more at: bit.ly/FCCIWDEN
I have worked on many projects over the years bringing the local Italian and Jewish communities together. This is one that should bring out members of both. Di Cesare truly pours her heart into this role You can feel her pain from the audience.
Remaining shows are:
 Nov 30, 2019: 8PM
 Dec 1, 2019: 2PM & 8PM
 Dec 3, 2019: 8PM
 Dec 4, 2019: 8PM
 Dec 5, 2019: 8PM
 Dec 7, 2019: 8PM
 Dec 8, 2019: 2PM
 For tickets log on here.