As we head towards the weekend here are a few interesting items to share.
The 2019 Tongue in Cheek Ball Hockey Tournament takes place on Sunday, Nov. 24 (9:45 am to 7 pm) at Le Rinque (8355 Montview) in TMR. The four-on—four co-ed tournament costs $55 a player. All proceeds go to the Head and Neck Oncology Department of the Jewish General Hospital.
In May of 2016, at the age of 24, Côte Saint-Luc native Erik Heft was diagnosed with cancer of the tongue. It was a shocking and frightening time for him and his family as they turned their hopes towards the Head and Neck Department. The team at the JGH worked very fast. Surgery took place in July. They removed one-third of his tongue and took a chunk of muscle from his wrist to make up for the piece of tongue that was removed. He then needed a skin graft from his leg to go to the wrist area.
Three and a half years later Heft has made a complete recovery. From the beginning of his ordeal he felt confident to be in the hands of the Head and Neck Oncology Department. It drove him to want to give back and the end result was his creation of the Tongue in Cheek Fundraising Co-Ed Draft Ball Hockey Tournament. The first three editions have raised more than $22,000,
"Because one of the primary goals of the tournament was to raise awareness for oral cancer, the theme for the team names was different parts in the head/neck that cancer is most commonly found," said Heft. "Team names included larynx, pharynx, esophagus, tongue, sinuses, palate, trachea and thyroid."
Heft and company have once again collected a significant number of donated items to sell at a bake sale and a raffle and to reward the winning team and volunteers. The list includes a stick signed by this year's entire Habs team (sent by the team), two pairs of Habs tickets and four tickets to 2020 Alouettes home opener.
For more information, Heft can be reached at eheft@live.com. Online donations can be made at https://www.jghfoundation.org/en/events/tongue-in-cheek-ball-hockey-tournament-2019.
PURPLE DIVINE: You have until November 30 to try and get tickets to one of the most unique plays I have heard about in this city. Purple Divine is presenting the premiere of Going Up, a 40 minute psycho-erotic drama by Kiki Dranias, directed by Jen Viens. Featuring Paul Van Dyck and Kelly Craig, the site-specific play takes place in an actual freight elevator. Naturally is not recommended for claustrophobics. "There is a 13 person capacity per show, two performances each night and two matinee performances," Kiki told me . "We have no seating unless someone has a disability of sorts or is elderly. We can accommodate a couple of chairs if needed."
In the immersive environment of Going Up, two strangers get stuck in an elevator and end up being both pawn and key masters to each other's deepest, darkest desires. Here, a man with a death wish comes face-to-face with a suppressed killer, with no way out. This stark, avant-garde theatre piece unravels itself while probing deep-rooted struggles with depression, control, the right to live-and-die, and self-actualization. "A writing class once suggested I take my creative voice and exaggerate it," Kiki says. "At the time, both a sexual harassment/assault scandal and Canada's assisted-suicide laws were making headlines across the country. The combined stories got me thinking about the license society has to judge. And, how one individual may get restricted and another encouraged, all depending on their adhered-to desire or aversion. Five years later, Going Up is seeing the light!"
Director Jen Viens was drawn to directing Going Up because it asks questions that society tends to shy away from, "Who decides what is right and wrong? From where are our values cultivated? If we were free from social restriction, what desires would we give in to? I appreciate that this story explores these hard questions through two complex people, and it does so without judgement, but rather with curiosity. We need to be talking about things that scare us; to have more of these uncomfortable conversations. Art allows us the freedom to do so," she said.
Kiki is the author of Blood is Blue. This is her playwriting debut. A mom, poet and writer, she also works for KidsPlay Mission and Teesri Duniya Theatre. The company plans to tour the show to Vancouver, Toronto and Athens. There are shows Thurs. Nov. to 24 and Nov. 28 to 30. Tickets are $20 and available at www.purpledivine.com/shop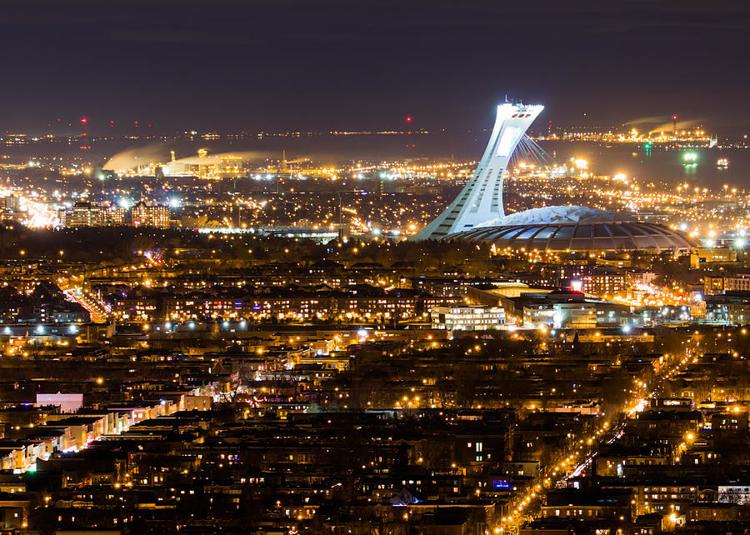 LIGHT UP THE BIG OWE: Every November, Canada celebrates Crohn's and Colitis Awareness Month. As part of this initiative, landmarks across Canada are illuminated purple in a show of support for everyone impacted by Inflammatory Bowel Disease ( IBD). Cindy Katz of Crohn's and Colitis Canada tells me that on the evening of Tuesday, Nov. 26 Olympic Stadium will be lit up. "As more Canadians continue to be diagnosed with Crohn's or colitis and provincial governments re-evaluate and change healthcare policies, the need to raise awareness about these diseases becomes increasingly urgent," Cindy notes. "Crohn's and Colitis Awareness Month is about reducing the stigma, advocating for patient-doctor choice, and driving research toward cures."
To amplify the voices in our community, CCC will be sharing inspiring words, video messages, and stories from Canadians living with Crohn's or colitis on their social media accounts. Make sure you follow them @getgutsycanada on Facebook, Twitter, and Instagram so you don't miss out!