I just got back from We Will Rock You (WWRY) at Place des Arts and if I was not already previously booked, I might have returned for the final show Wednesday evening (Feb 12). Yes it was that good.
More than a decade ago I got to see this Queen-inspired musical in Toronto. Like probably most of the Tuesday evening crowd, it was the recent motion picture Bohemian Rhapsody which had me downloading Queen songs on to my iPhone and singing their greatest hits in my head every chance I get.
As producer Jeff Parry told me, most of the cast comes from Alberta. Parry is the head of Annerin Theatricals of Calgary, which has remounted the show. "
The storyline for WWRY follows two revolutionaries, Galileo (Trevor Coll) and Scaramouche (Keri Kelly), on a quest to save rock n' roll in a post-apocalyptic world, where there are no musical instruments and where rock n' roll has died. They join a small group of societal outcasts, the Bohemians including Britt (Brian Christensen), Oz (Alysse Ernewein), and a handful of other folks named after musicians of the past as they fight to take back the iPlanet from the all-powerful Globalsoft, led by the Killer Queen. They fight for freedom, individuality and the rebirth of rock 'n roll and battle to take back the iPlanet from the all-powerful Globalsoft, led by the Killer Queen (Krystle Chance) and her minion Khashoggi (Kyle Gruninger). But this is all secondary. It is the music that made everyone walk out of the hall with a big smile.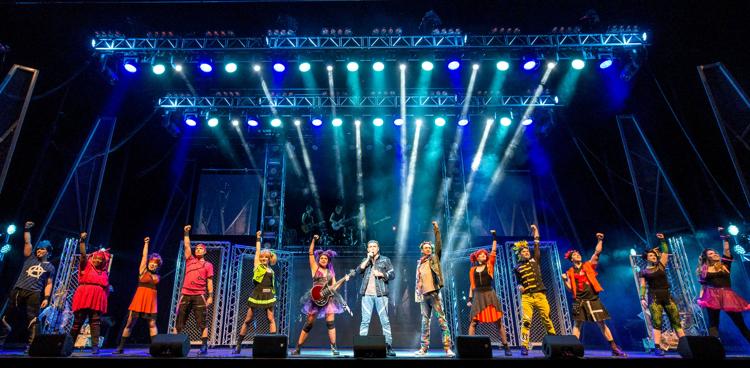 The show consists of more than 24 of Queen's greatest hits, including We Are the Champions, Radio Ga Ga, I Want to Break Free, Somebody to Love, Killer Queen, Don't Stop Me Now, Under Pressure, Bohemian Rhapsody, Another One Bites the Dust and of course, We Will Rock You. It was energizing to be in the audience, especially for the finale as the performances of We Will Rock You and Bohemian Rhapsody drew the sold out crowd into a frenzy. This was like a true rock concert finale, with people singing out loud and waving their hands in the air.
WWRY is chalk full of pop culture references from every era. Pair that with energetic personalities and wild costumes to match, the musical itself is a "nonstop ear and eye candy extravaganza"
Some observations have been made on the show's trending demographic, and responses from audiences so far. Age: 18 to 30 plus 50 to 65. Not only does WWRY generate sales from the typical theatrical/musical crowd (50 to 65), it's also pulling from the millennial age group. And I noticed a number of kids there. Parry credits that to the movie.
Since this is younger group is typically found on social media, playing on the pop culture, futuristic and technology obsessed themes of the show when marketing online, will help to appeal to this age group. For the older range of audience, they are more likely reached through traditional TV/Radio. This is where the visuals seen in TV spots, and the well-known Queen music heard in the radio spots, help to reach both of the buying types within this age group.  
The band is on the stage, but they primarily remain behind a screen above the main stage. Their role in the musical is mainly to just play the music (like an orchestra in a traditional musical.) The producers want to be clear though that they themselves have not engaged in a campaign that directly targets the "traditional" Queen fan. With Queen in such a huge spotlight lately, their fan-base is much broader than the typical 70's male rocker. WWRY in particular has not attracted many of these types of buyers. Further to that, some of those that do purchase tickets are leaving at the end of the show somewhat confused by what they just saw (having expected to see a Queen-ish style concert). If this demographic does get targeted with marketing, then clear information on what the show actually is, is essential to ensure they are aware of what they are going to be seeing. Other customers have commented that they thought it was a musical, but that the musical told the story of Queen as a band (in the same way the recent popular movie Bohemian Rhapsody did). Because of this, producers have made strong efforts to include at least a portion of the above show description in certain marketing materials and media descriptions of the show
We Will Rock You is directed by JP Thibodeau, with choreography by Angela Benson and musical direction by Russell Broom. Also new to the production is music director Stuart Morley, who was asked personally by Brian May to oversee the updated version. As he recently told the Calgary Herald:"I've re-Queened the score. I've made it more like the original Queen. I went to Queen's studio and I listened to old vocals. This new score is far more accurate and authentic. When they were creating the original score for the musical, they made it more theatrical than authentic. I'm a purist, so I want to bring the score back to its roots. I've been given access to tapes no one else has been given to work with. I feel this new version of the musical can be something not even Brian and Roger thought it could become."
The terrific  live band consists of Sam Coulson (guitar 1), Scott Henderson (keyboards and associate musical director), Lisa Jacobs (bass), Kyle McKearney (guitar 2), and Chad Melchert (drums) and they do an outstanding job in this two hour and 45 minute show.
We Will Rock You plays the Salle Wilfrid Pelletier of Place des Arts Feb 10,11 and 12 at 7:30 pm. Tickets are priced between $59,50 and $89.50. It has been brought to Montreal by Rubin Fogel Productions. For more information call (514) 842-2112 or log on to placedesarts.com.