The Segal Centre has yet another winner on its hands with the musical Mythic, which has now been extended to Nov. 24.
This is one of those shows where Executive and Artistic Director Lisa Rubin is proud to connect with the Segal Centre's continued mission of developing and premiering new musical theatre works with top Canadian talent. This new pop/rock musical about the Greek goddess Persephone hits all of the right notes. And as people left the theatre, so many could be heard saying, "we have to see this show again before it closes!" Yes, it is that good – in fact perhaps one of the best musicals the Segal Centre has produced in many years.
Directed by Brian Hill and featuring a high-energy score filled with epic anthems by Marcus Stevens and Oran Eldor, the North American premiere of Mythic at the Sylvan Adams Theatre will likely have you chanting some of the songs for weeks to come.
As the story line goes, the relationship between a mother and her teenage daughter can be sheer hell – especially if that daughter is a Greek goddess with a taste for the Underworld! Mythic turns the ancient Greek story of Persephone on its side, with the gods as chart-topping rock stars, power-hungry politicians, and professional socialites. Mythic had its world premiere at London's Charing Cross Theatre a year ago..
In this re-imagining, a teenaged Persephone (Julia McLellan - Kinky Boots on Broadway) has been brought up by her boho-chic single mother Demeter (Heather McGuigan - previously in Mirvish's Les Miserables 25th Anniversary Production) away from the flashy lifestyle of the other gods. As Persephone struggles to find her identity, Demeter struggles to accept her daughter is growing up. On her journey of self-discovery, Persephone falls for bad-boy God of the Underworld Hades (James Daly - last seen at the Segal Centre in Master Harold...and the Boys), becomes frenemies with Goddess of Love Aphrodite (Jessica Gallant - previously as Anne of Green Gables' titular character in Charlottetown), and gets to know her megalomaniacal father Zeus (Aadin Church – seen in Drayton Entertainment's The Little Mermaid as Sebastian). A multi-talented ensemble featuring Patrick Park (Prom Queen at the Segal Centre), Jacob Sheffield (Anne & Gilbert at The Guild), Matt Raffy (Anne & Gilbert at The Guild), Kathline Greco (Juste pour rire's Mary Poppins), Megan Brydon (Juste pour rire's Mamma Mia), Alexia Gourd (Prom Queen at the Segal Centre), and Eva Petris (the DWYT's On Second Avenue and Kaleidoscope Theatre's Captain Aurora) round out the cast of colourful characters.
Gallant lights up the stage with both her acting and singing chops. Concentrating on her love of acting and playing sports in high school, it wasn't until her first year of college that she realized her passion for performing. She picked up a guitar at 18 and immediately fell in love. Gallant joined the Confederation Centre's Young Company and never looked back. She spent six years performing in the Charlottetown Festival, including being only the second Island native to have starred as Anne Shirley in Anne of Green Gables The Musical. Since then she has been on the move and very much in demand, thus her casting in Mythic.
"I really wanted this role," Gallant told me at the media call. "Being part of a brand new show is so exciting and I fell in love with the music right away,"
The show is just over an hour and a half long without an intermission. "We love the format," Gallant says. "It is like a rock show and we get to finish early."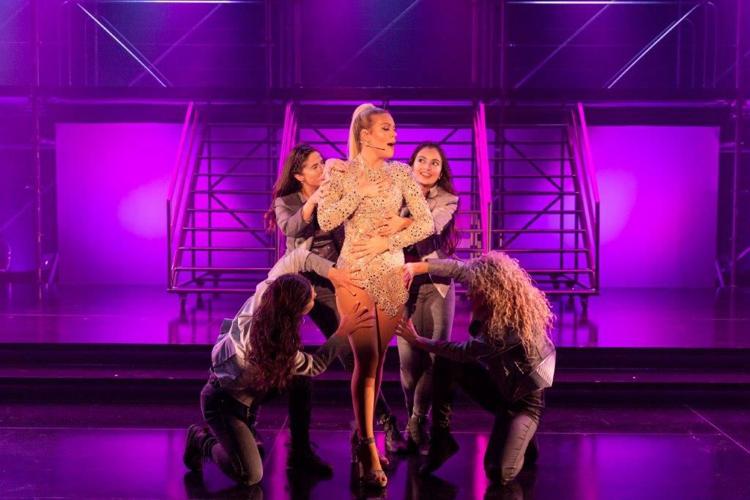 Gallant channels her inner-Beyonce in the number Mess Around, wearing a sparkling silver outfit with matching shoes. And what a fantastic song that is, one that you will have in your head for some time. I was able to find the recording from the London production on YouTube.
Down Down Into the Dark and Beauty in the Darkness bring in some romance with Persephone and Hades.
Hill, who is now based in New York City, boasts that Mythic is a musical comedy in the truest definition of those words. "We have an insanely talented cast," Hill told me. "They are simply the nicest group of people to work with."
Added Rubin: "When I first saw Mythic, I knew within the first few moments that I was witnessing something truly special. This show is, without a doubt, Broadway bound and it's a real treat that Montrealers will get the opportunity to see it in its early life. This is your chance to see it before it becomes the next big, impossible-to-get-tickets-to Broadway smash."  
Hill's many credits include writing the English adaptation of the book for the Segal Centre and Copa de Oro's Belles Soeurs: The Musical and as resident director of The Lion King on Broadway among other Disney collaborations. He has been supported by Choreographer Avihai Haham (his work can be seen on Eurovision, The X Factor Israel, and Broadway Encores!), and Musical Director Nick Burgess (his credits at the Segal Centre include A Century Songbook, The Hockey Sweater: A Musical, and Guys and Dolls). Bringing this divine world to life are Set Designer Olivier Landreville (Segal Centre's What's in a Name?), Costume Designer Louise Bourret (Segal Centre's The Angel and the Sparrow), Lighting Designer Martin Sirois (Segal Centre's Once), and a rocking sound team including Patrice d'Aragon, Sylvin Sevigny, and Steve Marsh. One of my favorite performers Sarah Segal Lazar is the assistant to the director.
There are Monday night talkbacks, a chance to interact with the creators and actors of the play after the curtain goes down, on Nov. 4 and 11.
The Segal Centre is located at 5170 chemin de la Côte-Sainte-Catherine. Tickets are on sale now at 514.739.7944 or at www.segalcentre.org. Group, senior, student and under 30 discounts are available