Paul Zakaib, better known to radio fans as Tasso Patsikakis, wants to get back in the game.
For 23 years the Tasso character and Aaron Rand made up one of Montreal radio's most popular duos, first on the old CKGM and CFCF Radio 600 and then on the Q92 (now 92.5 The Beat FM) morning show. To say they were funny is an understatement. Zakaib brought with him a cast of zany characters, from Tasso to Jacques Parizeau and Aaron's mom. If you were stuck at a red light and saw the person in the car over laughing uproariously then you knew who they were listening to.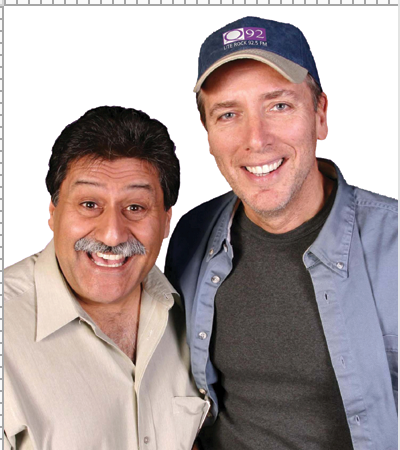 In August 2009 Zakaib and Suzanne Desautels were let go from the show. "The owners of the station at the time said people did not want to laugh in the morning," he said. "That was not correct. I'd hear from so many people who would tell me how they'd wake up to face bad people, but first our show made them laugh and smile."
Two years later Rand departed, eventually landing (and thriving) as the CJAD drive home show host. Zakaib got a few gigs, including with Mike FM and The Jewel 106.7 FM Hudson. He has also done some hilarious videos on Facebook with his daughter Kristin (Tasso & K).
With thanks to blogger Fagstein , here is a clip from Rand's final show on Q92. 
Now at 69 years young, Zakaib and his alter-ego Tasso want to make a comeback. Filmmakers Seema Arora and Alexandra Triantafillopoulos of Zensa Media International are representing him. They have featured him on this video with some other media personalities to encourage people to stay home during this pandemic.
After chatting with Zakaib for about a half hour, I was completely ready to listen to him on radio again. "I'd love to get back and do voice overs and commercials," he said. "During all of the years I was on Q92, I probably wrote a few thousand commercials. Nowadays you have a copy writer who takes all of the information and puts together a 29 second piece. I'd always write them at 23 seconds and leave time to put some emotion into it."
How about a Tasso Patsikakis podcast? "I'd be open," said Zakaib. "I am up for some fun!"
A resident of Dollard des Ormeaux, Zakaib's wife Martha Dunlop is a nurse at the CLSC Lac St. Louis. "She was a ahead of the curve on this whole COVID-19 thing," he said. "Before it even hit, she went out and got masks and gloves. But I cannot tell you how nerve-racking it is knowing she is out there."
Let's hear it for Tasso!