BOOM X has hit the Segal Centre in Montreal by storm and it is absolutely no surprise! Rick Miller is a unique talent, performing in a solo show he has written and produced with an abundance of energy that displays the kind of abilities not often seen on the local stage.
Miller is a Dora and Gemini award-winning writer/director/actor/musician/educator who has performed in five languages on five continents. He has created and toured solo shows such as the hit sensation BOOM, MacHomer, and (with Daniel Brooks) Bigger Than Jesus and HARDSELL. With Robert Lepage, he has collaborated on Geometry of Miracles, Zulu Time, Lipsynch, and on the film Possible Worlds.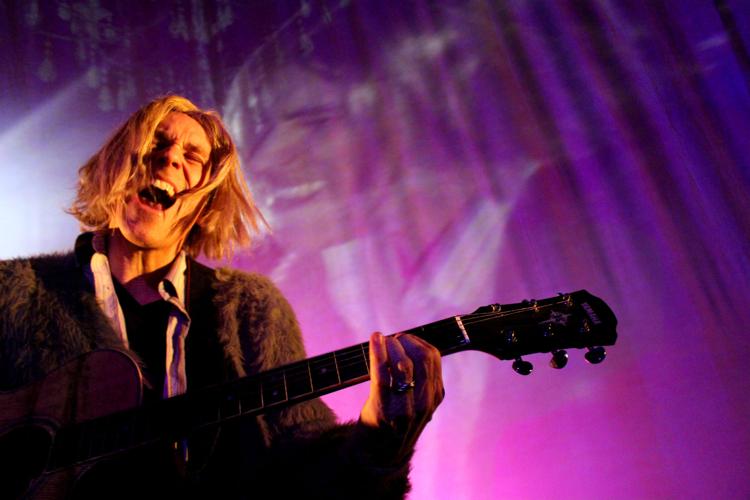 As the artistic director of WYRD Productions and co-creative director of the Kidoons Network, Miller has most recently developed BOOM and BOOM X, and (with Craig Francis) Twenty Thousand Leagues Under the Sea, GAME of CLONES, Jungle Book, and Frankenstein; as well as animated series' that educate, enlighten, empower, and entertain young people. He often teaches an interdisciplinary class at the University of Toronto called The Architecture of Creativity. A native of TMR, he lives in Toronto with his wife Stephanie Baptist and their two daughters.
BOOM X picks up where BOOM left off, at Woodstock in August of '69. Miller recreates the music, culture and politics of Generation X, from 1970 to 1995. Some classic characters reappear (Elvis gets fat, Reagan gets shot, Trudeau gets re-elected, the Montreal Massacre is remembered), but the focus moves from his mother's story from the original BOOM to his own. The production follows Gen X-ers as they navigate the tangled legacy of the baby boom.
Over the course of 100 minutes, Miller plays over 100 colourful characters from the era, covering the Cold War, Reaganomics, the PC, VHS, video games, punk, disco, the (2nd) British invasion, and much more.
Miller is a true talent. It seems humanly impossible for one man to perform with his energy level for almost two hours, with only a short intermission break. The special effects will blow you away, so will his impersonations, quick wit and rapid costume changes. Everything is so cleverly done. A ticker runs at the bottom of his screen, detailing important dates in history. The degree of editing that was done for this show is extraordinary. Miller races back and forth on the stage. You can see what excellent shape he is in. "I get my cardio workout each show," he said.
When I interviewed Miller a few weeks ago I asked him if has ever missed a show due to being ill. "Only once," he said. "I have trained myself to withstand the abuse my voice takes. I take really good care of myself. I know how to do this show."
This is an exercise in authentic learning, one that all students should see. In fact, Miller takes his productions into schools –something which is not on the agenda here.
Miller remains a big Montreal Expos fan and that comes out loud and clearly in the show, especially when he opens the second half. "I realized what a big part of my life the Expos were," he said. "One of the things that allowed me to leave Montreal and move to Toronto was that the Expos had gone. If they return I will buy tickets."
Given the fact his two BOOM shows are being presented on world stages, Miller maintains the Montreal references will remain in place  - even when he travels to France and Taiwan. In this show he even managed a Cavendish Mall reference.
Miller includes four different people in his show. It looks like he is having a live conversation with each, but as their lips move he provides the dialogue. Towards the end you find out the connections. They area actually composites of about 12 different personalities.
Miller kicks off the show by addressing the audience, telling everyone to put away their devices that did not exist in 1969 and asking them to shout out their most memorable highlights from the time period he is about to expand upon. Periodically throughout the show, he tells us a bit about his childhood, his family, and his interests in music and television.
The show is two hours and 10 minutes, including intermission. Each performance is followed by a 15 minute talkback.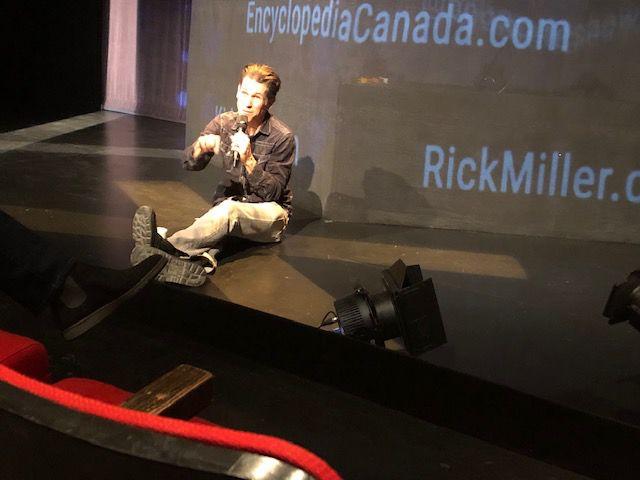 The original BOOM only debuted officially in 2016 and it is still very much in play. It will be part of a European tour in April, which will include a French version in France. Soon to be announced will be a gig Off Broadway in New York. Calgary was the birthplace of BOOM and such was the case again for BOOM X. In fact Theatre Calgary commissioned the show, which had a four week engagement there before coming to Montreal.
Miller has released his first CD, one that looks back on 25 years of performing solo shows around the world in five languages on five continents. It includes 10 tracks from BOOM X. You can purchase that, a signed script and pose for a shot in the photo booth after the show. His talkbacks are very much worth staying for.
Next comes BOOM Z, for the millennials covering 25 more years and Miller expects that to be on tap in three years time.
BOOM runs to March 10 at the Segal Centre, 5170 chemin de la Côte-Sainte-Catherine. Tickets are available by calling 514.739.7944 or at www.segalcentre.org.