As first reported in this space on August 14, P.F. Chang's will close its Rue de Jockeys/Decarie location for good after the last meal is served this Sunday night, September 29. Work will then begin on transforming the space into a state-of-the-art La Cage: Brasserie Sportive in time for the NHL playoffs next April.
I sat down today with Groupe Sportscene President and CEO Jean Bédard and Emile Haykal, who has managed this P.F. Chang's for seven years. First the good news for people like me who absolutely love this brand, known for its trademark chicken lettuce wraps: the Carrefour Laval restaurant has been so successful that it will remain under the Groupe Sportscene banner and be allowed to flourish.
Meanwhile, on the other side of Decarie, the iconic Arahova Souvlaki chain has surfaced in the former Bill Wong's facility,which already houses a Madisons New York  Grill and Bar at the other end. It opened to lineups out the door on Monday. An Express version of Arahova will debut in November on Côte des Neiges Road next to Allô! Mon Coco, where the popular Uniburger surprisingly shut its doors.
The P.F. Chang's Story
With well over 200 restaurants across the globe, P.F. Chang's arrived in Canada amid much fanfare under the umbrella of Michael Aronovici's Interaction Asian Restaurants with its first location in Toronto in the summer of 2012. That was followed by Decarie/Rue des Jockeys in Montreal the following spring and then the Carrefour Laval spot. While the plan was to expand the brand to other Canadian cities that never occurred. Aronovici sold the local branding rights to Groupe Sportscene four years ago. They immediately closed the Toronto location. The owner of 44 Cage restaurants and the world famous Moishes Steakhouse since last December, Groupe Sportscene's agreement with P.F. Chang's International was up for renewal.
"We still believe in the brand, which is why we are keeping the Laval location," Bedard told me in an interview, as he went over renovation plans with Haykal. "My wife and I love the food. We always ate there when we went to the States, which is why we made the purchase in the first place. I am not excluding opening another P.F. Chang's somewhere else in Quebec.
"I always thought this space would make a good Cage. The closest Cage locations to here are in St. Laurent and LaSalle. We are right next to the former Blue Bonnets racetrack, so there is sports vibe here. It is so centrally located. I know it will do well."
Haykal has already been retained as the general manager of the new Cage and he happily shared that all of his P.F. Chang's staff will remain on board. For the next few months they will be assigned posts at different Cage spots to become comfortable with the brand.
For anyone who ever stepped inside the Decarie P.F. Chang's it is magnificent, with grand horse sculptures at the entrance and a stunning interior. Bedard will now pour $1.5 million into modelling it around a new Cage layout at the Bell Centre. The Cage at Carrefour Angrignon will soon relocate to the former Sears store.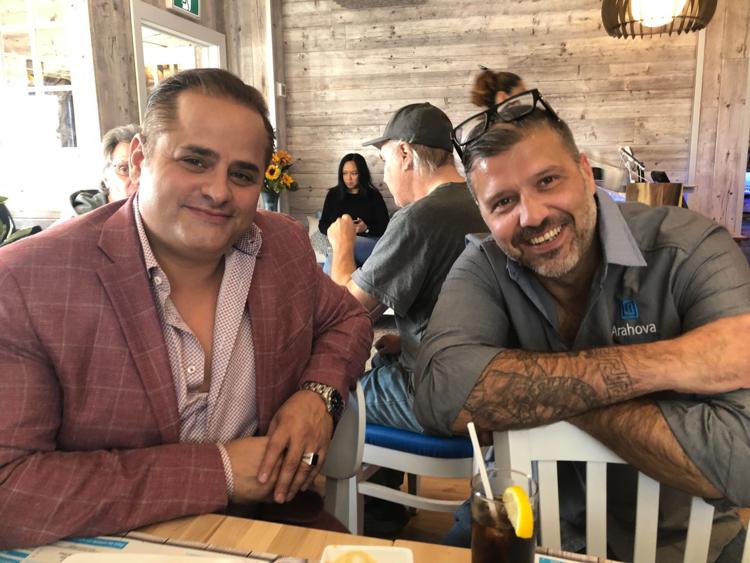 Arahova Arrives
Also this week I dropped by the new Arahova restaurant on Decarie, where president George Kalogrias and manager Spiro Korizis greeted my friend Glenn and I. Arahova has been in business since 1971, having set up originally on St. Viateur Street. This is the 10th location. There is no question that they will have an effect on the monopoly enjoyed across the street for the past decade by  Marathon Souvlaki. "There was a need for a mid-town location," George told us. "This is such a growing area in terms of construction and existing business. We wanted to get in here well before the Royalmount project became a reality."
Added Korizis: "George and I were driving by and we saw that it was available. We both agreed we had to setup here."
The smaller Côte des Neiges location, opening soon, should do a booming business. There will be 12 seats so it will be mainly for takeout, perfect for the staff and families of patients at the Jewish General. A new Griffintown store is coming soon as well.
How good have the crowds been on Decarie? George said he ordered 2,000 plate mat menus and his entire stock was gone in three days.