On a day featuring sweltering heat and a forecast of thunder and lightning storms, the prospective new owners of The Montreal Alouettes were in attendance at Percival Molson Stadium as the home team hosted the Edmonton Eskimos.
Chomedey natives and brothers Jeffrey and Peter Lenkov, along with some of their investment team, took in the game from the private box once occupied by the Wettenhall family. They relinquished the franchise just before the present season began and handed it over to the CFL. Since that time there have been many possible ownership groups step up. The Lenkovs appear to be the real deal. Full disclosure: I have known the Lenkovs for more than two decades. Coincidentally I was already planning to attend the July 20 matinee game. I ended up playing de facto press agent for them and it was a blast!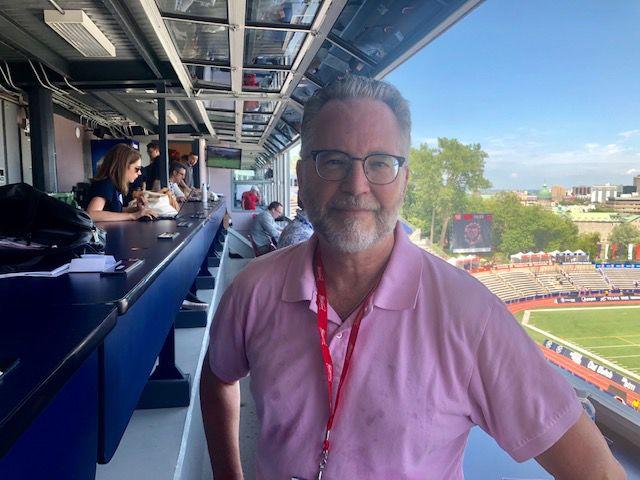 The Alouettes won the game 20-10 before 16, 137 fans and brought their record up to 3-2. Quarterback Vernon Adams Jr. passed for 191 yards and ran for another 44 in an exciting game. I believe this team has finally found a legitimate successor to Anthony Calvillo.
The Lenkovs made the most of this opportunity. Jeffrey did the rounds in the press box, meeting veteran Gazette reporter Herb Zurkowsky (back from medical leave after kicking bladder cancer to the sidelines), columnist Stu Cowan and others. He was interviewed live on the TSN 690 pre-game show with Rick Moffat and Marco Brouillette and chatted with some other media and Alouettes staff. The brothers had a long talk with Alouettes legend Peter Dalla Riva, hung out with president Patrick Boivin and gained insight from Director of Sales and Fan Services Brian Weightman and ace publicist Francis Dupont.
The Wettenhalls must be thanked and commended for bankrolling this franchise for 21 seasons. There were many winning campaigns. But they waited too long to ditch former GM Jim Popp and frankly as owners had a kind of invisible presence in the community. I like to think of myself as an influencer and I never met them once. Here were the Lenkovs, not even the owners yet, shaking every hand they could on press row, asking relevant questions and then after the game going on the field and introducing themselves to players. For football in Montreal, I hope the deal comes through because I believe they and their team have so many clever ideas that could be implemented.
Boivin's off season relaunch of the logo and uniforms appears to be catching on. I must admit that the new look is growing on me. It is hard to believe that this is a team that fired its head coach (Mike Sherman) a week before the season started, fired their GM (Kavis Reed) for mysterious reasons and do not have owners, yet they are playing the best football any Alouettes club has in years. I would pay for a ticket just to watch running back William Stanback do his thing.
I must admit I was a huge fan of Kavis Reed. Whereas Popp was a tourist in this town, residing with his family in North Carolina and never showing his face at a community event, Reed made himself available to every cause. He gave me his personal cell phone number and said to call him anytime. I did and he never turned me down. Obviously certain things went down to cause his dismissal, but he deserves some credit for the excellent team now on the field. It starts with his decision to name Khari Jones the interim coach. Joe Mack, a legendary former NFL scout and one-time GM of Winnipeg, has effectively stepped into Reed's role. But he was Reed's assistant, chosen by his former boss. He too chatted with Jeffrey Lenkov at half time and after the game.
The Lenkovs evenhad a thumbs up for the press box food catered by Restaurant Basha  and chatted withh head man Adel after the game.
Paxton Baker, Jeffrey's good friend and a part owner of Major League Baseball's Washington Nationals, was in the box as well. Clearly he has a wealth of experience to share. I whispered in his ear a suggestion that the Nationals come to Montreal next spring and play the Blue Jays in the annual two game exhibition series at Olympic Stadium. Recognizing the fact his Nationals recently played a game with Expos uniforms, he pondered the thought of them doing the same thing against the Jays. (My brother Chuck favors the Tampa Bay Rays coming to town instead).
This game should in fact have been dedicated to Ellen Lenkov, She was the dear mom of Jeffrey, Peter, Patti and Richard who passed away several months ago. Long before the brothers knew that the Alouettes would possibly be part of their future, a memorial for Ellen was planned for the morning of July 20. Because of Ellen they were in town the very day the Als played at home. She had so many reasons to be proud of her kids, but the fact that a day meant to salute her coincided with a game which may influence the decision of her two eldest sons to take over this franchise should be looked upon as a message from above.
I can hear Ellen now shouting "Go Als Go!"