There is no doubt that Montreal Comiccon,  celebrating its 11th edition this weekend at  the  Palais des congrès  (July 5 to 7), continues to get bigger and better every year.
More than 60,000 people are expected  to be in attendance. Co-Presidents Alex La Prova  and Oscar Yazedjian,  have come a very long way from their humble beginnings  with some 2,000 fans. Communications Director Elizabeth Jutras, Oscar's wife and a de facto co-founder, was so excited to share with me that Laval Comiccon will make its debut  October 5 and 6 at Place Forzani.
Montreal Comiccon has really turned up the star power over the years.  Special  guests this year include Elijah Wood, Tom Felton and James and Oliver Phelps from Harry Potter fame, kickboxer Georges St-Pierre, William Shatner, Lana Parilla (Once Upon a Time), The 100's ELiza Taylor, Bob Morley and Tasya Teles, Dean Cain (Lois and Clark), Dan Fogler (Fantastic Beasts), Christopher Lambert (Greystroke: The Legend of Tarzan) and  the man who played The Incredible Hulk on TV, Lou Ferrigno. That was a show I watched religiously in the late 1970s  and early 80s.  The storyline revolved around scientist  Dr. Bruce Banner (played by the late Bill Bixby), who seeks a cure to his unique condition, which causes him to turn into a giant green monster (Ferrigno) under emotional stress.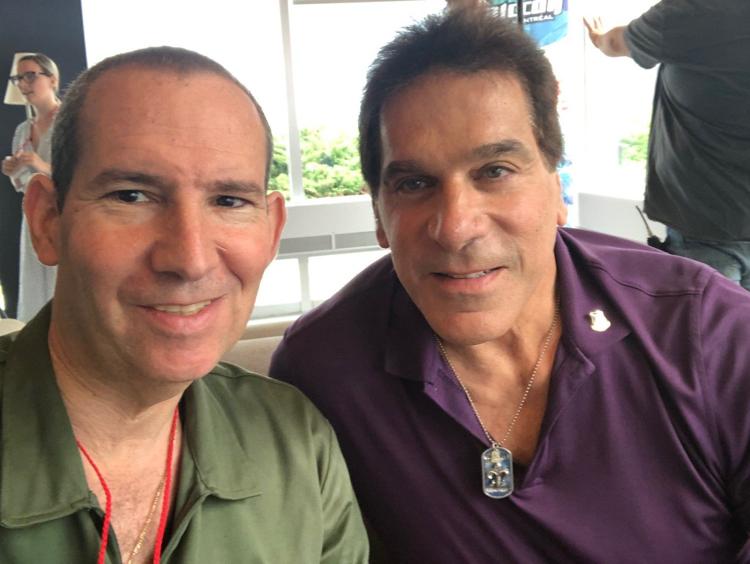 Lou Ferrigno
I was among the media granted exclusive access to Ferrigno and when he walked into the room where  we gathered we all remarked how young he still looks. "I am 68," he told us, "but I make sure to eat  well, sleep well and live well."
Ferrigno has starred in dozens  of motion pictures and TV shows since The Incredible Hulk went off the air, yet he continues to be recognized for that role more than any other in his career. "I had no idea  the show would be so  successful when he started," he said. "We thought it would be for only one season  and it went five."
Ferrigno said he travels to Comiccon editions all over the world and he is continually amazed about the following the Hulk has. "I do about 15 to 20 a year," he says. "Last week I was in Germany."
Ferrigno was a professional bodybuilder and even had a brief cup of coffee with the CFL's Toronto Argonauts before becoming an actor. He continues to serve as a  motivational speaker. After he was born, Ferrigno suffered a series of ear infections and lost 75 percent of his hearing (though his condition was not diagnosed until he was three years old). Undeterred by what some may have perceived as a disadvantage, he threw himself into athletics.
"I had a hearing loss and a severe speech impediment as a child," Ferrigno told me. "Some people said I would never amount to anything. Well I proved  them wrong. Bodybuilding gave me the confidence to move on."
Today Ferrigno still wears one hearing aid; he had successful surgery on the other ear. He and his wife Carla  have three children; son Lou Jr. has become a star actor himself, currently  starring in the shows SWAT, 911 and Super Girl. "I never pushed him into acting," he said.
What a gentleman!
Comiccon Excitement
I walked the floors of Comiccon several times and marvelled at the swarms of people, interesting exhibits and of course the people lining up for autographs and photos with stars like Ferrigno. It all comes at a price. None of  this is for free and do not get caught trying to use  your camera anywhere in the vicinity of one of these stars unless you have your wallet out. It is remarkable to see how many people -including entire families - who come dressed up in full costume be it from cartoons to adventure series.
Fans sure do  show their love of science fiction, fantasy, anime, horror, video games and, of course, comic books.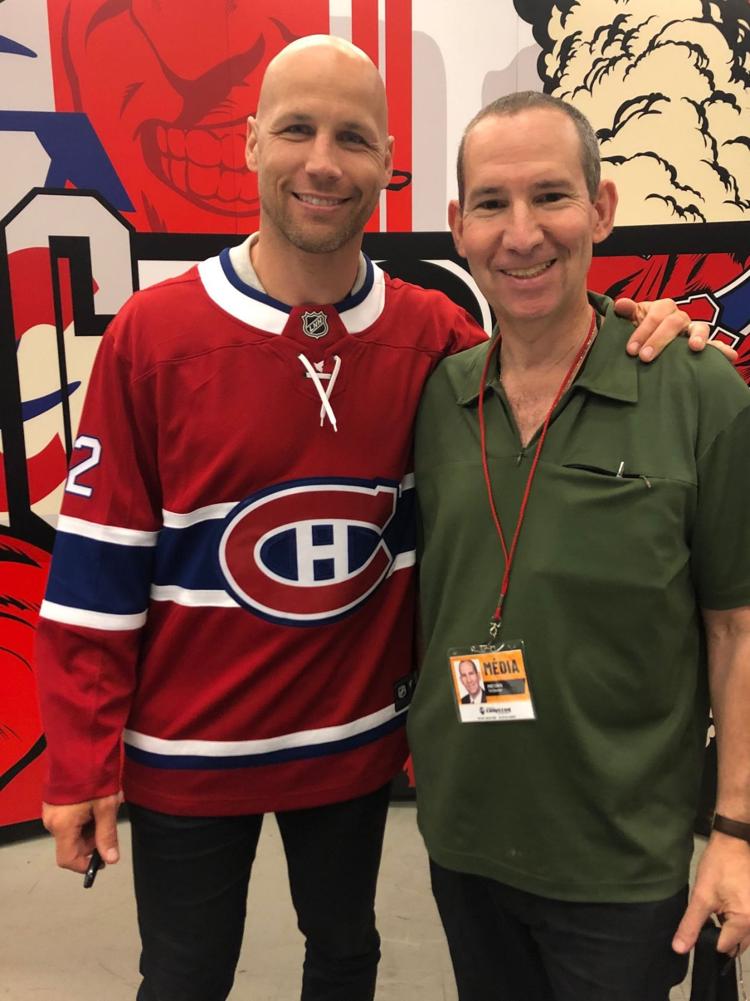 The  Montreal  Canadiens have a booth featuring former players. I got to chat with Steve Begin, a gritty forward who spent 13 seasons in the NHL. He retired after the 2012-13 season and recently coached junior hockey. Now he has a private business, but squeezes in alumni appearances like this.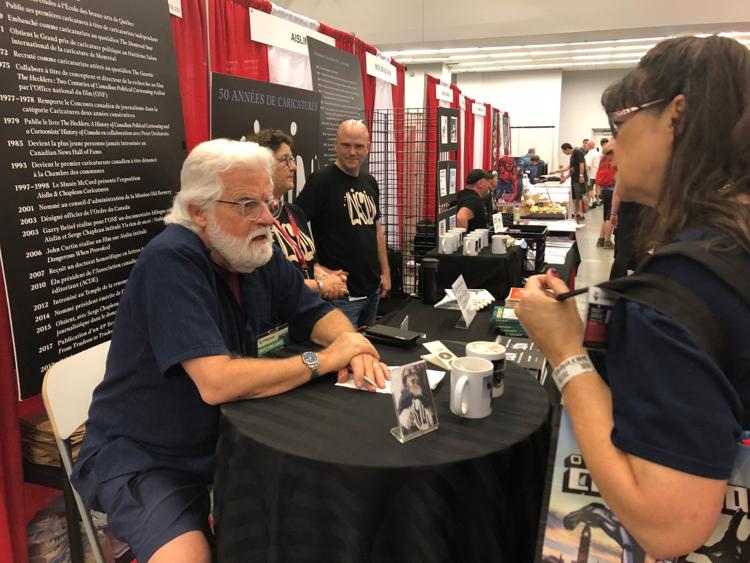 Caricaturist Terry Mosher, aka Aislin, has a booth where he is signing autographs and talking about his great career and a new book out next spring about his mentor Duncan Macpherson.
Other Highlights
Millennials will remember running home after school to catch the 1990s sensation Mighty Morphin Power Rangers. They will be excited to meet several cast members from the early years, including David Fielding (Zordon), Karan Ashley (Aisha Campbell / Yellow Rangers), Walter Jones (Zack Taylor / Black Ranger), and Austin St-John (Jason Lee Scott / Red Ranger).
Comic Books
As ever, comic books remain dear to our hearts. Writer and artist Kevin Eastman (co-creator of Teenage Mutant Ninja Turtles), writer and editor Jim Shooter (Marvel Super Heroes Secret Wars, Valiant Comics) and artist Rags Morales (Identity Crisis, Turok: Dinosaur Hunter) are part of this exciting edition. The poster artwork for the Montreal Comiccon's 11th edition was created by Dale Eaglesham, best known for his work on the DC series Justice Society of America is the biggest comic book artist alley in the province with more than 100 local and international creators.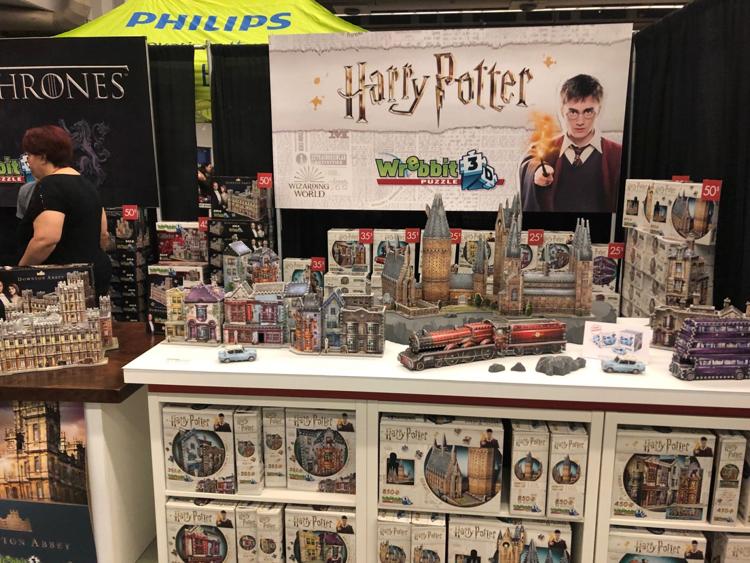 Over 200 Activities
Montreal Comiccon has more than 200 activities over the course of these  three days, including panels, workshops, concerts, masquerade, improv, board games, screenings, autograph sessions, photo ops and so much more. The wide variety includes the worlds of anime, with several fun-filled themed contests; comic books, with creators showing others how it's done; and the return of a dedicated Family Zone with activities for kids ages 12 and under, including Nerf battles and character face painting.
A significant portion of the activities and displays are dedicated to video games. Montreal Comiccon has partnered with DreamHack, where the game world comes to life with a free-play area and space dedicated to challenges. Loto-Québec once again presents the Indie Game Zone, where some 40 talented Quebec studios will reveal their new creations to new audiences. Also returning is the Retro Gaming Area, where fans of all ages can enjoy games and consoles from the four previous decades, in addition to some classic arcade stations like Ms. Pac Man!à
Special Events
Montreal Comiccon also brings music to the forefront, with several special events including a daily fun-filled Karaoke party featuring music from Disney classics such as Beauty and the Beast, Frozen, The Lion King, Aladdin, Mulan, Moana and more! The Film Music Wind Orchestra (OVMF – L'Orchestre à vents de musiques de films), composed of 50 talented musicians under the direction of Jocelyn Leblanc, retured with new film and video game soundtrack favourites, including Marvel Cinematic Universe (July 5), The Legend of Zelda (Saturday, July 6), and James Bond (Sunday, July 7). House of M Productions will recreate Joss Whedon's (The Avengers) award-winning 2008 musical comedy Web series, Dr. Horrible's Sing-Along Blog. As for after-hours events, BurlesGeek Montreal, the only geek themed burlesque troupe in Montreal, is returning to present a special edition (18+) featuring your favourite movie, comics and video games characters coming to life on stage.
Montreal Comicconis also continuing a partnership with Microbrasserie Dieu du ciel! for a special IPA brew called Baron von Mhaziac that will not only be made available during Comicco,  but  is being bottled and available throughout Quebec.
Tickets are still available. Kids aged 6 to 12 get free admission on Sunday! Visit www.montrealcomiccon.com for details.