I have always enjoyed going to the Centaur Theatre. So on a gorgeous July 22 summer evening I headed out to the iconic performing arts centre, situated among the cobblestone streets of historic Old Montreal, to see back to back presentations of two much anticipated Just For Laughs Festival  shows: Elon Gold and Modi, Two for One and Second City's She The People.
Gold and Modi were hilarious when I saw them each perform at different shows in recent years, but to see these two Jewish comics let loose their shtick (comic them) on the same stage was priceless. You have until July 25 to be part of the experience.
As for She The People, a sketch show entirely created, designed, and performed by fearlessly funny women, this one absolutely blew me away! It could end up becoming "the" most talked about production of the entire festival. Shows continue through July 27,
Here is cast  interview on Entertainment Tonight.
Performed brilliantly by Ann Pornel, Ashley Comeau, Karen Parker, Kirsten Rasmussen, Paloma Nuñez, and Tricia Black, it is directed by Carly Hefferman. I met her a few weeks ago at the JFL press conference and her description of She The People got me intrigued. Yes, she told me it was primarily geared towards women, but made it clear men would enjoy it as well. Let me assure you that my friend Glenn and I attended truly not knowing whether it really would be something we'd appreciate and the entertainment value far exceeded our expectations. There is reason why this has been so well received at Second City venues in Chicago and Toronto.
She The People is fast paced and so well performed. The six ladies on stage absolutely kill it. They  keep the audience laughing, smiling and engaged all the way. There are no lulls (except perhaps the 15 minute intermission but they do not a break). The content (rated PG 13) is so well delivered and something everyone can relate to.
The first scene deals with a woman who has seemingly just broken up with her boyfriend. Her friends proceed to rip him to shreds. "How did he break up with you?" she is asked,  to which the rejected gal responds, "by text."
This show really takes a look at what it is like to be a woman today, especially in 2019. This includes being talked over in meeting, the clothes one wears and how one ends up becoming their mother. One sketch has them bring a woman from the audience for a cute game show sequence. There was a great improv set on opening night when two women stared into the first row to ask their inner selves (it turned out to be two men) a series of questions. Again this elicited such great laughs.
Some of the one liners are real zingers. I loved the scene where a woman wakes up from being in a coma for 10 years and responds in exasperation that Bill Cosby can no longer be considered her favorite TV character, Ditto for Kevin Spacey and Morgan Freeman in movies and that Donald Trump is now the US President. The Me Too movement definitely has its moment.
Hefferman is putting the word out to any men organizing bachelor parties to come on down. I agree this would be the perfect backdrop.
She The People continues to Thursday July 25 at 9:30pm, with additional showson Friday July 26, and Saturday July 27 at 7 pm and 10 pm.
Gold and Modi
Members of the Jewish community came out in force for opening night to see "the King Davids of comedy put the Jew in July." Gold and Modi are considered the two pre-eminent comedians on the Jewish circuit. This is considered the formal premiere of their new two-man show, Two For One.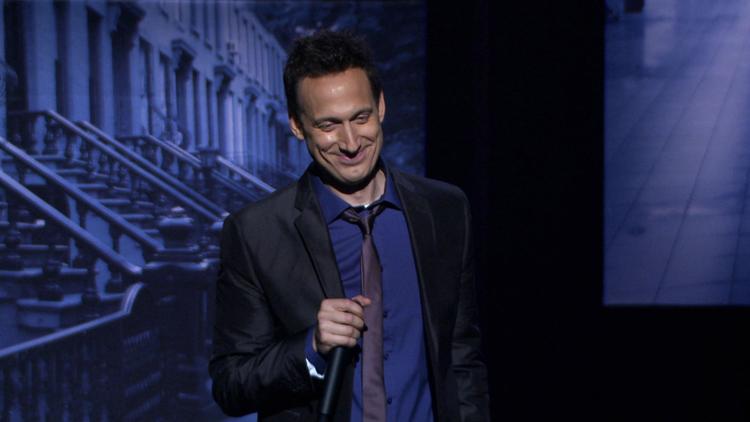 Gold is a comedian and actor who has starred in FOX's Stacked  and NBC's  In-Laws.  He has made ten appearances on  The Tonight Show  and had a recurring role on the hit show, Bones. He was a writer/performer on ABC's  The Dana Carvey Show  and has guest starred on  Frasier,  The Mentalist  and  Chappelle's Show, among others. His one hour stand up special on Netflix received wide acclaim from audiences and peers alike and is now available on Amazon Prime. He recently made a stellar appearance on  The Late Late Show With James Corden  and can next be seen in season three of  Crashing  on HBO. We also learned that he will be in the next season of Curb Your Enthusiasm.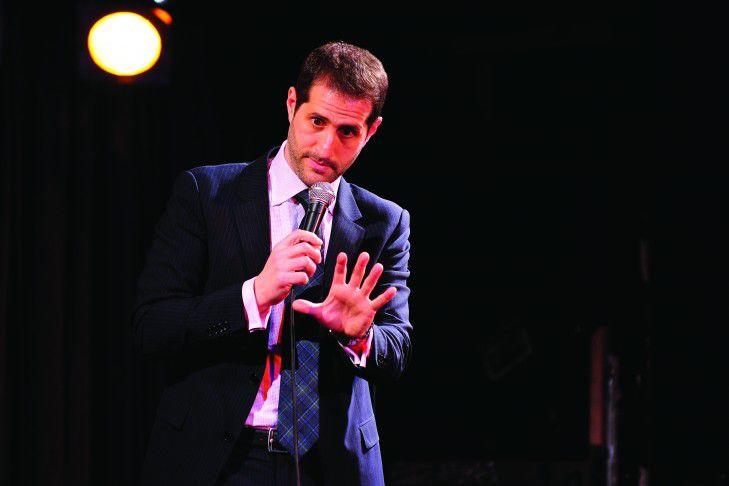 Modi (Rosenfeld) was born in Tel Aviv, Israel and moved to Woodmere, New York, with his family when he was seven years old. He graduated from George W. Hewlett High School in 1988 and Boston University in 1992, majoring in psychology and minoring in voice. He  studied cantorial music at Yeshiva University's Belz School of Music and is a cantor, or hazzan, at the Community Synagogue on 6th Street in Manhattan. He was a Wall Street international banker for Merrill Lynch before entering comedy. He is an established headliner at comedy clubs and colleges across the United States and is a regular fixture on the comedy scene in both New York and Los Angeles. His home club is the Comedy Cellar. Modi's background and ability to adapt to a variety of audiences has allowed him to create a niche within the Jewish community, performing for Reform and Ultra-Orthodox audiences around the world. He performed at the launch party of the late Israeli astronaut Ilan Ramon in Houston before takeoff.
Their show begins on the big screen with a scene of the duo chatting at a deli in New York about this Montreal presentation. They try to portion out who will deliver jokes on which Jewish themes.
Modi came out first and did a 20 minute set, followed by Gold. They then stayed on stage together and this was an absolute treat. Both continually asked non-Jews in the audience to put their hands up. Only a few did. They know their target audience.
Modi spoke about all of the fundraisers he is hired to perform at. He alluded to a Holocaust memorial gathering where he had to follow a survivor telling her life story and leaving not a dry eye in the house. "And now here is Modi," he recounted an awkward introduction -something we could not tell if it was true or just a joke.
For those who remember the old Concord Hotel in the Catskills, Modi joked about performing in their aged facility. He called the front desk when checking into his room and complained: "I have a leak in my sink!" The response from the person at the other end of the line was "Go ahead!"
Gold thanked everyone for attending "The Festival Jews Pour Rire." He added, "I love performing for my people." There were some really funny lines as he compared New Year's Eve to Rosh Hashanah and did great sound effects for the blowing of the shofar.
On Donald Trump, he said, "I'd be nervous if he was the president of my synagogue."
Gold and Modi killed it when they took to the stage together. When Modi re-entered the stage dressed as a Hassidic Jew and took questions from the audience the laugh meter went very high. These guys make an incredible team. I would love to see the two of them get their own sitcom. No doubt Robbie Praw from Netflix is in town. Hopefully he will attend this show and come up with the same conclusion.
The remaining shows are July 23 to 27 at 7 pm at the Centaur
Old Montreal Pastry Magic
Old Monteal in the summer is magic and in between shows my friend and I took a walk down de la Commune Ouest and stopped for some BEAVERTAILS® pastries.
I was told recently that there were eight new flavors out. We each tried one of them: the Brwownie, chocolate hazelnut spread, brownie pieces, and white chocolate chunks and the S"More, chocolate hazelnut spread, Graham cracker crumbs, and torched marshmallows. Wow, what a treat this was! Served piping-hot, these hand-stretched whole-wheat pastries are both crispy and chewy at the same time. Franchises have popped up all over the world. They were so so good I am glad we started walking back to the theatre as we ate them for we might have ordered more. I noticed that they now sell poutine, fries and Nathan's hot dogs.