Last year I attended the annual Irishman of the Year Breakfast, organized by the Erin Sports Association, for the first time in more than a decade. I had a fantastic time, so much so that I circled March 9 on my calendar to be at the Plaza Centre Ville for the 2019 edition.
"We have been getting together on a Saturday morning in March for 42 years now," said event Chairman Ronnie James, who works hand in hand with Erin Sports Association president Tim Furlong.
Funds raised benefit many different organizations and families in the Southwest district. Over the past four decades, some $350,000 has been directed to these causes.
I was especially pleased to greet the 2019 Irishman of the Year Father John Walsh, whom I have had the pleasure of knowing for over 30 years now. A finer gentleman you will not find anywhere.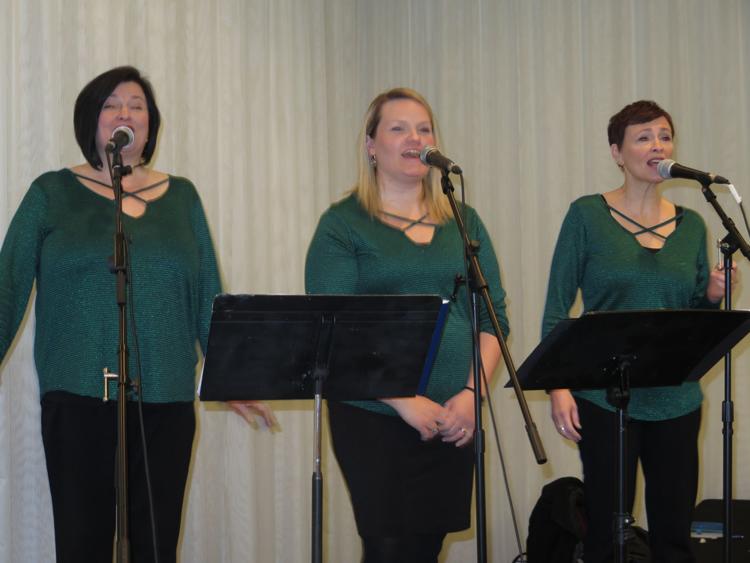 The event began with a delicious buffet breakfast,Irish coffee, a silent auction and lots of networking. The Melotonz, with Terry Clahane, provided some nice Irish background music. The Black Watch Pipes & Drums marched in with the head table of guests. Once everyone was seated the ageless Francis Baddeley sang the Irish and Canadian anthems, accompanied by Clahane on keyboard. We were then introduced to Parade Queen Victoria Kelly and Princesses Darragh Kilkenny-Mondoux, Lauren Macdonald, Aveen Mahon and Lianne Short.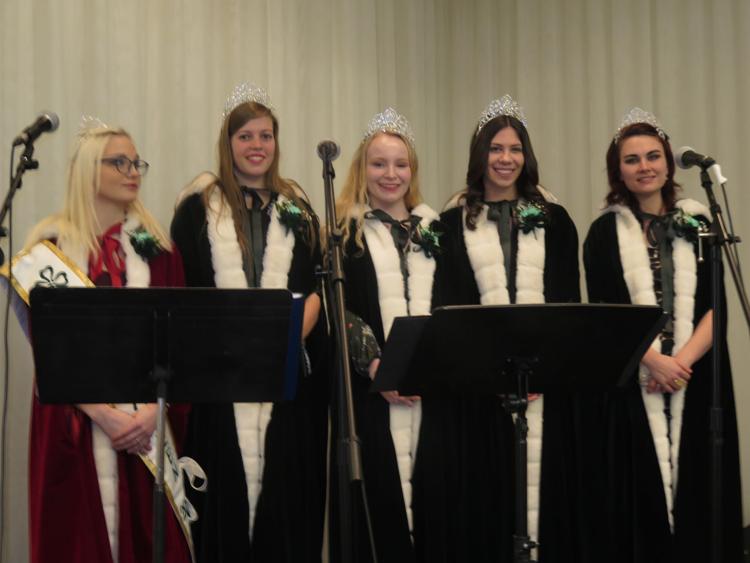 Shawn Doyle was back as the emcee and showcased his flair for humour. Besides Furlong and Father John, other head table guests included Father John's niece Deborah Graham, Royal Canadian Legion President Tom Irvine, 2018 Irishman of the Year Paul Doyle, Scott O'Flaherty of Moosehead Breweries, Jameson International Ambassador Ciaran O'Rourke, Chief Reviewing Officer Joey Elias and his fellow comedian Wassim El Mounzer, rugby player Briana Miller, former Alouette Etienne Boulay, former Canadian national women's hockey player Laura Leslie, 1984 Canadian Olympic gold medalist in kayaking Alwyn Morris and amateur athlete award winners Tyler and Tanner Wilding, Rose Kanemy and Mitchell Newman. Among the dignitaries in the audience were Federal Minister of Justice David Lametti, former St. Leonard- St. Michel Liberal MP (who got a raw deal from Justin Trudeau) Massimo Pacetti, Montreal City Councillors Sterling Downey and Peter McQueen and former Alouette Anthony Calvillo.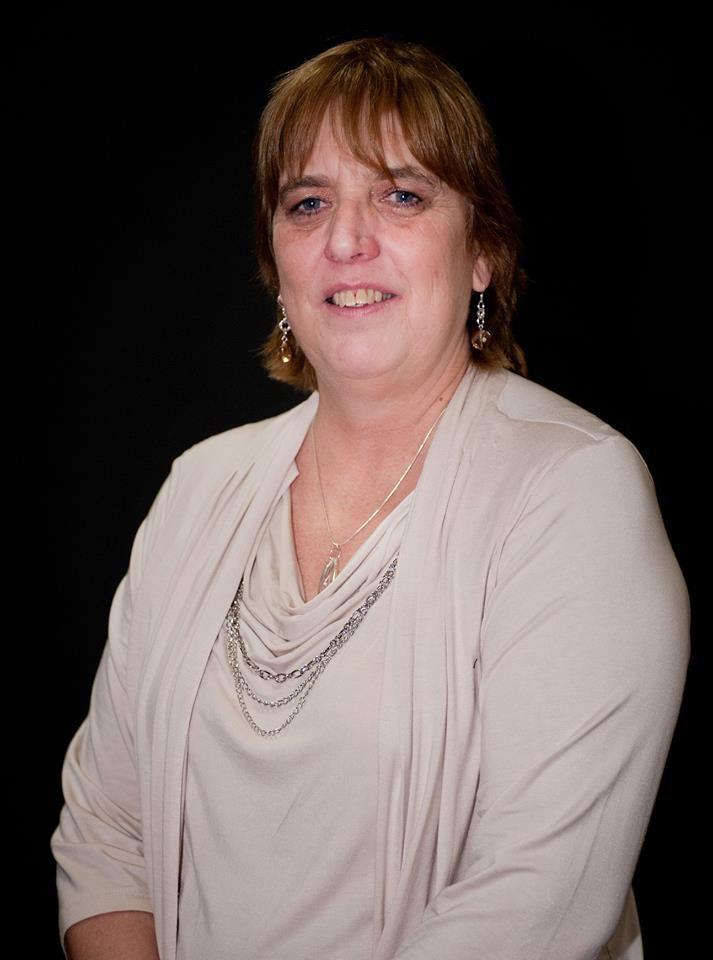 There was a moment of silence for those leading members of the Irish community who passed away in the last year: Dennis Dougherty, Mike Spears, Ron McDougall and Grayden Fykes. Many were shocked to learn of the sudden passing of United Irish Societies Past President Beverly Murphy the night before.
Father John Walsh
Father John was born and raised in Montreal, where he completed his elementary and high school education. His post-secondary education has taken him to, St. Dunstan's University on Prince Edward Island, the Université de Montréal Hebrew University in Jerusalem, and the Pontifical Biblical Institute in Rome, Italy. His Irish ancestry comes from Killarney on his mother's side and Cork on his father's side. His parents, Margaret Bridget Quinlan and Emmett Sarsfield Walsh, raised their two children, Marlene Patricia and John Emmett, in the North end of the city in Holy Family Parish, where Mr. Walsh worked hard every year to build a float for the parish and with whom he walked in the Parade until his death. Marlene was a princess on the first Queen's float in 1957.
Father John was ordained to the Roman Catholic Priesthood in 1966. Since that time he has served in Resurrection of Our Lord Parish in Lachine, Saint Veronica's Parish in Dorval, St. Monica's Parish in Notre-Dame-de-Grace, and in Saint John Brebeuf Parish in LaSalle. In addition to his parochial work, he also served as Coordinator of Religious Education in Dorval, was the Associate Director of the Bible Centre in Montreal, was the Assistant to the Director English Language Services, and was the Episcopal Vicar responsible for thirteen parishes in the Diocese of Saint Jean-Longueuil. He has been a media commentator, involved in numerous community organizations, a volunteer chaplain to several police and fire departments, a board member of the YMCA in Lachine, and involved with Kiwanis International including some time as President of Kiwanis Lakeshore-Montreal, the first Roman Catholic priest in the world to be elected to that level of a Kiwanis Club. In December 2017 he was appointed to the Order of Canada and just to keep himself busy in his supposed retirement years he will now pursue a Ph.D.
In his acceptance speech, Father John spoke in English, French, Italian and Hebrew. He spoke eloquently and even shared a few jokes. His niece Deborah introduced him. Doyle presented his sash, Furlong a walking stick and plaque.
Awards
As for the awards, Kanemy was chosen as the Female Athlete of the Year. At the age of 16 she has an impressive portfolio in water polo, a sport she started out in when she was only eight. Currently in Grade 11 at Collège de Montréal, she has been a member of the Quebec U16 team for the past three years. Her team won the Canadian championship in 2018 and she ended up top scorer in the country with 71 goals in 17 games. Somehow she also finds time to volunteer at St. Anne's Veterans Hospital. The Dollard des Ormeaux native plans to attend Arizona State University and pursue a spot on the Canadian Olympic team.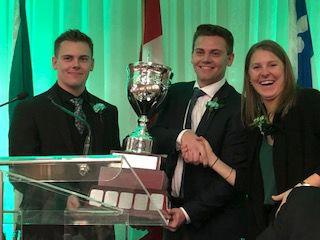 The Wilding twins were selected Co-Male Athletes of the Year. They are currently enrolled in a four year Business Program at King's College in Wilkes Barre, Pennsylvania while carrying 3.1 GPAs and playing for their NCAA Division 3 hockey team. They also play football and lacrosse.
Newman was the winner of the Special Athlete of the Year Award. Born in 1994 with Down Syndrome, he is an accomplished athlete and actor. He won "Golfer of the Year" for the Lac St. Louis Region, Ouest-de-I'Île and for five years he was a big part of the coaching staff for the Bantam and Midget AA hockey teams that his dad coached. As team mascot, he delivered inspirational speeches before each game. A member of the I Can Dream Theatre Group, I have had the good fortune of seeing Mitchell on stage.
Speech Clips
Morris spoke about his electrifying performance at the Summer Olympics in Los Angeles 35 years ago and replayed the exciting race on the big screen. Everyone in the audience cheered as they were seeing it live and entered into thunderous applause as we witnessed the victory.
El Mounzer had everyone in stitches. He said he thought the organization was the Arab Sports Association, not the Erin Sports Association and told us all that he was born in the heart of Lebanon. "Outside the Cote Vertu metro station," he quipped.
Elias said someone asked if he was running for mayor. "No," he declared, "I do not have a bike." The latter being a reference to Mayor Valerie Plante.
"If I ever do become mayor," Elias continued, "the first thing I do is fire the person responsible for snow removal."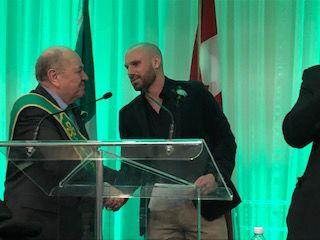 Boulay shared his past battles with mental illness and addictions which had him on the brink of committing suicide. "I do realize the irony of talking about alcoholism to a bunch of people who have been drinking Irish coffee all morning," he smiled. "Now, after two years of sobriety, life has never been better. I am surrounded by amazing people."
The Committee
Joining James and  Furlong on the organizing committee were Glen Cambridge, Ron Diano, Danny Doyle, Steve Mulcahy, Mike Kennedy, Howie Myers, Jason Tock, Dean Whalen, Albert Diorio, Robin Robert, Brenda Flynn, Shawn Doyle and Kevin Murphy.
Next to Come
The St. Patrick's Day Luncheon will take place on Friday, March 15 at Le Centre Sheraton followed by the big St. Paddy's Day Parade downtown on March 17.