Dinah Shuster is an extraordinary woman. Thanks to the Magic Moment Program, organized by the Mount Sinai Hospital Foundation in Côte Saint-Luc, I got to witness that on Sunday, December 8.
The program offers a last wish to patients in palliative care. It is sponsored by a donor who wishes to remain anonymous. Dinah asked for a vernissage of her paintings and sculptures. She requested that her favorite niece, Sandi Wine, come in from Florida for the occasion. Both wishes were granted.
Palette and Chisel: a Vernissage of Paintings and Sculptures by Dinah Shuster attracted some family and friends. Dinah, who is in the last stages of cancer, entered the room in a wheelchair.
"After a week of eating almost nothing and hardly opening her eyes in bed, we were astounded at how much she enjoyed the event," said Myra Shuster, Dinah's daughter. "We weren't even sure she'd make it to this day."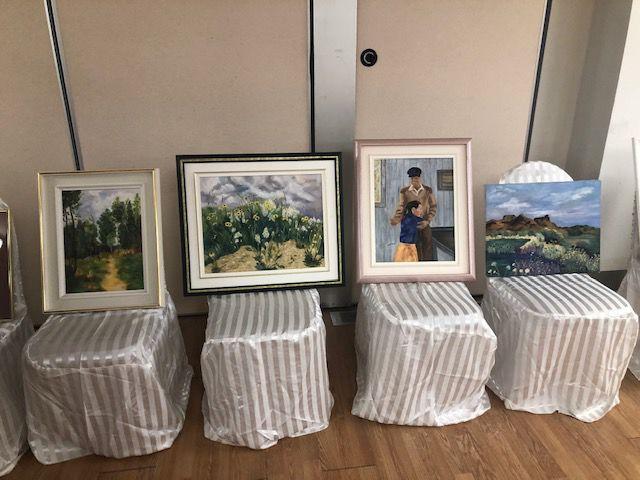 I walked over to Dinah, who was lucid and emotional. She held my hand and told me how meaningful this day was to her as doting grandchildren Sierra and Jesse stuck close by. Sandi Wine shared with me what a difficult year it has been, losing her own daughter. "But when I got this call I just had to come," she remarked.
When Dinah turned 80, she told her daughter, "I know this sounds crazy Myra, but I feel like I'm 21. I do whatever I want, I feel like there's nothing I can't do!"
"Sure enough, that's always been mom's credo," Myra said. "She's always had travel plans, innovative cooking, home decorating, artistic and other projects on the go. She took up sculpting, painting and jewelry-making in her seventies, and what you see here today are just a few of her beautiful creations."
Inspired by her "undaunted-by-age" energy,' Myra  tried to learn the basics of cha cha-rumba as she approached her 60th birthday, with a view to doing a dance in mom's honour. On Sunday she and her teacher Tony Santana performed a dance, much to Dinah's approval. "This song would be fitting for a woman who has always felt young, like a senorita," Myra smiled.
After a small wine and cheese reception, Dinah pronounced that she wanted to see everyone dance. Sierra being a dancer/animator with Global Events cued up "YMCA" and everyone got up dancing. Even Dinah was bopping in her wheelchair.
"In the darkest hours of her illness this past year, there have been angels of kindness in every corner," said Myra. "Unforgettable nurses in the Jewish General Hospital emergency ward, Dr. Walter Gotlieb's team and now a whole new cast of wonderful people at Mount Sinai. Today's benefactor gave us the most generous of gifts, a gift of the celebration of life in the face of death."