When I was very young I can remember many a Christmas holiday period when the circus was in town. I could not wait for my parents to bring us to the old Montreal Forum to see the lions, elephants, clowns and acrobats.
So it was wonderful during this December break to have Cirque de Soleil's new arena edition of Corteo playing at the Bell Centre for me to take my family to. It is here until December 30, a fabulous presentation to experience!
Who would have believed back then that we would have the likes of Cirque de Soleil, founded by two street former street performers in Guy Laliberté and Gilles Ste-Croix, and now a worldwide phenomenon? This circus did away with the use of animals and focused instead on three important factors: the tent, the clowns and extraordinary acrobatics and stunts.
Corteo, which means cortege in Italian, first premiered here in 2005 and visited more than 60 cities in 19 different countries and four continents as a Big Top show before transforming into an arena version in 2016. The story line revolves around a clown named Mauro who we first see on his death bed and imagining his own funeral. There are angels flying above him. Four women, the Dreamer Clown's former loves, then come together in dreamlike joy. They perform aerial acrobatics on three giant chandeliers that spin above his bed.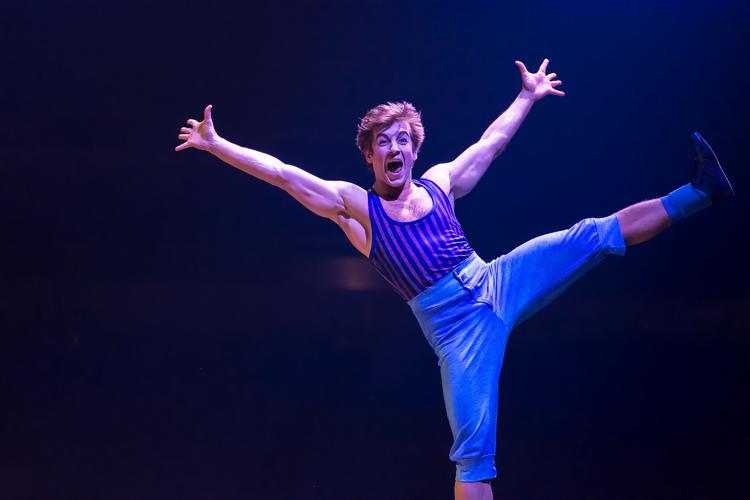 Two 600-pound beds next appear. Like a gaggle of young kids playing in their grandparents' room, six artists jump up and down on what are really carefully disguised trampolines. In a playful atmosphere they perform acrobatic feats, each more daring than the last.
There was so much to like about this show from beginning to end. The story line is pretty much secondary and the Bell Centre was beautifully configured for the occasion. Set Designer Jean Rabasse divided the rotating stage in two, with each half of the audience of about 5,000 facing the other half, so they see not only the performance, but also have a performer's-eye-view of the crowd. This is a first for Cirque du Soleil. There is one turntable built into the stage, which is about 41 feet long, and the track is almost 120 feet long. More than 9,000 images were used in the R&D phase of the set design to blend many visual styles and influences, from the baroque to the modern. A completely new stage and acrobatic structure was fabricated for the Corteo arena tour.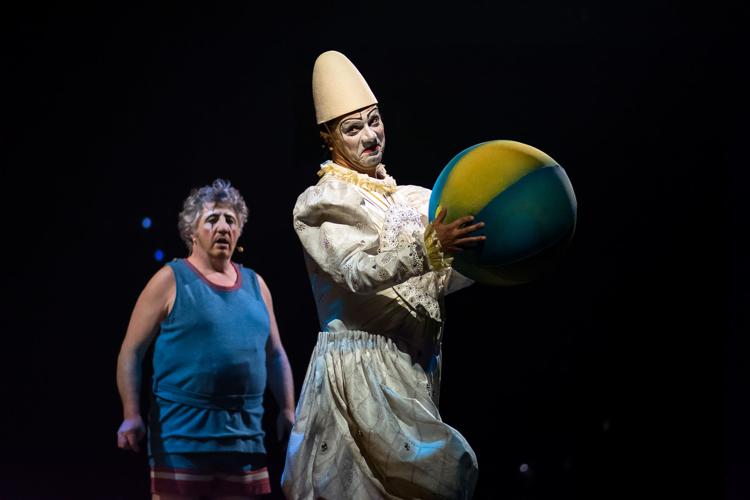 A golf scene - with a dodging human head as the intended ball – is a good one. There are some juggling acts and a scene with a ball that Mauro tries to partake in a soccer match with a trapeze artist. He adds some local flavor by giving a shout out to the Montreal Impact (whose former star player and coach is named Mauro, as in Biello).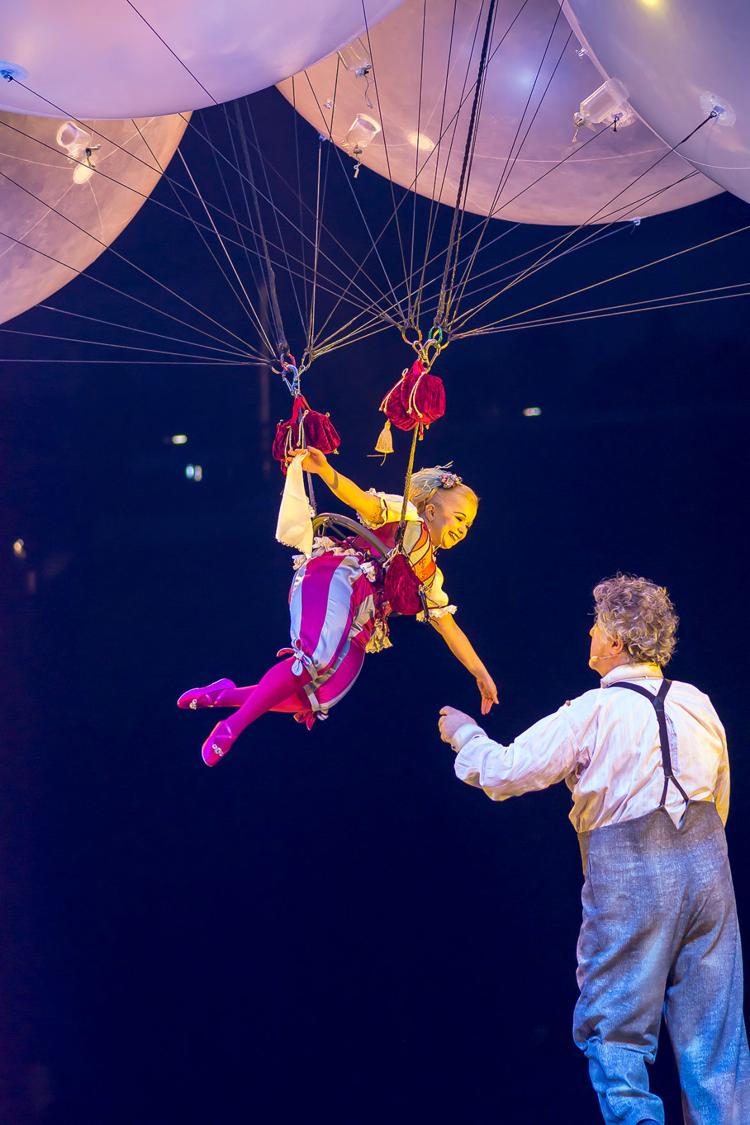 Unquestionably the crowd favorite of the night was the Helium Dance featuring little person Valentina Paylevanyan, who is strapped to four giant balloons. She flies through the arena and audience members take turns pushing her back up in the air as she shouts words like "push,"  "oh no!" and "hello!"
There is a see-saw scene, in which acrobats do some highly impressive somersaults and an absolutely incredible balancing act on not one, but two ladders – ladders that nobody is holding on to from the bottom. The finale of this segment is of the edge of your seat nature.
When I interviewed acrobat Fredric Umali a few weeks ago he told me about "Tournik," the final act of the show. It's a piece of group acrobatics performed on a set of horizontal (and vertical) bars set up on a cube. It starts off with four men performing Olympic-like manoeuvers and by the end more than doubles in size.
The cast of includes 51 acrobats, musicians, singers and actors from all around the world.
To create over 80 costumes for Corteo's cast, Costume Designer Dominique Lemieux set out to accentuate the natural beauty of the artists. She used more than a hundred different fabrics and trims, concentrating on a subtle color palette that includes blues, pinks, fuchsia and gold with appliquéd spangles and jewels. Most of the fabrics were dyed, sublimated and silk screen printed to give them a patina of age while retaining the attributes necessary for high-performance acrobatics. There are numerous angels on Corteo, such as the little angel, the archangels and the grand angels. On average, each angel dress requires 25 meters of fabric which translates to over 500 meters of material (or the approximate length of five football fields) appearing on stage each night.
For a single year of operation, performers require over 200 bottles of liquid foundation, hundreds of eye shadows, blushes, pencils and lipsticks as well as more than 50 liters of make-up remover.
One member of our group was in a wheelchair. I wish to commend the Cirque de Soleil staff, particularly publicist Maxwell Batista and the Bell Centre personnel, for making everything about this experience so smooth.
For ticket information log on to www.cirquedesoleil.com