It has been four years now since I discovered CINEMANIA, the brilliant presentation of French films with English sub-titles founded by Maidy Teitelbaum and brought to a new level of excellence with Guilluame Caillaird at the helm.
Each November I try to attend a few screenings, particularly those at the majestic Imperial Cinema. This is the 25th anniversary edition of CINEMANIA and there are 51 feature films, North American, Canadian and Quebec premieres selected among the best of the year's  francophone features from such international festivals as Cannes, Berlinale, and TIFF. And, always with English subtitles! In all, 17 countries are represented, with 23 invited guest artists, directors, actors and producers who will introduce screenings and interact with Festival-goers. It began November 7 and continues until November 17. You can see the entire lineup of films here
Besides the Imperial, CINEMANIA screenings and events will also take place at the Outremont Theatre, Cinéma du Parc, Cinéma du Musée, La Cinémathèque Québécoise, as well as Hotel Sofitel and PHI.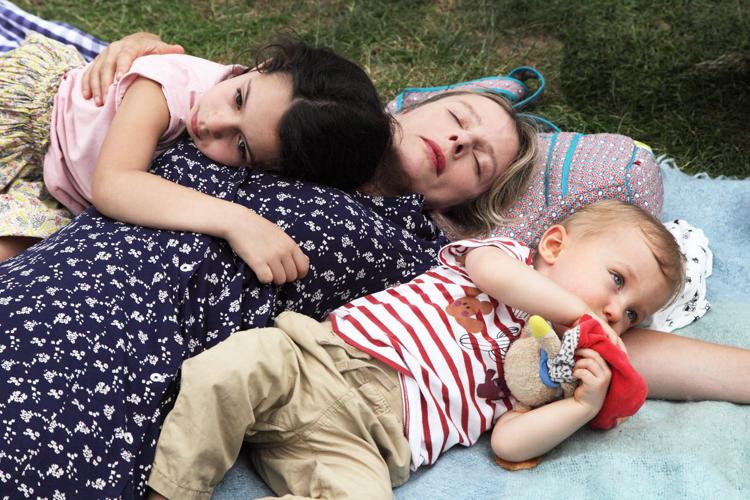 The Perfect Nanny
With my weekdays especially charged at this time, I decided to take in a Saturday morning show at the Imperial and the North American premiere of The Perfect Nanny. The place was packed!
The storyline is as follows. Myriam (Leïla Bekhti), a mother of two young children, goes back to work at a law firm. After intensive interviews with prospective candidates, she and her conscientious husband engage Louise (Karin Viard), as a nanny. The kids love Louise, and she soon becomes an indispensible part of the family until a darker relationship unfolds between mother and nanny, and tragedy strikes.
Director/ co-screenwriter Lucie Borleteau's second feature film is based on superstar author Leïla Slimani's eponymous bestselling novel that conquered France, winning the Prix Goncourt in 2016. It's a subtle yet brilliantly-compulsive psychological thriller drawing parallels with the best of Chabrol and Polanski. Like any other CINEMANIA feature I have previously seen, this one kept me glued to my seat. While as a parent I am way past the babysitter stage, let's just say that anyone looking for a nanny will do a much better background check than the main characters in this film did. You will walk out of the theatre a bit shaken.
 Closing Film
The feature film Spread Your Wings, starring Jean-Paul Rouve (C'est la Vie) and Mélanie Doutey (Sink or Swim), will close the Festival on November 17 at the Imperial Cinema, presented by filmmaker, writer and adventurer Nicolas Vanier who was inspired by the true story of ultra-light aircraft pilot and co-screenwriter Christian Moullec who actually led migrating geese across Europe. Crucial environmental issues are at the core of Spread Your Wings, as well as a tender story of father-son bonding.
Celebrity Guests
This year, as always, special CINEMANIA screenings will be presented by many guests: Les Miserables, France's official entry Oscars 2020 Best Foreign Film, will be introduced by Almany Kanouté, and Steve Tientcheu, as well as by Alexis Manenti (who also appears in The Truk by Sarah Marx). Zabou Breitman will present the animation feature The Swallows of Kabul that made its mark at Cannes 2019 and at the Annecy Film Festival; the actor Djanis Bouzyani will introduce Your Deserve A Lover by first-time director Hafsia Herzi (who acted in La Graine et le Mulet and Apollonide); director Antonin Baudry will accompany his film The Wolf's Call and Dominique Besnehard and actor Eric Caravaca will grace CINEMANIA's stage for The Dazzled.
 Focus on Marie Gillian
Belgian actress Marie Gillian is being featured this year by CINEMANIA with a retrospective at La Cinémathèque Québécoise where she will present fout of her films: Les Affinités Élèctives by Vittorio and Paolo Taviani, in which she plays an Italian countess who regains a great love of her youth; Toutes Nos Envies by Philippe Lioret in which she plays a young judge challenged by corporate loan-sharks and their victims; Marie by Marian Handwerker in a saga of adolescents coming of age in the early 1990s, and Ni Pour, Ni Conte (Bien Au Contraire) by Cédric Klapisch, in which she plays a cinematographer who helps some hoodlums accomplish a robbery.
Screenings and Premieres
Each year, CINEMANIA sets out to fulfill its mission of presenting premieres of many of the high-profile Francophone films as selected from the programs of the major international film festivals. Montreal filmgoers can screen The Truth by Hirokazu Kore-Eda (Palme d'Or in 2018 for Une Affaire de Famille), the Opening Film at Venice Mostra 2019, co-starring for the first time ever Juliette Binoche and Catherine Deneuve; or, Alice and The Mayor by Nicolas Pariser in which Fabrice Luchini plays the exasperated Mayor of Lyon who consults with a young philosphy advisor played by Anais Demoustier; La Bell Époque by Nicolas Bedos, presented out-of-Official-Competition at Cannes and at TIFF, starring Guillaume Canet, Doria Tillier, Daniel Auteuil and Fanny Ardant in a love story that transcends decades; the Canadian premiere of Christian Honoré's On A Magical Night., starring Chiara Mastroianni and Benjamin Biolay; the Franco-Belgian war-story production The Mercy of The Jungle by Joel Karekezi; or, Oh Mercy! the latest Arnaud Desplechin movie starring Léa Seydoux and Sara Forestier in the roles of a couple of drug-addicted lovers accused of murdering an elderly lady.
In addition, CINEMANIA once again includes many North American premieres in its program besides The Perfect Nanny.
All tickets, coupons and passports are available online here.