NEW YORK- Okay, I can check something else from my Bucket List, having just watched a Major League Baseball Game from the press box at Yankee Stadium with the added bonus of their opposition being the Toronto Blue Jays and Vladimir Guerrero Jr.
The Yankees won the game 4-2 and Guerrero went 0-4 with a strikeout. This was my first MLB game in 15 years. I had not seen one since the Expos left town for Washington. While the Blue Jays two pre-season games were tempting, they just did not pull the right strings to get me out to the ballpark.
For the likes of Stephen Bronfman, Mitch Garber, Perry Gee, Matthew Ross, Mitch Melnick and so many others working hard to bring a team back let me tell you that this visit to Yankee Stadium did spike Expos fever in me.
It started when I left The Algonquin Hotel near Times Square and got on board the Number 4 Train to the Bronx. There were fans knee deep heading to the same place, most wearing Yankees hats and jerseys. It reminded me of the days when I would take the Metro to Olympic Stadium.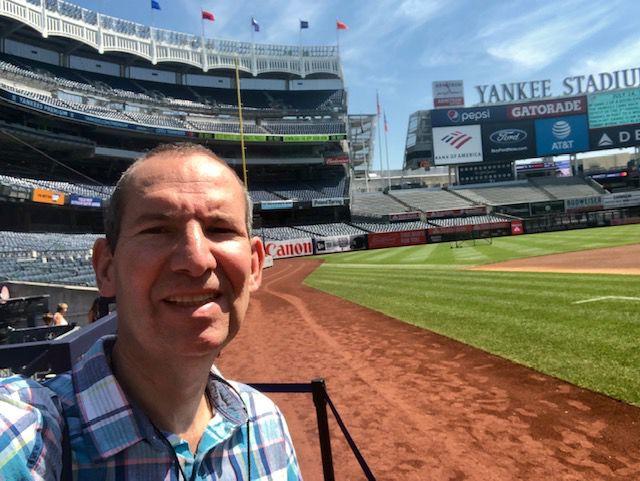 Yankee Stadium is magnificent and only 10 years old, having been built across the street from the original home of the Bronx Bombers. I picked up my press pass and a young lady form the media relations division escorted me to field level where I waited to reconnect with Toronto's Director of Baseball Media, Richard Griffin. Rich handled these duties with the Expos for many years before moving to Toronto to become a baseball columnist for The Toronto Star. This season the Jays lured him back to his original profession and one he is so darn good at. I started working in the Expos press box as a teenager alongside my late dad and I got to see firsthand why Rich had garnered a reputation as one of the best in the business at working with reporters, players and broadcasters.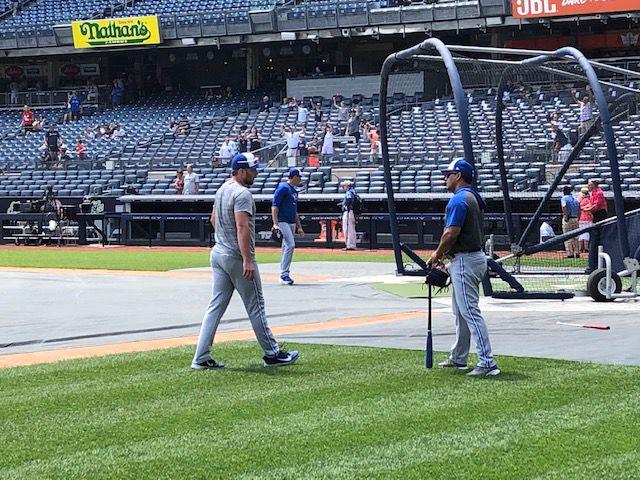 It was surreal sitting with Rich in the Jays dugout as Vlad Jr. walked by. I had not seen Rich in more than 20 years, yet it was as if time stood still. He is among those who believes pro baseball will return to Montreal.
The Jays are not having a great season under new manager Charlie Montoyo, but Rich told me he is impressed working with the new skipper whom he spends a lot of time with.
Montoyo had a brief cup of coffee, with the Expos - four games in 1993 to be precise. "The Expos actually signed him to be in AA Harrisburg to mentor Vladimir Guerrero Sr., who did not speak English," Rich told me. "Now he is managing Vlad Jr. in his first full season."
Vlad Jr., only 20 and born in Montreal, does not appear to speak English either. "We have an interpreter and usually we get all of Vlad Jr's interviews done the first game of every road series," he says. "His English is getting better. I notice him starting to answer some questions in Spanish that were asked in English before the translator even speaks so that is a good sign. He should be doing it on his own by the 2020 all-star break."
Montoyo spent the past 22 years in the Tampa organization before earning his present post so he is eminently qualified to comment on the potential split season being talked about between Tampa Bay and Montreal.
The Rays are in the American League East along with the Blue Jays, and Montoyo likes the idea.
"They'd be in our division, right, you would think?" Montoyo said. "That'd be good for the city."
Montoyo's last four years with the Tampa organization were directly with the Rays as a third-base and bench coach
"There are friends of mine who'd love to stay in that area because they have friends and family there," Montoyo said. "It's mixed feeling for me, but it'd be pretty cool to have baseball back in Montreal."
Tampa Bay draws an average of 14,546 people per game. Tropicana Field, the team's home in St. Petersburg, Fla., has been widely criticized as not optimal for baseball as owners look for funds for a new stadium.
"From what I've seen people don't go," Montoyo said of the low attendance. "The same thing happened in Miami. People don't go. So I don't know. Is it the weather in Florida or stuff to do?"
Yankees Magic
There were more than 42,000 fans on hand for this game. The press box was full. It is a state-of-the-art facility with a very impressive food area. Reporters pay $13 before the game and that provides them with an all-you can eat service of salads, sandwiches, hot dogs, multiple main courses and endless desserts and beverages. The seating is very comfortable set over three row. I got a copy of the thick press guide from club media relations specialist Lauren Moran, who was beyond helpful in making my dream of a Yankees press pass come true. Lauren and a colleague make announcements throughout the game to keep members of the media up to date on statistical data.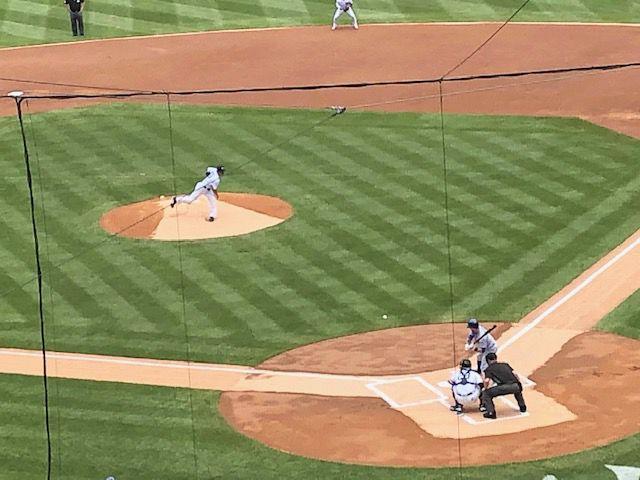 It was great to hear the roar of the crowd when a Yankee player hit a home run and another drove home two with a single. There was a play at the plate where the umpire called a Yankees player out. Manager Aaron Boone challenged it and won. The crowd went crazy. When two Blue Jays players hit homers, fans threw the balls back on to the field to much applause.
There was great scoreboard action, with a few marriage proposals hitting the big screen. Fans did the wave and just before the seventh inning stretch and the singing of the national anthem the Yankees honoured 97 year old US Army Air Force veteran named Sheldon Zweig on the field. It was first class all the way.
I will have more on Yankees-Jays experience, including a more detailed interview with Rich Griffin in next week's print edition.