Four decades of performing and touring is a huge accomplishment for any musical act. But in the milieu of children's or family entertainment, this number is especially impressive. After all, how do you hold onto your fan base after they've grown up? For Sharon & Bram, the answer to this question is quality and consistency and a love of the craft. For not only have they managed to hold onto fans for decades, but they also managed to expand their base with each new generation born.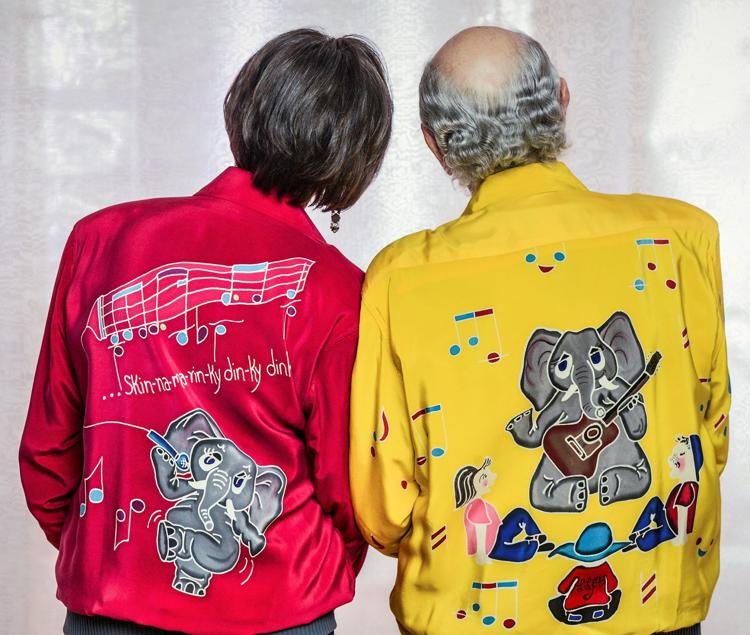 "We've said for years now that we're connected to three generations and just this past year we heard a woman say, 'I'm going to bring my great grandchild to your concert,'" says Bram Morrison. "So we've just graduated from three generations to four generations, which is really quite extraordinary and very, very pleasant for us."
Sharon Hampson polls the crowds in her own way. "Every once in a while we'll ask the audience 'How many of you are here without children?' and a number of people identify as having come without children," she says. "And then I'll ask 'How many of you have brought your very young children as an excuse for coming?' and there are lots of those."
Since 1978, Hampson and Morrison have been pre-eminent in all aspects of family entertainment across North America as members of the trio Sharon, Lois & Bram. Together, the threesome produced over 20 recordings, beginning with their iconic One Elephant, Deux Éléphants. They have appeared in every major concert hall in Canada and many in the United States, including Carnegie Hall and Lincoln Centre. They even performed at the White House.
Although Lois Lilienstein passed away in 2015, Hampson and Morrison have kept the flame alive. And they assure that this concert farewell is not the end of everything.
"It's not a farewell to singing," says Hampson. "We're still going to sing. We're just not going to tour anymore and we're going to have more leisure in our lives."
The upcoming concert is recommended for children 3 years and up because, as much as they love children, the duo says there's not much point in dragging a young child to a concert if they're not going to enjoy it.
"Our concert is certainly multigenerational, but it does not go down to the baby stage," says Morrison. "And we often find that people, with the best of intentions, bring their children who are under a year and a half old, and they haven't a clue what's going on. And often, they're criers."
Adds Hampson: "And also, sometimes parents of very young children are so busy trying to get them to do this or that action, rather than understanding that kids receive in all kinds of different ways. Leave them alone. Let them receive what's going on. Don't make them clap or do this and that. That's the best way for them to experience it if they're old enough."
As part of their 40th anniversary, Sharon & Bram collaborated with Blue Rodeo frontman Jim Cuddy for a new recording of Talk About Peace, which the two have been performing for years.
"Talk About Peace is a song that's been around since the '60s and it was written by Joe Hampson, who is Sharon's late husband," says Morrison. "He was a Renaissance man because he was so good at many different things, including songwriting. Sharon, Lois & Bram sang this song on television some years ago and I know that many people have been singing it from Sharon's family. It remains as important a message today — perhaps even more — as when it was first written. We're very proud to have taken it and give it new life and a new platform for people today who missed it a generation ago."
The 2019 release of Talk About Peace will feature new lyrics by Sharon's daughter Randi Hampson, who along with Sharon's two nieces, Debra Rochman and Jodi Spitzer, sang on the children's chorus when it was recorded by the Travellers 50 years ago.
"Jim Cuddy agreed to participate with us and we were excited about that. He's a wonderful singer and he sounds just terrific on this. So the song is enriched by his presence, which tickles us."
Although they've performed in many cities, Hampson says Montreal still holds a special place in their hearts. "We loved coming to Montreal and there are several reasons for that. Bram and I both have connections there. It was one of the first places I ever performed outside of Toronto. The first person who distributed our records was from Montreal.
"And also, Montreal audiences were unique. We had great audiences all across North America but Montreal stood out because the extreme and beautiful responses we received were thrilling for us. We did a show in Montreal years ago and our drummer at the time came backstage after the show saying 'They're offering their children up to you.' The kind of enthusiasm you get from Montreal audiences is pretty fantastic."
Tickets are required for everyone at the June 2 concert, including children in arms. For more information, visit www.sharonandbram.com