Six young pianists from the Lambda School of Music and Fine Arts in Pierrefonds will soon be off to New York City to perform a public concert at Carnegie Hall.
The pathway to the March 13 concert — an illustrious point in their musical careers —was fairly short. It began when they were enrolled in the school's regular piano program, as they had no previous training. However, as their passion, commitment and love for the piano became evident they were bumped up to the fast-track program where they learned the basic techniques at an accelerated pace and at the same time were trained to develop their unique performance expression.
A custom-made teaching program was designed for each of them and, in collaboration with their parents, performance milestones were established. They were encouraged to build up a repertoire of the pieces they had learned and to continue to perfect them while they worked on new pieces. As their musical abilities matured they were guided to participate in competitions that would be useful to their musical development. Last December, they entered the Golden Classical International Music competition and now Carnegie Hall awaits them.
Ten years ago, Angela Chan, director and founder, opened Lambda School of Music and Fine Art to provide superior training to people with little or no musical background. The school has a concert hall, equipped with two grand pianos, where students in the fast-track program receive their lessons and perform on a regular basis. "The idea is that these kids can grow up on stage and they feel comfortable. The stage becomes their playground," said Chan.
Her approach to teaching piano defies the conventional methods that follow a curriculum and include exams. Rather, she focuses on developing and fostering a love for the instrument, and credits her training in piano performance, teaching and psychology as the source of this concept. According to Chan, her multi-disciplinary background prepared her not only to teach, but also to understand how each student learns.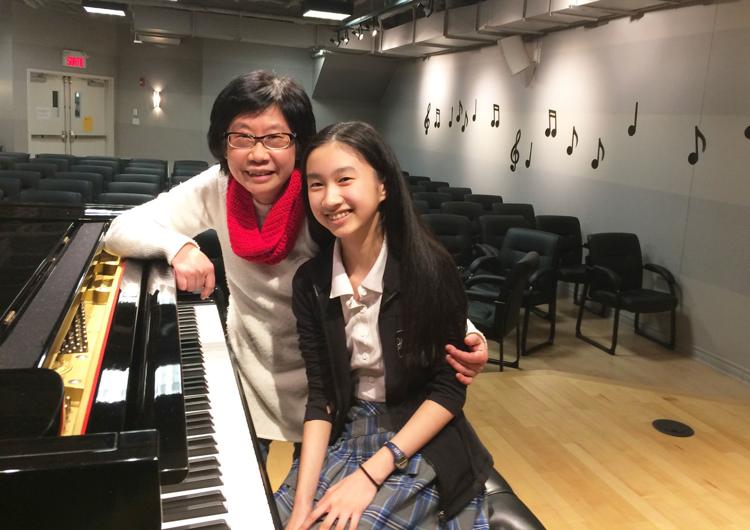 Chan does not view these winners as protégés. She stated that from her studies in the concepts of giftedness and in circumventing blocks in performance, she is convinced that everyone possesses a certain amount of musical potential, which, if harnessed early, the obstacles that hinder its development can be avoided.
The Suburban recently met with two of the students. Steven Shen, a Grade 3 student at Académie Sainte-Anne, is a resident of Pointe Claire who began studying the piano two years ago. He also plays tennis and basketball and enjoys fencing. He doesn't yet have a playlist of contemporary music but said that each day practicing the piano usually precedes his homework.
"The piano is my favourite instrument, and I try to do my best when I play it, because it makes me feel happy," said Shen adding, "Playing at Carnegie Hall is special."
Shen then played Troltog by Edvard Grieg, with a great deal of confidence and poise that was truly stunning.
Kiana Ngai lives in Ville St. Laurent and is in Grade 8 at Collège Sainte-Anne. She has been studying piano for six years, but also plays the violin. She is in a dance program at school and a big fan of Sia, a singer songwriter from Australia. "I enjoy playing the piano because I can express myself while playing and depending on the emotion of the piece I can be sad or happy — and that's really fun," Ngai said.
At Carnegie Hall, Ngai will play a piece by Chopin that she has been working on for almost a year. She stated that she is very proud to be participating in this "big opportunity," and is especially thrilled that two of her friends in the fast-track piano program will also be performing as she is looking forward to hanging out with them in New York.