Mount Royal MP Anthony Housefather spoke out in the Commons last week on the controversy surrounding the transfer of the convicted murderer of eight-year-old Tori Stafford of Woodstock, Ontario to an aboriginal healing lodge.
The home portion of the Laval Rocket's AHL season got off to a great start last Friday night at Place Bell as the Rocket exorcised the Binghamton Devils by a 5-2 tally in front of 8,257 fans. The evening started early as the Rocket Fan Jam welcomed spectators at 4:30. Setting the stage for t…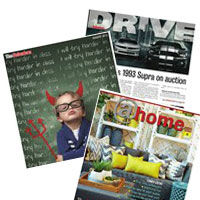 Read our latest special section!
The latest issues of @Homes, Drive, Back To School, and more! To get the latest, just Click here!